Cutesy bakeries, cutesy characters- what's not to love?
In Starry Dreams, the player is a new resident of Sunflower Apartments, where they meet several interesting characters- two of which who want to open their own bakery! As the story progresses, the success of the bakery hinges on whether or not the player is good enough friends with the characters.
Frederika
Since they were little, Frederika has wanted to make their own restaurant! They met Marion in high school, and the two fell in love. Now, the two of them dream of owning their own bakery.
Marion
Frederika's high school sweetheart who works full-time at a retail store in order to save up enough money to start their bakery. Marion is very supportive, but is the more direct and stubborn of the two.
Trucia
The apartment owner, manager, and main attendant. Trucia wears many hats, but never complains! She became friends with Frederika and Marion after they graduated, and has become friends with many of the other people who live in the apartment.
Licellia
Another resident of Sunflower Apartments who lives there with her girlfriend Bricie. She works many odd jobs, and doesn't like to sit around at one job for long. Licellia can be a bit off-putting at times with her loud and cheerful manor, but she means well.
Bricie
Licellia's girlfriend who lives with her at Sunflower Apartments. She's the exact opposite of Licellia, as she is quiet and reserved, only talking to her friends. She works at the mall along with Marion.
Kimuri
Frederika, Marion, and Kimuri all graduated from the same high school- however, they weren't all friends! Kimuri and Frederika have a rivalry between each other of who is the better cook. Kimuri now owns a bakery downtown where he sells sweets, still trying to prove his cooking is better than Frederika's.
This game was one of my very first projects as a VN dev that I restarted when I heard about the
Sweets Jam on Itch.io
, a jam meant to make more LGBT games with sweets/candy themes. Because I'm also the artist (and because I've improved a lot in terms of scripting) I had to almost completely start over, tossing out all the sprites, backgrounds, CGs, and scripts. Here's an example of one of the changes in Starry Dreams.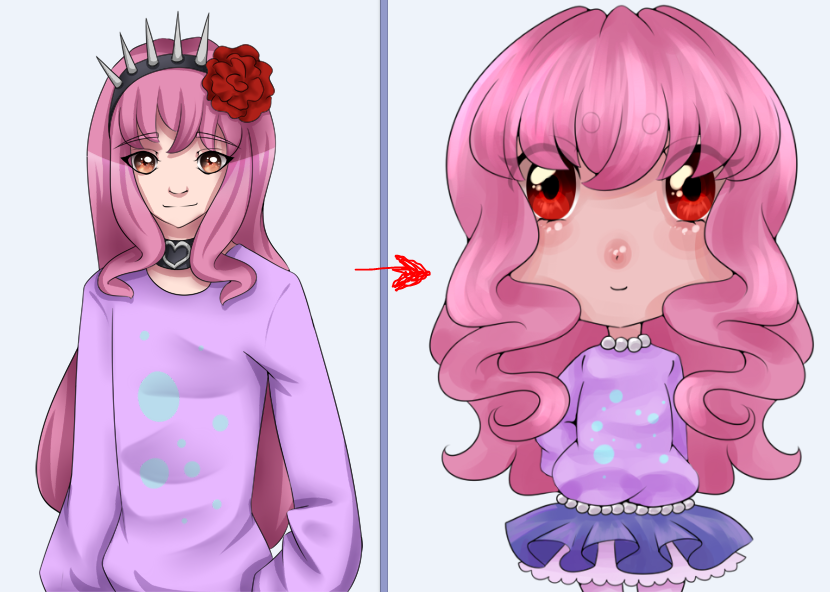 Since this is a remake of one of my first VNs, I have quite a few goals for it (mainly, publishing it):
Make it twice as long as my first full length VN, AOPII.
Use the classic otome stat building mechanic to build the bakery, instead of "winning" a character/route.
Let there be multiple endings.
Have it be really cute!
Features
✿ 6 interact-able characters ✿
✿ Multiple locations to visit with different randomized events at each location ✿
✿ 4 characters have multiple outfits ✿
✿ 2 non-binary main characters (Frederika and Marion) ✿
✿ A cute lesbian couple (Licellia and Bricie) ✿
✿ Animated indicators of "bad"/"good" decisions ✿
Progress/Development
Sprites: 100% done
CGs: 100%
BGs: 100%
Writing: 100%
Scripting: 100%
GUI: 100%
Download
Play the full game now for free!
All the art, scripting, writing, GUI, etc. is done by me, MikomiKisomi. Music was done by
Alcanight
. Font was made by
Natalia Raices
. This was made on Ren'Py.
Questions
What do you want to see out of this game?
Should there be endings where the bakery isn't created/how many endings would you like to see?
How long should the game be? (i.e. an hour or 2+)
Should there be more than 6 characters?