Bishoujo | Supernatural | Slice of Life | Comedy | Romance | Mystery
"Akiyama is the kind of town which never lets its stories die. No matter how much you want them to."
Its a town which has seen quite a bit of expansion in recent years. But the growing town still retains much of its small village charm. Its a town which remembers its stories and legends, with colorful histories and paranormal mysteries around just about every inch of the valley. Kai Tatsuya, a delinquent who's been immortalized as the poster child for delinquency in his school, knows all too well just how deeply held these ties go. He after all has been stuck with the name "The Beast of Akiyama" since his days in middle school. And just as it looked like he could finally put those days behind him, all it took was a faulty vending machine, a loss of temper, and a camera shot to slam his death glare into the school news paper, and back into the minds of all his classmates.
But that became water under the bridge when things started get weird in his life. It seems that recently, Kai has developed a strange sleepwalking episodes, and has found himself waking up in strange places, and bizarre situations. As if that wasn't weird enough, lately he's been catching glimpses out of the corner of his eye just as he rouses from his sleepwalking misadventures in time to save himself from a near fatal experience. Elsewhere, a girl has found herself completely and inexplicably without a shadow after cleaning the heirlooms of her aunt's attic. Which is a problem considering she was already the type to jump at it to begin with. Now, with no shadow, she finds herself under a curse, where in her consciousness is tied to her spirit rather than her physical body, thus making it hard to keep her soul inside herself.
But the Kami of a long forgotten shrine has been noticing events like this occur in town for a while now. And they aren't isolated to just mortals. The northern village, long abandoned by humans due to a landslide, has always been populated with plenty of yokai beings. And something has been filling the valley with an abundance of a strange energy. One that he feels might be coming from one of four cursed gifts he entrusted with four prominent human families a long time ago. However, sworn to only operate indirectly with the mortals of the valley, and haven lost the purity of his shrine to vandalism, he has little power on his own to find out the fate of those lost heirlooms. What has conveniently fallen into his lap are the two humans, plagued with problems beyond their comprehension. A boy who should be given his fair share of community service, and a cowardly girl who just so happens to be able to interact with humans and spirits, AND has one keepsake heirloom already in her possession.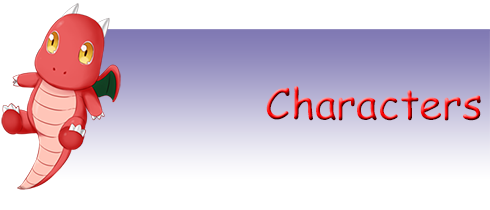 Every now and then, each character will be featured in a character spotlight on the post below, where new ones will be introduced and old ones will be expanded. Till then, you will have to make due with a minimalist description. Sorry if the characters sound cliche due to the lack of details, but hey. A flower can easily be categorized by its petals. People rarely take into account the stem, the roots, or the leaves until they've spent enough time with the flower to differentiate it from others of its type.
"Forget it, I'm not cut out for charity work."
█
Name:
█
→
Kai Tatsuya
█
Nicknames:
█
→
"The Beast of Akiyama High"
█
Age:
█
→
16
█
Blood type:
█
→
Type AB
█
Class:
█
→
2C
█
Personality:
█
→
Short-tempered
█
→
Aloof
█
→
A softie, despite the rumors
█
Background:
█
→
Intimidating Persona (Those unfriendly, blood-red eyes)
█
→
Violent reputation (Oftentimes exaggerated)
█▆▆▆▆▆▆▆▆▆▆▆▆▆▆▆▆▆▆▆▆▆▆▆▆▆▆▆▆▆▆▆▆▆▆▆▆▆▆▆
Kai Tatsuya wanted nothing more than to become a symbol of strength. What he got was a short stick, as he was crowned one of the poster children for savage delinquency that was plaguing his middle school. Just by losing his temper to authority figures, holding his ground against a pack of bullies, and taking the blame for a broken window, he found himself on every wannabe tough guy's hit list. And his reputation sunk further with every reputed victory. High school was his last chance to turn things around, but even then, the stigma his name carried persisted. Eventually, he just accepted the label. He started cutting classes, picking fights, and letting the legend grow. The seeds were already there since before middle school, after all. His life has always been turbulent. Born a bastard between a passively loving father who never really wanted to be one, and twice shut out from his mother's side for being a rebellious little black sheep who couldn't quite conform to her high societal standards, resentment toward those who reject him has always ran deep. At the very least, his unintentionally cultivated reputation led to a predictable cycle. Wake up, go to school, get persuaded to skip by one of his few friends, Yoshi Akihara, get in a fight with Kenji on his way home, chill out and play video games in Yoshi's dorm. Stability was something he never really knew growing up between households. Sadly, as of recently, strange things have been happening around him. And a recent sleepwalking problem seems to be at the root of it.
█▆▆▆▆▆▆▆▆▆▆▆▆▆▆▆▆▆▆▆▆▆▆▆▆▆▆▆▆▆▆▆▆▆▆▆▆▆▆▆
"I'll become stronger. I have to if I want things to change!"
█
Name:
█
→
Sayuri Tachibana
█
Nicknames:
█
→
"Sayu-chan" by friends.
█
Age:
█
→
15
█
Blood type:
█
→
Type A
█
Class:
█
→
1A
█
Traits:
█
→
Cautious
█
→
Worrier
█
→
Clumsy
█
→
Generous/Charitable
█
Fatal Flaws:
█
→
When scared, nervous, flustered, or feeling like things are too serious, she talks through a stuffed dragon named "Haru"
█
→
Cowardly "Petrifies" when situations become too scary.
█▆▆▆▆▆▆▆▆▆▆▆▆▆▆▆▆▆▆▆▆▆▆▆▆▆▆▆▆▆▆▆▆▆▆▆▆▆▆▆
Sayuki Tachibana is the kind of girl who would jump at her own shadow... If she had one that is. Sadly, recent events have pulled this scardy-cat into the epicenter of the paranormal. As if she didn't have a hard enough time navigating her freshman year. Sayu isn't exactly shy or introverted, though its hard to tell from the way she hides behind a stuffed dragon when dealing with people who scare her or make her feel uncomfortable. This habit of course has made her a bully magnet since elementary school, and her inability to part with the beloved plush has only made things worse for her. Thankfully, she has a saving grace. Her friends. With her best friend Hana as the head of the school news committee, and Hana's brother as the affable and popular Kendo team captain ready to jump to her rescue at the slightest tear drop, Sayuki has a higher level of influence than many would care to admit. Even if she does have a rather forgettable presence. Suffice to say, Sayuki doesn't believe in her own power, and though adored by her friends, they don't quite seem to either.
But beneath the worry, the fear, and the anxiety, is a rare sort of authenticity to herself. Sayuki has always been an earnest, self aware individual who is careful not to tread on others, and honest about her feelings, even if just to herself. She has no brothers or sisters, and lives with her parents in a house next door to the Takeda Family. And due to her own parents often being gone, she can be found there after school on most days. She's over so frequently that both Hana and Shiro (And even their parents) consider her a relative. She's a nurturer at heart, and feels like a fish out of water when she isn't tending to other's needs. More than likely though, perhaps she just wants to feel needed by someone, in order to help her cope with her own anxieties.
█▆▆▆▆▆▆▆▆▆▆▆▆▆▆▆▆▆▆▆▆▆▆▆▆▆▆▆▆▆▆▆▆▆▆▆▆▆▆▆
"I'll stop pestering you once the hype surrounding you dies."
█
Name:
█
→
Hanako Takeda
█
Nicknames:
█
→
"Hana-chan" by friends.
█
Age:
█
→
15
█
Blood type:
█
→
Type B
█
Class:
█
→
1A
█
Traits:
█
→
Nosy and investigative
█
→
Devious
█
→
Stealthy/Flexible
█
→
Ambitious
█
Fatal Flaws:
█
→
No sense of personal space
█
→
Obsessive (Leaves no rock unturned)
█
→
Exagerates and embellishes certain details in her articles.
█▆▆▆▆▆▆▆▆▆▆▆▆▆▆▆▆▆▆▆▆▆▆▆▆▆▆▆▆▆▆▆▆▆▆▆▆▆▆▆
Small, flexible, and well informed on the latest gossip, Hanako Takeda is always among the first on a scene, even if it means wedging herself in tight spaces and occasionally getting stuck. She is a true reporter, and her accurate (Albeit greatly exaggerated) articles are the pride of the school news committee. If you ever want to find out whats going on in the realm of Akiyama high school intrigue, you talk to Hana. But if you have a secret, then keeping it safe from this nerd can make your life a living nightmare. Its for this reason that her articles are loved much more than she is. But for whatever reason, there are two boys in school who seem to narrowly avoid her at every turn. Kai is sometimes able to be caught, but whenever that Yoshi Akihara is around, somehow he always seems to know exactly where she's holed up. But for as intriguing as the Akihara boy is, Hana's obsession with the delinquent politics seems to keep her unhealthily fixated on Kai, to the point of being referred to as his stalker. Strangely though, this seems to put her at odds more with Kirie than anyone else.
When she isn't found creeping through the ventilation shafts or popping out of bushes with that camera of hers snapping away, Hana is usually found where Sayuki is. For someone as obsessed with human interaction as she is, she doesn't seem to have that many friends in her expansive list of contacts, informants, and acquaintances. Even with someone as popular as Shiro being her older brother, there's a certain awkwardness about Hana when she doesn't hide behind her wall of facts, embarrassing secrets, or latest gossip. Hana cares more deeply than she lets on about how annoying people find her. But her capacity for cleverness should not be underestimated. She knows just how to ensnare who or what she wants. Even if they don't realize they're being kept right where she wants them.
█▆▆▆▆▆▆▆▆▆▆▆▆▆▆▆▆▆▆▆▆▆▆▆▆▆▆▆▆▆▆▆▆▆▆▆▆▆▆▆
"Let me in, dumb ass. I don't know what you're up against, but I do know I can help."
█
Name:
█
→
Kirie Nagano
█
Nicknames:
█
→
"The Typhoon Fist"
█
Age:
█
→
16
█
Blood type:
█
→
Type O
█
Class:
█
→
2B
█
Traits:
█
→
Protective/Honorable
█
→
Dutiful/Proud
█
→
Energetic/Athletic
█
→
Lover of all things Fish
█
Fatal Flaws:
█
→
No sense of direction
█
→
Hyper competitive
█
→
Notoriously thick headed, and easily tricked
█▆▆▆▆▆▆▆▆▆▆▆▆▆▆▆▆▆▆▆▆▆▆▆▆▆▆▆▆▆▆▆▆▆▆▆▆▆▆▆
The Typhoon Fist of Akiyama High School. Thats what they call her on the streets. Its a title Kirie has earned... And has always considered an embarrassing blemish on her otherwise good record. Kirie moved in from an island village, and she had no way of knowing how that pretentious delinquent scene worked when she transferred over in middle school. You beat up a delinquent making a mess outside of the family business, and you get noticed. You make a habit of winning, and suddenly you're a legend with a title, and rivals everywhere. Unfortunately when she figured out exactly what this entailed, made things hard for her when she tried to get onto the disciplinary committee. Still, Kirie is a fighter, and she stuck to her heart's sense of justice in order to shed that minor detail.
Kirie has family in the area. She has some relation to the Mosuke family, and a cousin in Yoshi Akihara, whom she seemed baffled when she even learned he existed. And of course this association has led her to meeting Kai, back in middle school. They hit it off surprisingly well. Back then, there was a rather solid friendship between Kai, Kirie, Yoshi, and even Kenji. Shiro too, of course was close, beyond acquaintance, but the other three boys were her main clique. She introduced them into her family martial arts, and thought it would be a good way to straighten the three boys out. And for a while, it was working. Then Kenji and Kai were back at each other's throats, Yoshi continued to be a bad influence, and the group fractured with all three boys leaving the dojo. Kirie still holds a grudge on all of them, and even kinda blames Shiro's sister Hanako for the mess. Still, she has a hard time refusing to help Kai or Yoshi when they ask. Even if they drive her nuts as a member of the disciplinary committee.
█▆▆▆▆▆▆▆▆▆▆▆▆▆▆▆▆▆▆▆▆▆▆▆▆▆▆▆▆▆▆▆▆▆▆▆▆▆▆▆
"I don't need my memories to be Hoshiko. I choose to be Hoshiko."
█
Name:
█
→
Hoshiko (No surname)
█
Nicknames:
█
→
"Shovel Girl", or simply "The hobo" by most. "Hunter of Treasures" by the spirits.
█
Age:
█
→
16
█
Blood type:
█
→
Type AB
█
Class:
█
→
N/A (Not a student)
█
Traits:
█
→
Productive
█
→
Confident
█
→
Weird
█
→
Could be a genius, despite being borderline illiterate
█
Fatal Flaws:
█
→
Aura of dirt:
(Even after washing herself, it doesn't take long before she's covered in dirt again.)
█
→
Homeless, maybe a bit feral
█
→
A societal offbeat with no hope of changing
█▆▆▆▆▆▆▆▆▆▆▆▆▆▆▆▆▆▆▆▆▆▆▆▆▆▆▆▆▆▆▆▆▆▆▆▆▆▆▆
There are many peculiar oddities in Akiyama village. Not the least of which is a certain vagrant girl who found her way into town about five years ago, asking to barter junk she dug out of the hillside around the old village landslide in exchange for some food stuffs. People see her around here and there, but nobody is quite sure where she holds up. Sure, evidence of her many holes seems to linger all around the mountain forest trails. But where does she rest her head at night? How does she make it through the winters? Why do the spirits seem just as perplexed by her as the humans? Nobody quite knows what makes Hoshiko tick. Not even herself. She doesn't hide anything. If she's even interested in your questions at all, it doesn't take long to get out the details that she doesn't really know how she ended up in the area. But while she is constantly dirty, and constantly violating social norms in her interactions with the locals, she seems to have a certain practicality and uncanny cleverness about her. She is constantly prospecting the area for treasures, and for whatever reason, she always seems to know exactly where to dig. Sadly, her appraisal abilities could use a bit of work. A gold watch could be tossed aside as garbage, where as a blue plastic bucket might end up in her most prized collection. Hoshiko seems to have a high awareness to the presence of spirits, but can't see or hear them. Nor does she care. Just like the squirrels in the forest, so long as she isn't violated, there isn't really a reason to be bothered.
█▆▆▆▆▆▆▆▆▆▆▆▆▆▆▆▆▆▆▆▆▆▆▆▆▆▆▆▆▆▆▆▆▆▆▆▆▆▆▆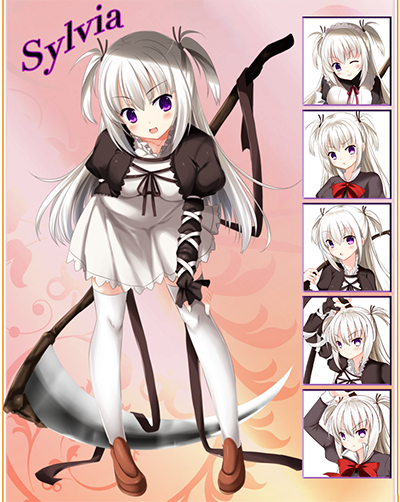 "Wow, Tatsuya-kun, you totally suck at dying!"
█
Name:
█
→
Sylvia (No surname)
█
Nicknames:
█
→
Grim Reaper, Shinigami, Valkyrie, and many names through out the ages.
█
Age:
█
→
Appears 17
█
Blood type:
█
→
"Silly, we don't bleed."
█
Class:
█
→
N/A (Not a student)
█
Traits:
█
→
Cheerful/Friendly
█
→
Teaser
█
→
Talkative/Chatterbox
█
→
Unexpectedly wise and insightful
█
Fatal Flaws:
█
→
Apathetic toward the inevitable human struggle against the current.
█
→
Slight "Yandere"ish tendencies. (Not possessive or jealous, just unsettling at times.)
█
→
Perhaps a bit lonely on some level.
█▆▆▆▆▆▆▆▆▆▆▆▆▆▆▆▆▆▆▆▆▆▆▆▆▆▆▆▆▆▆▆▆▆▆▆▆▆▆▆
Sometimes, certain souls trigger false alarms when it comes to avoiding near death experiences. Then there are souls who make a reoccurring habit of it. To those on the other side, this is akin to calling the fire department over five times a day, just to ask them how they're doing. The souls of the dead can't always ferry themselves. Discarnates have a tendency to get whisked away by grims, demons, faeries, and astral beings who regularly interfere with the soul's samsaran cycle. Worse yet are the mortal souls who get stuck, and become earthbound. Hence, in these cases, it becomes necessary to keep a single psychopomp on full-time watch duty. To ensure that when the mortal's time does expire, they receive timely conveyance to the next life. Of course the reason is two fold. You also want to make sure a mortal isn't cheating death, or an earthly god isn't playing favorites. Aside from that, what more can a solitary creature like Sylvia say about herself? She's a third generation reaper, she likes old school RPG games, dancing, modern pop culture, and people watching. After all, watching is all she could do from behind the third veil, a layer of reality beyond even the perception of spirits, save for uniquely mortal souls who have officially met their expiration date. But ferrymen are built for solitude. So its alright, she can handle going a few hundred years before chatting someone's deceased ears off. Still, Sylvia can't quite shake the feeling sometimes that maybe Kai can see her. A rare ability for even the most powerful mediums. This could mean a few things. And all of them are a bit unsettling to the conveyer of his soul.
█▆▆▆▆▆▆▆▆▆▆▆▆▆▆▆▆▆▆▆▆▆▆▆▆▆▆▆▆▆▆▆▆▆▆▆▆▆▆▆
"What? come on, man! We're best friends, aren't we? You could trust me!"
█
Name:
█
→
Yoshi Akihara
█
Nicknames:
█
→
█
Age:
█
→
16
█
Blood type:
█
→
Type B
█
Class:
█
→
2B
█
Traits:
█
→
Light hearted
█
→
Fun loving
█
→
Scoundrel
█
→
Trickster
█
Fatal Flaws:
█
→
Compulsive Liar
█
→
Prankster
█
→
Greedy
█▆▆▆▆▆▆▆▆▆▆▆▆▆▆▆▆▆▆▆▆▆▆▆▆▆▆▆▆▆▆▆▆▆▆▆▆▆▆▆
A carefree, trouble making prankster, who lives life to the beat of his own drum. Yoshi knows the town about as well as Hanako, and he's seen as rather shady by most of the students at Akiyama high. If not because of the high level of manipulative puppeteering performed in some of his pranks, then definitely by the company he keeps. Kai and Yoshi are seen as a tag team. Partners in crime, who might as well be playing mind games with the yakuza after school. Although Yoshi is clearly the more approachable of the two, and seen as more of a neutral force of chaos. The fact of the matter is that Yoshi and Kai have less a friendship, and more of a symbiotic relationship. Yoshi's devious and impish pranks tend to cause a lot of mischief, and that spells danger when delinquents like "Snake Eyes" Kenji are after him. Therefore Kai is typically the one who has to bail Yoshi out. What Yoshi offers in return is amnesty from the wrath of his cousin Kirie and the rest of the disciplinary committee. Or advanced notice when Hana Takeda is prowling in the area. Basically its thanks to Yoshi that Kai hasn't gotten thrown out of the system yet.
But there is a layer of friendship between the two, even if neither consciously admit it. Despite being annoyed by Yoshi's shenanigans, the two seem to understand each other, more deeply than anyone else seems to understand either of them. One such understanding is that Yoshi is actually obsessed with urban legends, regional cryptids, and local ghost stories. He knows about as much on the subject as Hanako does with gossip, drama, and secrets. He never seems to shut up about which house was haunted, or the seven mysteries of their high school. Yoshi is actually the sole owner and member of the Akiyama High paranormal research club, a club that on paper isn't regarded as official anymore. He claims that many of his shadier skills, from lock picking, to avoiding enforcement, comes from his afterschool hobby. Urban exploration. Although Akiyama still has its old small village charm, its a growing town, and many places, particularly in the old village which was hit by a landslide, have been Yoshi's goal since middle school. Yoshi is really the only contact Kai stays in touch with from his middle school days. And though he's a liar, a trickster, and all around untrustworthy, Yoshi is a team player.
█▆▆▆▆▆▆▆▆▆▆▆▆▆▆▆▆▆▆▆▆▆▆▆▆▆▆▆▆▆▆▆▆▆▆▆▆▆▆▆
"Just stand aside! I'm the hero of the story!"
█
Name:
█
→
Shiro Takeda
█
Nicknames:
█
→
Captain Red
█
Age:
█
→
16
█
Blood type:
█
→
Type O
█
Class:
█
→
2C
█
Traits:
█
→
Heroic disposition
█
→
Energetic and Optimistic
█
→
Brave and charisimatic
█
→
Affable and approachable
█
Fatal Flaws:
█
→
"Okay in small doses"
█
→
Can't say no to a pretty girl
█
→
Hero complex
█▆▆▆▆▆▆▆▆▆▆▆▆▆▆▆▆▆▆▆▆▆▆▆▆▆▆▆▆▆▆▆▆▆▆▆▆▆▆▆
Whenever a hero is needed in Akiyama, Shiro Takeda is swift to arrive with a wooden bokken in hand, and a stock hero line straight from his childhood favorite sentai series. Shiro is well liked among his classmates, and his universal, inclusive attitude shows that he has no concept of the social hierarchy, and will just as likely be in his element talking to other athletes, top students, the prettiest girls in class, and the kinda creepy otaku who only seems to talk about mecha figurines, and shonen manga. Whether he's at a kendo event leading his team to victory, or a doujinshi convention, leading a pack of neck bearded online hikikomori buddies through the gates, Shiro does so with absolute confidence in himself. Its that confidence which makes his childishly naive fighting spirit so infectious. And for people like Kai, so annoying. Shiro seems to look at delinquents like Kai as super villains that need to be kicked back to whatever hole they crawled out of, and the fact that he's close friends with Kirie, AND Hanako's older brother (And thus rather close with Sayuki, as neighbors), means that his presence is difficult for Kai to avoid. Of course the two see each other anyways, since the kendo team captain is in the same class.
█▆▆▆▆▆▆▆▆▆▆▆▆▆▆▆▆▆▆▆▆▆▆▆▆▆▆▆▆▆▆▆▆▆▆▆▆▆▆▆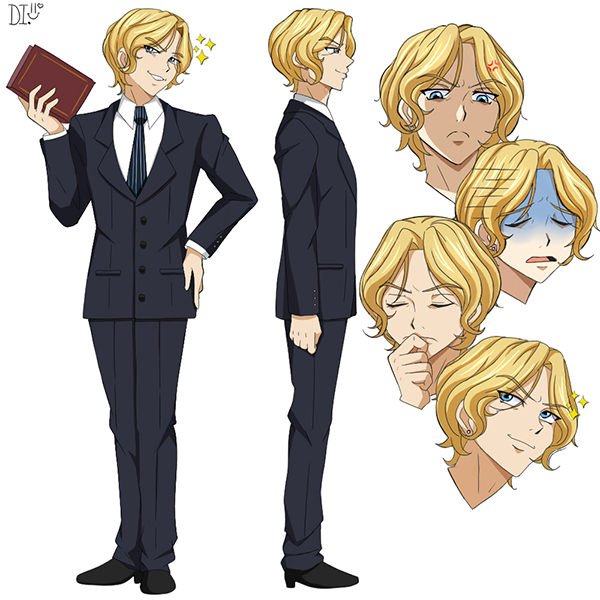 "You can actually eat this pigswill? Quite an impressive feat. I shall never underestimate a commoner's fortitude."
█
Name:
█
→
Bastian Arastoth
█
Nicknames:
█
→
The Prince, the mageborn pretty boy.
█
Age:
█
→
18
█
Blood type:
█
→
Type RH-
█
Class:
█
→
NA
█
Traits:
█
→
Confident, charming, and assertive
█
→
Seemingly limitless wealth
█
→
Intelligent
█
→
Gifted occultist
█
Fatal Flaws:
█
→
Megalomaniac
█
→
Inhabitant of an ivory tower or two.
█
→
Unfamiliar with local etiquette amongst commoners
█▆▆▆▆▆▆▆▆▆▆▆▆▆▆▆▆▆▆▆▆▆▆▆▆▆▆▆▆▆▆▆▆▆▆▆▆▆▆▆
It's easy to garner within the first five minutes of meeting this foreigner that his face must be in every world dictionary, in every written language, associated with the word "Condescending". Despite being well traveled, this aristocrat appears to have garnered no ability to relate to the peasant stock whatsoever. And the worst part is, he doesn't even do it on purpose. Bastian Arastoth is cut from a different cloth, and he lets people know it. Nonchalantly showing off the ten dozen silver spoons he was born with just seems to be the an ordinary formality for the young man. But exactly what his sudden appearance in Akiyama valley one day means, along with a large western style mansion built seemingly over night, is anyone's guess. Whether he's an ally, an antagonist, or an unrelated third party is anyone's guess. But his powers over the arcane and illusions are quite formidable. For a mortal at least. For a psychopomp like Sylvia however? Mmm, rudimentary perhaps.
█▆▆▆▆▆▆▆▆▆▆▆▆▆▆▆▆▆▆▆▆▆▆▆▆▆▆▆▆▆▆▆▆▆▆▆▆▆▆▆
image pending
"Snake Eyes" Sekai
█
Name:
█
→
Kenji Sakai
█
Nicknames:
█
→
Known on the streets as "Snake eyes" Sekai the Viper of Akiyama
█
→
Revered to as "the Worm" by Kirie, Kai, and Yoshi, and a select few of others.
█
Age:
█
→
17
█
Blood type:
█
→
Type A
█
Class:
█
→
1A
█
Traits:
█
→
Mean spirited
█
→
Nasty
█
→
Disrespectful
█
→
Rebellious
█
Fatal Flaws:
█
→
Inferiority complex
█
→
Arch rival to Kai (In his point of view at least)
█
→
Written off as a small fry by those who actually know him.
█▆▆▆▆▆▆▆▆▆▆▆▆▆▆▆▆▆▆▆▆▆▆▆▆▆▆▆▆▆▆▆▆▆▆▆▆▆▆▆
These days, it seems hard to believe. But at one time, Kenji Sakai, Kirie Nagano and Kai Tatsuya were friends. A fact that seems to have been a life time ago, from the way Kenji carries himself now. He's not the strongest delinquent in the school, but he's known as the most nasty. And his feuding with Kai stretches back before that brief period of time in middle school when they trained in the Nagano dojo. Kenji has always had it out for Kai, for as long as anyone remembers. The two fought as children, they warred as middleschoolers after acquiring martial arts training, and by high school, it became evident that Kai was clearly the stronger of the two, and simply stopped caring. Well, its obvious to anyone, except for Kenji and his gang themselves. Kenji is always calling Kai out to fight, and even resorts to kidnapping Yoshi (And in rare cases, Hana, though it shows she tends to draw Shiro to the rescue more than Kai) in order to make sure he'll answer the long, clumsily written challenges he leaves flooding in Kai's shoe locker. Unfortunately for Kenji, these letters are largely ignored.
█▆▆▆▆▆▆▆▆▆▆▆▆▆▆▆▆▆▆▆▆▆▆▆▆▆▆▆▆▆▆▆▆▆▆▆▆▆▆▆
Shin-sama
"Any blessing in excess can become a curse."
█
Name:
█
→
Referred to as Shin-sama
█
Nicknames:
█
→
Diety of the forgotten shrine, Fox
█
Age:
█
→
Unknown (Appears in his 20s when in human form)
█
Blood type:
█
→
"That's not something I would know."
█
Job:
█
→
Local deity
█
Traits:
█
→
Insightful and honest
█
→
Benevolent, if a bit of a trickster
█
→
Lazy, procrastinator
█
→
Has been "Defanged" as of late.
█
Fatal Flaws:
█
→
Tends to answer big questions in allegories and metaphors.
█
→
Dotes on shrine maidens
█
→
Has a fondness for bad puns
█▆▆▆▆▆▆▆▆▆▆▆▆▆▆▆▆▆▆▆▆▆▆▆▆▆▆▆▆▆▆▆▆▆▆▆▆▆▆▆
In his heyday, he was a local Kami who protected the roads, and the travelers through the mountains and valleys. And unlike most foxes, Shin was said to sweep the illusions of spirits away, and reveal falsehoods wherever travelers were afflicted. Under him, the four families and consequently the town prospered. And a maiden of each family served him in maintaining that balanced prosperity with the spirits and mortals alike. Each maiden held a keepsake from him. To the Takeda family, a mirror. To the Tsukino family, a Kokeshi doll. To the Yonamine family, a bamboo broom. And to the Mosuke family, a scarf. And at the Autumn solstice, the maidens would dance to keep the curses on each gift purified. That was up until an event that transpired about three generations ago, where in a landslide hit the northern village, the mirror was lost, and the Takeda family started pointing fingers. Over time, all the keepsakes were lost, or put away and neglected in storage. The families lost influence and wealth, new generations began to throw the old grudges aside for love marriages, and Shin's shrine sat neglected, and vandalized. Now a days, Shin has taken to some bad habits. Neglecting certain duties and traditions, gambling with spirits in the old school building, and nonchalantly placing minor bad luck curses on vandals and the like. That was until things started happening. Old friends began to behave strangely, whispers of an old enemy began to resurface, his pesky sister has been stirring up trouble again, and a human boy started picking fights with oni while... Sleepwalking? Well, that may have earned him an excuse to be thrown into community service and help figure out where those old artifacts went off to.
█▆▆▆▆▆▆▆▆▆▆▆▆▆▆▆▆▆▆▆▆▆▆▆▆▆▆▆▆▆▆▆▆▆▆▆▆▆▆▆
Image pending
Okamoto-dono
"How dare you! Go back and wash your hands at once! THEN you can address Shin-sama!"
█
Name:
█
→
Okamoto
█
Nicknames:
█
→
Okamoto-dono
█
Age:
█
→
Speculated to be between 50-70. With shapeshifting Tanuki, its hard to tell.
█
Blood type:
█
→
Type A
█
Job:
█
→
Shin's retainer, and vassal
█
Traits:
█
→
Ridged
█
→
Authoritarian
█
→
Honorable
█
→
Dependable, multitalented
█
Fatal Flaws:
█
→
Prone to attacking (scratching) troublemakers
█
→
A stickler for traditions, rules, tidiness, and order
█
→
Bad shapeshifting ability.
█▆▆▆▆▆▆▆▆▆▆▆▆▆▆▆▆▆▆▆▆▆▆▆▆▆▆▆▆▆▆▆▆▆▆▆▆▆▆▆
Okamoto is Shin-sama's most loyal retainer. A tanuki with magical shapeshifting powers, who recently returned from a long journey through the mountains in search of his daughter after the events of the landslide separated them. And much to his dismay, he returns to find things have fallen to disgraceful levels while he wasn't around to look after his lord. The people go to a new shrine to pray, the keepsakes and the maidens are gone, the lord has taken up gambling with, and only a half assed cowardly girl and a deplorable savage delinquent seem to be working on his behalf by the time he gets back. But for some reason, returning home to see such a large laundry list of problems has only proven to revitalize his depleted willpower from returning home empty-pawed.
█▆▆▆▆▆▆▆▆▆▆▆▆▆▆▆▆▆▆▆▆▆▆▆▆▆▆▆▆▆▆▆▆▆▆▆▆▆▆▆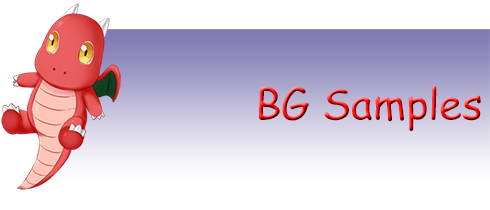 I recently lost my job. Which is... Kinda something I have mixed feelings about. On one hand, after they got rid of my old shift, I didn't really have enough time to work on my personal projects anymore, but I had the funding. Now, I have the time, but no income. I was going to try to transition to a part time position anyways, but now it looks like I'm going to be using the money that was meant to get me a new computer and to Japan in order to keep fuel this project. I have enough to keep me afloat for a while, but may need to look for something new once that's depleted. But I intend to get some sort of working demo up before then. Crowd funding is an option I'm speculating on, but I need to make sure I have a final outline and list of needed assets before then.
Story Outline:
On its 4th revision. And I wont give percentages until I have the final.
Update:
Would love to post a crowd funder link, so I could get money to finish a demo so I could post a crowd funder link, so i could get money to finish a demo so I could post a crowd funder link ~
"And he repeated this cycle till the end of time."
Anyways, a Patreon is up. Just look for it or something. ;>.>
Core Team:
Chocopyro:
Project Lead | Scenario Designer | Photoshop Asset manipulator
Bonesy0:
Programmer
Ran08:
Writer
Writingprobably:
Writer
ZennyPai:
Writer
Commissioned Talents (Ongoing):
KahoOkashii:
Sprites|Original Character Design
Daphinteresting:
Original Character Design (Male character sheets)
Badriel:
UI design|Backgrounds
Past Commisions:
ShojiAmasawa:
Logo Design
Kazenokaze:
Original Character designer (Females)
Open Positions:
I am keeping an open eye out for;