[center]Support us in IndieGoGo![/center]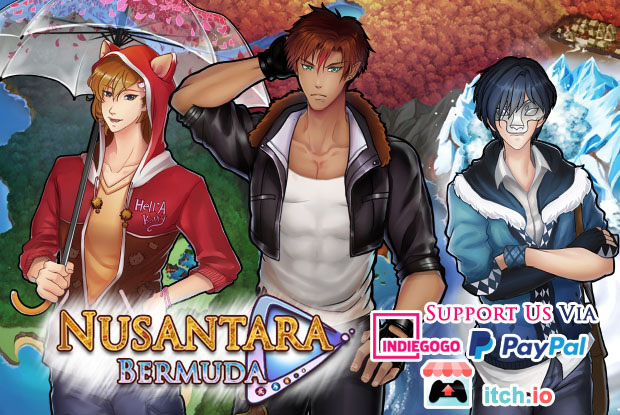 Genre: Otome Fantasy, Adventure, Romance, Comedy, Mystery
WARNINGS: swearing, blood, death, psychological, and a little gore
Rating: 16+

For centuries humans have indulged themselves with tales of Light:
A hero slays a dragon to save a princess, a mermaid who sacrificed her voice to be with her beloved,
a beast who turned into a human when he learned the meaning of love, and many more we've inherited from our ancestors.
But they have forgotten that there were also times of Darkness and despair; times where evil was rampant and good went unrewarded.

This is a story of how Light and Darkness entwine deeply with one another.
Synopsis:
In 20XX, an enormous earthquake shook the world and caused a triangular crater to suddenly appear in the middle of Bermuda Triangle. The world was aghast with this discovery and it became even more concerning when scout teams came across a mysterious force, preventing people from getting too close. Those who went to examine it said that the force was like an invisible wall and there was no way around it, therefore, making further investigation difficult.
Spiritual events and sightings have also dramatically increased since then.
It got to the point where people began to hold festivals to honor the dead and the mythical creatures. It wasn't long until it became a new worldwide sensation and there was not a single day where spiritual events weren't on the news
Our heroine, Maya (19), was busy earning her living so this kind of event was of little importance aside from adding an exciting spice into her life. But then her world crumbled when a Goddess came and announced that her family would die in a car accident in the near future.
The Goddess offered Maya a deal: She would alter her family's fate in exchange for closing the Bermuda Crater. In order to do so, Maya would have to go to a place called The Forgotten Isles, find what caused it, and look for a solution.
If she agreed, three men would accompany her, acting as bodyguards. Apparently, they each have their own circumstances and a wish to be granted.
Characters:
Here's our rename-able Heroine
-And many more! x'D
Background & GUI Samples:
Game Info:
Hi guys! My new project is finally here!
Now before you ask; "Nusantara: Bermuda Triangle" is
not
a sequel of "Nusantara: Legend of The Winged Ones".
This is an entirely new story but set on the same universe. It covers a wider horizon of Nusantara's archipelago.
Bermuda's story will be much longer, packed with content, and has lots more visual assets than Winged Ones... I dunno whether to be happy or cry about that :')) Because of this, I decided to make this project a
commercial
one.
I'm still thinking about the price, but I will open a kickstarter on IndieGoGo next year so you'll have a chance to get an 'Early-bird' pack!
Features:
- 4 Love interests (The last bachelor will be unlocked once you finished with all 3 main bachelors routes, more info later in IndieGoGo)
- 9 Endings
- 1 Minigame
- Regular & Limited-Time Choices
- Translation/Definition Notes
- Casual Status Raising
- MIni Encyclopedia
- lots of original CGs & BGs (I haven't calculate the exact number yet)
My Honored Proofreaders:
-
KrystalFlare
-
crystalscm
-
Blasé&Voracious
I found awesome proofreaders! It's so much fun working with them and I love the result <3 :'3
Game Progress:
- Plot: 70%
- Script: 5%
- Character Sprite: 30%
- Programming: 10% (Still have some GUIs left to create & experimenting with new features)
- Backgrounds : 35%
- Songs & Sound Effect: 75%
- GUI: 80%
Questions for you:
1. Which character caught your attention the most?
2. What do you expect to see in Bermuda?
3. Will you guys be happy if I add a route to romance the antagonist? xD
4 It will took awhile until I publish a demo since I still have things to experiment with Ren'Py -but feel free to give suggestion/critiques :'3
I will update once every Monday <3 per one week if I'm lucky to steal some time xD
Oh, I also opened a
Patreon
: there will be step by step WIPs of my backgrounds, behind the scenes, and even a spot for beta-testing without strings attached if you want!
See you around guys! xD
xoxo,
SweetChiel
UPDATE
:
1.
10/10/2016
-------- GUI is 80% done! Gallery, Minigame, & Relationship screens still need some polishing & testing, Demo requirements are listed!
2.
10/17/2016
-------- BG Maya's bedroom done! Jakarta's map from eagle's view done! + Guntur's CG lineart.
3.
10/24/2016
-------- 4 chibi frames (for Dilligence stat), 2 Maya's sprite pose, Aryan's CG sketch.
4.
10/31/2016
-------- 6 chibi frames (4 for Combat stat & 2 for Creative stat), 1 bonus intermission illustration (Guntur)
5.
11/7/2016
-------- 2 chibi frames, 1 BG done with 4 objects, 1 CG Line-art, started writing script (2k+ words)
6.
11/14/2016
-------- Took 3 days off, continued writing script (+ 5k+ words)
7.
11/21/2016
-------- Script now total 9k+ words, 4 image of Tarot cards (3 front, 1 back design)
8.
11/28/2016
-------- Script now total 16k+ words, 1 mini-CG sneak peek
9.
12/5/2016
-------- Script now total 22k+ words, 1 Tarot Card "The World" revealed!, bonus CG sneak peek for my patrons (...still considering whether to use it for full-colored CG or not)
10.
12/12/2016
-------- Chapter 1 is finished! (29k+words), 1 CG, 1 CG line art
11.
12/19/2016
-------- Programming minigame finished! + a bunch of CGs line-arts + 3 additional chibi actions.
12.
12/26/2016
-------- 3 CGs completed! new costume for 1 sprite, finished programming minigame (editing), finished relationship status programming + other features. A sneak peek of Prologue is also available!
13.
01/02/2017
-------- 4 Chibis, new sprite pose for Kah'lil, 1 tarot illustration, CGs finishing touches
14.
01/09/2017
-------- Heaving editing script, +5.8k words on chapter 2
15.
01/16/2017
-------- I GOT MYSELF A PUPPY, Chapter 2 is now around 8k+ words
16.
01/23/2017
-------- Chapter 2's demo script is finally finished at 18k+ words!! Total demo script : 48k+words; a staggering differences with Wingerd Ones which is only 19.5k+ words :'))
17.
01/30/2017
-------- 3 ETC sprites, programming epilogue DONE, Chapter 1 part 1 5/20 pages.
18.
02/06/2017
-------- Characters blink programming, Gallery Screen, Quick Menu, Stat Menu, Chapter 1 part 1 20/20 pages DONE!
19.
TIME SKIP
--------- my gosh, I forgot to update this log until March and I'm too lazy to copy-paste it so... here comes the progress of March!
20.
04/20/2017
-------- Programming Chapter 1 part 3 in progress (chapter 1 part 1 and part 2 is DONE!), gameplay error SOLVED + plot revised a little.
21.
04/27/2017
-------- Programming Chapter 1 part 3 DONE! 155/155 pages, new pose and 2 minor gestures for Guntur! Teaser is up, full sneak peek in my patreon!
22.
05/1/2017
-------- DEMO IS DONE! Today, demo is available for my patrons. Next month, demo will be available for public + IndieGoGo campaign starts! I also starts planning a video trailer for IndieGoGo.
23.
05/29/2017
-------- Counting down for the IndieGoGo campaign!
24.
06/01/2017
-------- Indiegogo LIVE!
25.
06/16/2017
-------- 51%+ funded! Check page 9 & 10 for 2 updates regarding Bermuda!