Thereafter: A Medieval Life (Commercial Game)
Genre
: Otome, BL, Romance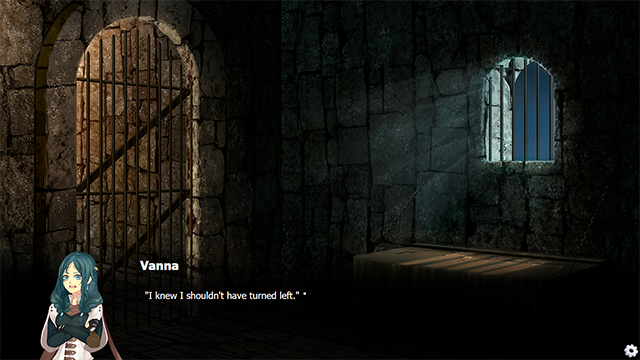 Game Preview, Second Draft
Prologue
You have passed on from the world, and you end up meeting one of the messengers of oblivion. She greets you before asking whether you want to be reborn or would like to go beyond the gates. You decide to be reborn and unbeknown to you, you end up in an alternate universe similar to the Middle Ages (medieval times).
Gameplay
Player first determines whether the main character is a female or a male.
In this game, there will be three unique occupations for each gender. Female occupations are blacksmith, thief, and tavern chef. Male occupations are knight, composer, and herbalist. Depending on the occupation you choose, there will be a particular male character you will romance.
Throughout each story, players will have roughly 30 decision points in the game where their decisions will influence the type of scenes that appear as well as the outcome of the story.
Current Game Features
• Beautiful sprite, CG, and background arts drawn by various artists
• Six unique stories where three are otome and another three are BL
• Five CGs per story for a total of 30 CGs
• Three endings for each story (bad, good, best), extra scenes during and/or after credits depending on ending type
• Opening song, bad ending melody, ending song, and various background music
Characters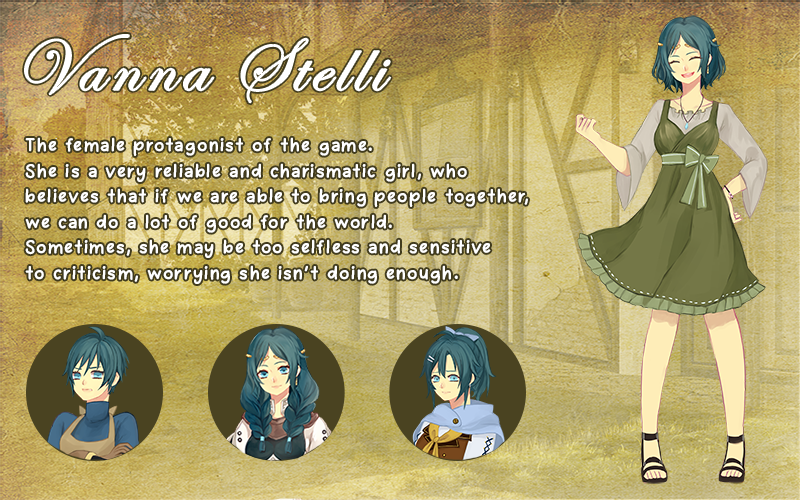 Vanna Stelli
: Female main character; thief outfit pictured
Age 23, 5'3" (160cm), ENFJ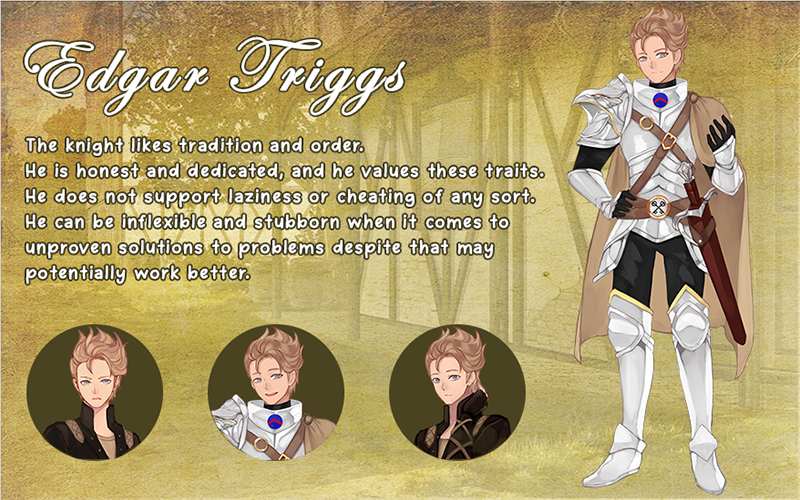 Edgar Triggs
: romanceable knight for Vanna
Age 21, 5'5" (165cm), ESTJ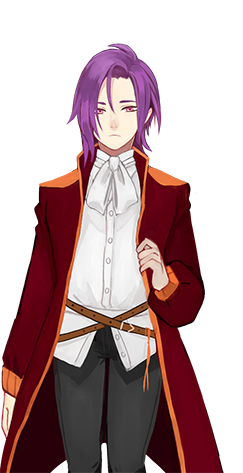 Composer
: ISFP; (more description available at a later time)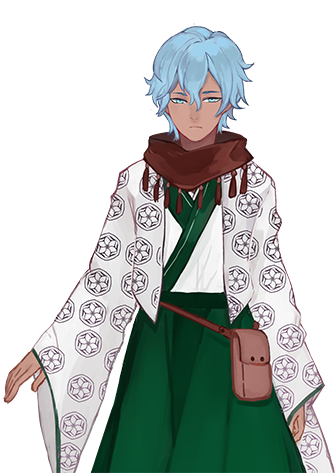 Herbalist
: INTP; (more description available at a later time)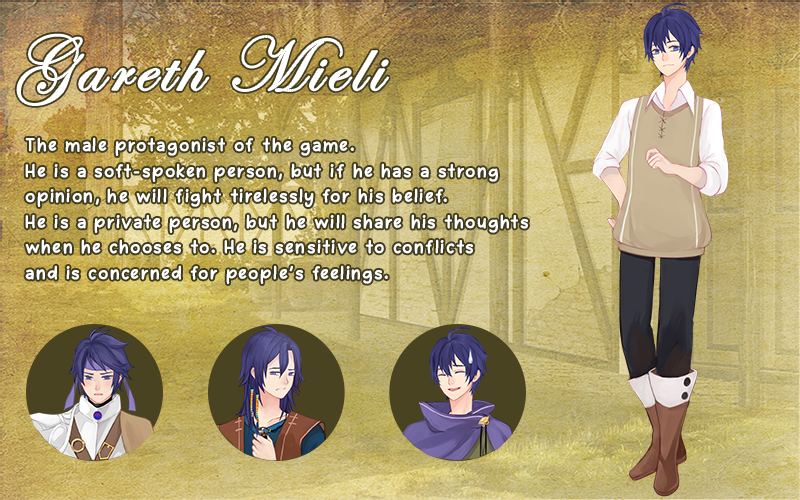 Gareth Mieli
: Male main character; composer outfit pictured
Age 22, 5'6" (168cm), INFJ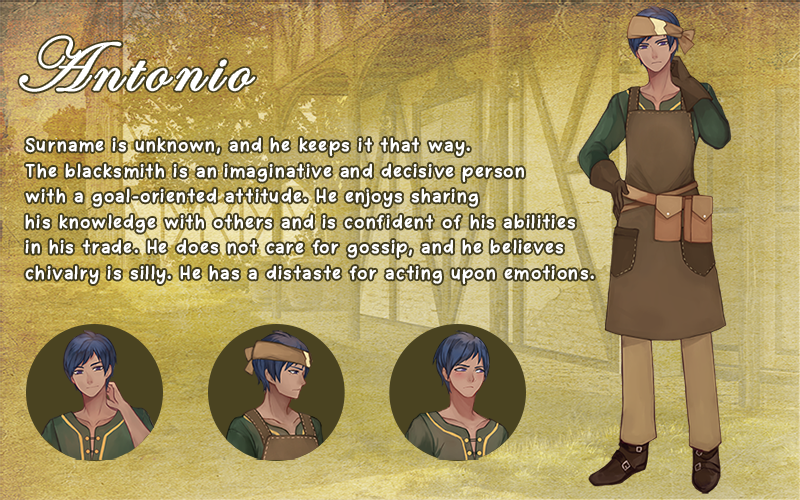 Antonio
: INTJ; romanceable blacksmith for the male protagonist
Age 24, 5'7" (170cm), INTJ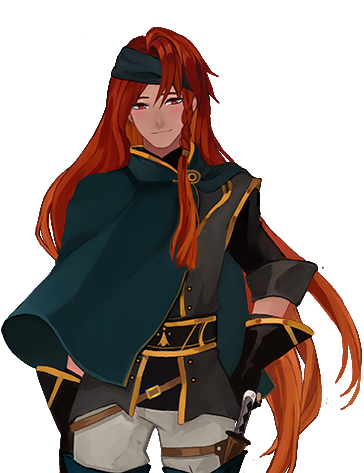 Thief
: ESTP; (more description available at a later time)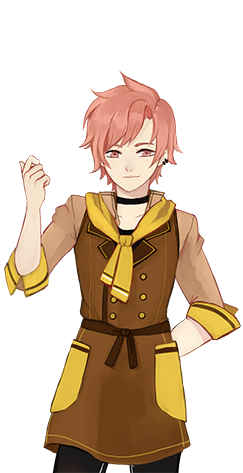 Tavern Chef
: ESFJ (more description available at a later time)
Summary for each story
Female MC (Vanna Stelli) as a thief romancing the knight
:
As a thief, Vanna Stelli doesn't find trouble an unusual occurrence. What she doesn't expect to be more than the usual is the new knight she meets while plotting her escape. Regretting not being able to talk to him more, she escapes when he least expects it.
When she unexpectedly meets him again at the boat harbor, he chases after her. They end up stuck together on the ship headed to a town where she will be on her mission. There is some fuss before she is able to convince the knight that she's doing no harm to anyone and that she genuinely wants to learn more about him. A trust eventually starts to bloom.
Now that they are on civil terms, they learn that both groups are receiving tarnishing reputations, and there is no explainable reason why. Will they be able to grow a relationship between them while a big mystery looms over them?
Female MC as a blacksmith romancing the herbalist
: A mysterious herbalist stops by the blacksmith shop one night and seeks information or leads on an ingredient that is indigenous around this town. They were not successful in obtaining information that night, but when she explains the situation and asks her boss the next morning, her boss mentions someone telling him that it is highly valued in their town for curing various ailments. The boss suggests that he can draw a map of how to get to the town, and she can accompany the herbalist there and pick up some needed materials that is only sold there. They go on the journey, and the blacksmith finds out the herbalist is in a lousier situation than she thought.
Female MC as a tavern chef romancing the composer
: The tavern chef is surprised to find her childhood friend back in town. They hang out by the river where they used to play, and the composer is invited to perform for the royalties after being heard playing a song for the MC. He accepts the opportunity and asks the tavern chef to help despite her insisting that it's been too long since she had touched her harmonica, but she eventually complies with some prodding. In helping the composer, MC can't help but feel her old feelings resurfacing despite the rejection he had given her before he left town over four years ago.
Male MC as a herbalist romancing the thief
: On his way home after closing up the herbal shop, the herbalist notices an injured man and makes a remedy for the man. When questioned why he would help someone who is a thief, he said that he can't ignore someone who is in need of help. When they part, the herbalist was pretty sure that they would not meet again, except fate seems to tell him otherwise. They meet again, except the herbalist finds himself hiding the thief from the guards. There are a lot of unanswered questions the herbalist has, and he is determined to find out those answers.
Male MC as a knight romancing the tavern chef
: The knight comes home to the inn after his three-year training in faraway towns, and he finds a new tavern chef at the inn. He learns from his parents that the original tavern chef needed someone to help out, and this new person showed a lot of potential. Since meeting him, it seems that the tavern chef is a magnet for unfortunate incidents despite his good will, but the knight can't overlook troubling situations. (This last sentence is vague only because I'm not sure what my first main event/disaster will be yet.)
Male MC as a composer romancing the blacksmith
: The composer arrives at a new town that he will be settling in for a few months. As he eats at the tavern on his first night, he notices someone who looks like the person he said goodbye to at the grave before leaving home. They made eye contact once, but the man does not recognize him at all. He thought it might have been a far-fetched situation, and there is no reason to approach him. He takes his broken metal ocarina into the blacksmith shop the next morning and sees him again. This may be his only chance to find out who exactly is this blacksmith.
CG gallery preview (1st CG of each route will be shown here when completed)
BL route: Blacksmith 1st CG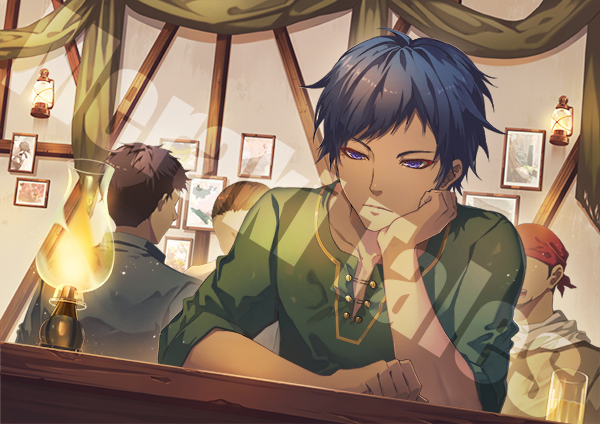 Otome route: Knight 1st CG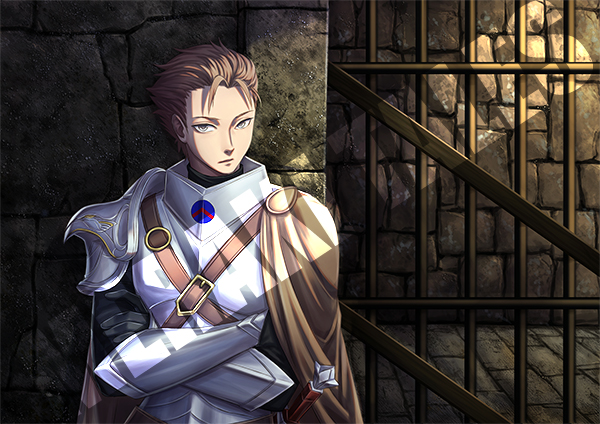 Preview of Background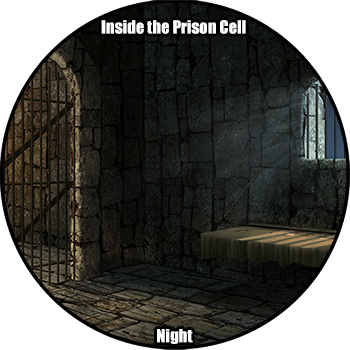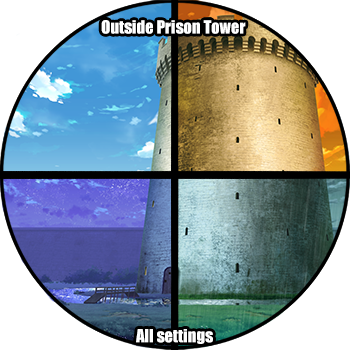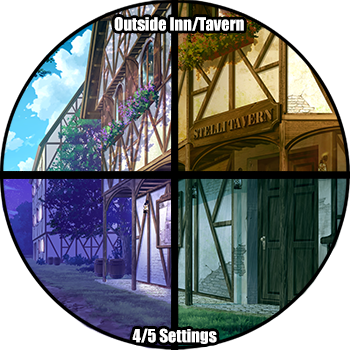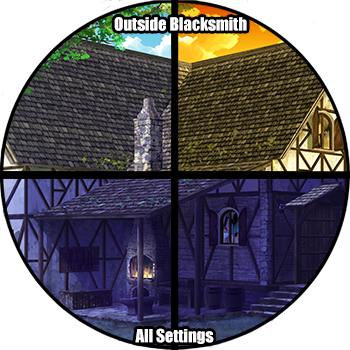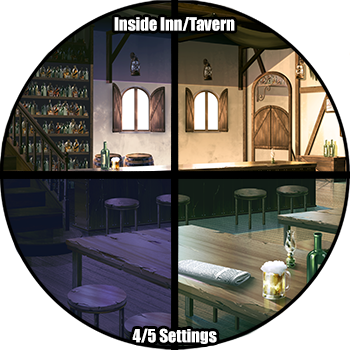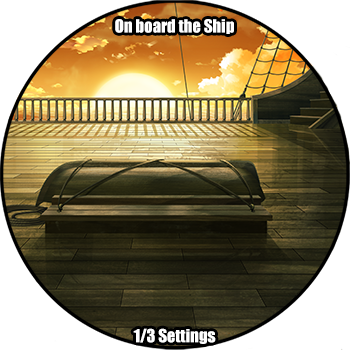 Music Sample
Prologue
Current tasks
Planning
• Story planning (outline): 26%
o Female!Blacksmith: 10%
o Female!Thief: 99%
o Female!Tavern Chef: 10%
o Male!Knight: 10%
o Male!Composer: 20%
o Male!Herbalist: 25%
• Characters design: 30%
• Merchandise Research: 90%
Writing
• First Draft: 1%
o Female!Blacksmith: 0%
o Female!Thief: 5%
o Female!Tavern Chef: 0%
o Male!Knight: 0%
o Male!Composer: 0%
o Male!Herbalist: 0%
• Additional Drafts before Finalizing: 0%
o Female!Blacksmith: 0%
o Female!Thief: 0%
o Female!Tavern Chef: 0%
o Male!Knight: 0%
o Male!Composer: 0%
o Male!Herbalist: 0%
• Final Draft
o Female!Blacksmith: 0%
o Female!Thief: 0%
o Female!Tavern Chef: 0%
o Male!Knight: 0%
o Male!Composer: 0%
o Male!Herbalist: 0%
Art
• Character rough sketches: 18%
• Character sprites: 18%
• Backgrounds: 100%
• CGs: 3%
• GUI: 5%
• Logo: 0%
• Merchandise Art: 5%
Music: 5%
Coding: 0%
Proofreading/Editing: 0%
Testing/Debugging: 0%
Staff
aeri
– project creator, writer, programmer
Soleil
– character sprite artist
Zhowee
– background artist
Darkavey
– CG artist (BL stories)
Yuli
–
former
CG artist (otome stories)
Zenith Omocha
– CG artist (otome stories)
Shion
– chibi artist for merchandise purposes
Nitsu
– editor
Emilily
- editor
Assigned (will stay anonymous) – idea-bouncer
Vi Yuzuki
-
former
logo, GUI
Umidori
– musician for opening song, bad ending melody, custom BGMs
Barzini
- media liaison
Updates (newest at the top)
• May 06, 2018: Updated character cards for the four that have already been done (both male and female protagonists, Edgar the romanceable knight, and Antonio the romanceable blacksmith)
• April 29, 2018: Replaced first draft game preview with second draft
• October 14, 2017: Added last 4 romanceable sprites (pending character card implementation) and 1 CG preview for otome route
• September 08, 2017: Added first draft of game preview
• August 20, 2017: Added character info card for the male!MC (his composer outfit is pictured) and updated the blacksmith's character card (now has a first name with an unknown surname due to his background)
• July 29, 2017: Adjusted staffing based on new situations arising, updated percentage of completion for various items in the lists, updated background preview section with "on board the ship (1 coloring)", added music sample section with "prologue" song, added CG gallery with preview of the 1st CG for the blacksmith route, new question added about game resolution based on background dimensions
• June 13, 2017: Updated background preview section with "outside blacksmith shop (all colorings)"
• May 29, 2017: Updated all current character cards (female protagonist's thief occupation, romanceable knight, and romanceable blacksmith)
• May 06, 2017: Updated background preview section with "outside inn/tavern (4 colorings)"
• April 14, 2017: Updated background preview section with "inside inn/tavern (4 colorings)" as well as preview of the official sprite art for romanceable blacksmith (one of the BL routes)
• April 06, 2017: Updated background preview section with "outside prison tower (4 colorings)" as well as percentage update of the first draft for the female!thief (MC) x knight route
• March 18, 2017: Updated romanceable knight (Edgar Triggs) with character biography card and updated character description
• February 26, 2017: Background Preview section created with "inside the prison cell (night)" available
• February 21, 2017: Updated female!MC's thief character card to finalized sprite art, story summary updated
• January 22, 2017: Updated female!MC's thief art to the colored sketch by SoleilRune (sprite artist), staff listing up to date
• January 15, 2017: Added blacksmith colored sketch from the sprite artist
• January 09, 2017: Added knight colored sketch from the sprite artist
Questions (even answering one question will help~)
Which story summary is the least interesting to you? Any suggestions to help improve the story will be appreciated and considered.

Would you like to have the option to purchase this game as an otome edition or BL edition? (For example, the projected early bird prices for the otome or the BL editions will be $12 versus buying the full edition with both the otome and BL routes at early bird price of $20.)

If posters were offered, what sizes would you prefer? (Current options are 11" x 17" (27.9 cm × 43.2 cm), 13" x 19" (33.0 cm x 48.3 cm), and 17" x 25" (43.2 cm x 63.5 cm)) Also, if you have any preference toward posters printed on glossy or semi-gloss paper?

Any comments/questions/suggestions?