March 19 Edit: Added official website, demo, official art, updated details!
Hello! First time VN author here. I'd like to introduce you to
Arcade Spirits
, my latest fiasco.

Plot Summary
It is the alternate timeline of 20XX, in a world where the video game industry crash of 198X never happened. Arcades are just as big a business -- and just as risky -- as movie theaters or restaurants. Tucked away in the corner of a strip mall, next to a donut shop and a dentist office, is the Funplex... a little mom 'n pop arcade staffed by folks with big dreams.
You show up as the new hire, unsure if you really want to be there or if you even belong... but as you'll find out, those with strong spirits for games can be like family to a wayward twentysomething in need of direction in life.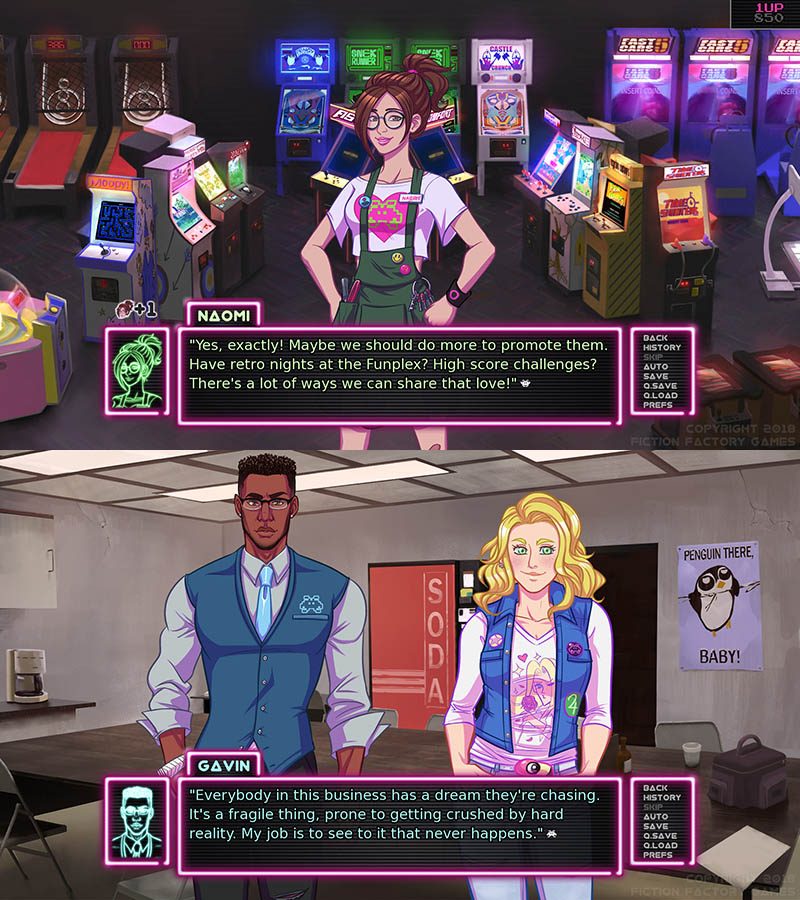 Progress and Development
We've released our playable demo! Grab it here.
Provides a good 20-30 minute run through our basic gameplay features and introduces our whole cast of characters. Takes 40-60 minutes if doing a read-aloud Let's Play.
Stefan Gagne
and
Aenne Schumann
are providing writing.
Molly Nemecek
is creating the character art,
Taylor Rose
creates the backgrounds, and
Greg Mirles
is creating the soundtrack.
Also we have a
Patreon
, to fund ongoing development costs. Anybody contributing $5+ a month can play monthly builds; anybody who contributes $25 or more in total over the course of development gets a copy of the game. If you'd just like to follow development for free we have a
Developer Blog
which is one week behind Patreon dev updates.
Main Character
Roomie: "But you actually enjoyed being a lifeguard! More than you enjoyed dishwashing soap or shoe sales, at the very least."
You: "I'm not the complaining sort; these things just happen. Things fall apart... the center does not hold."
Roomie: "That's a bit morbidly poetic, isn't it?"
You: "No, I mean, the community center literally fell apart and the pool won't hold water anymore."
Name, gender, pronouns, skin, and hair are all customizable. You're a high school graduate down on their luck, trying to find a job which doesn't gradually grind your soul into a thin paste... but beyond your hopeless history, who you are is entirely up to you.
A personality tracking system lets you express yourself as Quirky, Gutsy, Steady, Kindly, or Basically just a decent person. Arcade Spirits offers a roleplaying experience where you choose how you react to the world around you... and in turn, characters choose how they react to the sort of person you are. Check your current personality and relationship scores at any time with a click of the mouse (or a key)!
Romances are available with three staffers and three gamers (listed below). Relationships are gender neutral and will respond to you regardless of how you've customized your protagonist -- and it's possible to simply have a best-friendship if you aren't looking for love!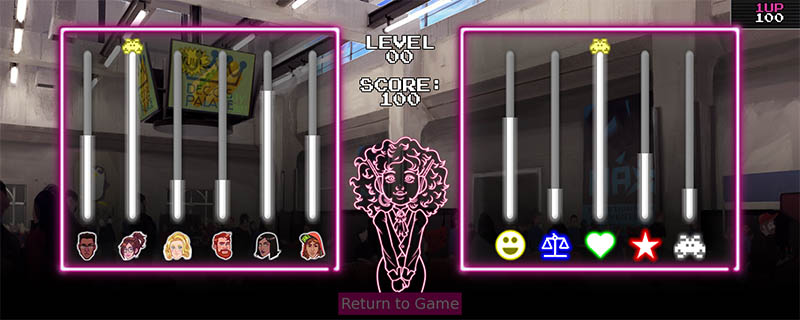 Relationship and Personality Tracking Scorecard!
Cast of Characters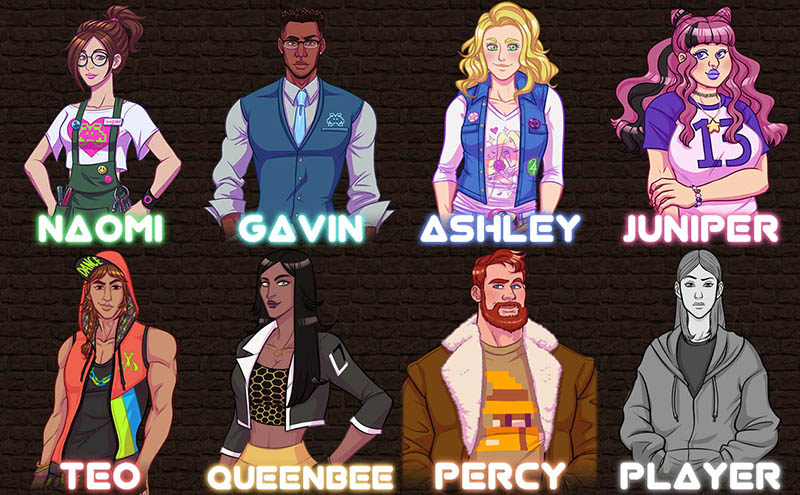 Naomi Fairchild - Tech Engineer
"Ooooh, I love the classic Midway style. Look at those sharp angles! The side art decals! The bold font on the marquee. The bezel artwork!"
"Games deserve our respect. And as long as someone like me, with a deep love for games, is on duty... they shall not fail!"
Cute as a 1P Start button and full of good cheer, Naomi loves classic arcade games, and lavishes them with love and attention. And copious amounts of soldering. And lots of replacement parts. And the occasional 'technical tap' to bang a thirty year old piece of hardware into working order. She respects games as an artform, and worries that one day, her arcade will junk all its games in favor of prize catchers and kiddie slot machines.
Gavin Cooper - Accountant
"I'm the business manager. That means I make sure we manage to keep having a business, rather than a pile of rapidly collapsing fiscal mistakes."
"I have enough problems keeping this magical ark of hopes and wishes afloat. Please don't add to my problems."
A serious fellow who applies his intellect towards keeping this ship of fools afloat. He's the only reason the place hasn't gone into the red, but he does his best not to step on the dreams of others in the process of making sure the doors stay open. While he seems standoffish at first, he's fiercely protective of his friends, and does his best to support them through any of life's little difficulties.
Ashley Wolf - Floor Attendant
"Ah jeez, I don't mean to be a downer; I just wanna move up in the world. I've got things to accomplish, dreams to fulfill, cosplay to make!"
"Yesterday, I was entertaining a little girl... must have been like five, six years max. Anyway, we were next to Showtime Stage when she tugged on my costume and... WHOOSH! Off came the arm. The girl instantly started bawling. I don't want that to happen again. I felt sooooo bad."
A dedicated cosplayer with more imagination than awareness of the world around her, she wears the 'Pinky the Funplex Flamingo' mascot costume to entertain the kiddies, which is only slightly terrifying and creepy to adults. Freewheeling and fun, she has a hard time taking anything seriously.
Teo - Dance Crew Leader
"I just like to show newbies the ropes and teach them how to play. Our community is small, but we are all SUPER close. I think you'd be a perfect addition to our gang! So, what do you say? Play our silly dancing game?"
"True, most of the time during these meet-ups, I tend to let everyone else play. I go around and make sure everyone is happy and having a blast."
Master of motion-tracking dance game Spotlight Stage, Teo acts as mentor to a crew of gamers looking to perfect the art of arcade music games. Flirty and fun, always ready to give of himself for another, he's pushed most of his own dreams aside in favor of keeping his crew going and making sure they shine brightly in the spotlight.
QueenBee - Pro Gamer
"Oh, you sweet child! You are so innocent and pure. Come, let me show you the path to darkness that is the Internet."
"There is so much to miss out on sitting by your lonesome with the console version of this game. The crowds, the wicked trash-talk, the community..."
Member of the famed Lucky7 eSports team, she practices hard every day at her favorite game, getting ready for the upcoming championships. Loud-mouthed, foul-mouthed, and always ready to dive in to any crazy situation, she's the living embodiment of having GUTS. Because as we all know, guts always leads to glory. Always.
Percy Sinclair - Scorechaser
"I actually owned a Moopy, once. Had it in my flat. But playing it by myself, all alone in the dark, it's... not the same. I need the atmosphere. The games, the lights, the kids, the feeling of being in an arcade. I score my best when I'm in real-world conditions. Naomi gets that. She keeps Moopy in top condition, for the day I eventually land my high score."
"A few hours of day trading after I go home keeps the bank balance in balance. Anybody could do it, if they have the head for numbers. If I'm going to define myself by a number, THIS is the one I choose."
Chubby-cheeked and always smiling, Percy's practically glued to a stool parked in front of Mr. Moopy's Magic Maze, chasing the world record high score every single day. But when someone needs a warm shoulder to cry on or a word of worldly advice, he's perfectly happy to throw away his extra lives and step away from the game to support a friend. Although if you ask him WHY he's so focused on such an obscure life goal... well, that's personal.
Feedback
Does the setting and theme (workplace romantic sitcom in an arcade) appeal to you?
Do you have any suggestions for how best to promote this in the VN community?
Any other feedback?
Thanks so much! It's our first visual novel project and we're looking forward to delivering our best work possible!