Hello, we are Broken Hammer Games. Our current project in development is: All is Fair in Dust and Air.
vndb:
vndb
Our website:
Broken Hammer Games
Our crowdfunding campaign:
IndieGoGo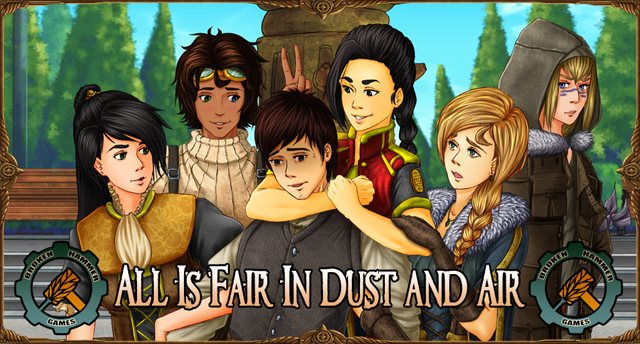 We are originally a fan team, turned indie developer who has a contract with Muse Games, the creators of Guns of Icarus.
Our VN is based on the Guns of Icarus world. A steampunk/dieselpunk kind of world where airships rule the skies! The story currently spans every nation faction within the world of Guns of Icarus and is expected to clock in past 700,000 word count.
So in other words...
-700,000+ Word Count
-Six Main Story Arcs + The First Neutral Arc
-Minimum Three Endings Per Arc. Some Arcs Have Up To Eight Endings
-Six Main Heroines + Four Bonus Heroines To Romance
Being based within the world of Guns of Icarus, we look at the bits and pieces of lore Muse has created, then build Dust and Air within them. Their world lore is very open and vague, giving us plenty of room to flesh it out with this story. That also means, our story is not canon, but it is within the realm of possibility of the world lore. Muse could certainly choose to make some of it canon later.
Our current progress on the neutral arc is about 50%. It spans four days + a few extra chapters. There is an alpha demo up here which offers the first day of that story:
Alpha Demo
The first day is our most complete at this moment but it is still based on an
Alpha Build.
It is around 80-90% complete.
Beyond that, the story arcs are all written in at least draft format. Edit passes are taking place in prep for production.
Story Background:
You are William Aven. Born not into a world of luxury or lack, but into the family that makes their living off airship shipping. A family ever at the mercy of which faction decides to fight the other.
You've been raised around airships and around traders. Taking over the company after your dad is a given. But what other choices could there be?
Your journey to Cathedral with your dad will decide many things, and you will meet many people who could bring about a greater change to your future.
Our story tells this tale and of the people he meets, trying to survive within the world of Guns of Icarus. You are no longer the hero pilot, gunner, or engineer on the airship, but just someone trying to find their way in a chaotic world.
There will be a broad range of stories. We do not limit ourselves to one location, but branch out into the world of Guns of Icarus. Each nation has a tale to tell.
A world where there is never an end, to those who seek a greater piece of it.
Screenshots: