True character graphics pending!
General Overview
Access: Free
Length: Demo [12,000 words] || Overall [Pending]
CGs: Demo [14] || Overall [Estimated 25+]
BGs: Demo [10 excluding variations] || Overall [Pending]
Estimated Completion Date: End of August 2018
Routes: 3 [Possibly 4 depending on circumstance]
Endings: 7 [Estimate]

Demo Progress:
[First draft: 100%] - [Editing: 90%] - [CGs: 100%] - [GUI: 90%] - [BGs: 80%] - [Sprites: 80%] - [Coding: 40%]
Synopsis
Kyul Chevalier is a demon tamer residing among demons, which naturally makes him quite a few enemies and very little friends. That's fine, however, since Kyul wants nothing to do with anyone aside from his chimeras and pets. Unfortunately, he is forced out of his self-imposed social isolation by Prince Signum, who wishes to challenge the demon king but needs Kyul's strength. Since Signum isn't well versed in social etiquette (aside from flirting), he decides the best course of action is to court Kyul's alliance via threat of war. Naturally, Kyul isn't thrilled.
Luckily, Kyul's hands aren't completely tied on this matter. The safest response aside from compliance would be to ally himself with Prince Raphael: the second strongest demon of the realm and arguably a much more pleasant person. Too bad that seems to violate his life philosophy. Perhaps he may very well opt to go to war with Prince Signum instead?
Whatever Kyul decides to do, inevitably he will have to examine the Chevalier House creed: "We stand alone."
Actually, that wasn't always the house creed. But it's
his
house and it's
his
creed, so it's the house creed now.
In any case, he'll come to find that Prince Signum is not an easy person to deal with under that banner, and that siding with Prince Raphael may be even more bothersome in the long run; not to mention the plethora of
other
princes that will inevitably be waiting at the wings to take down the worn out winner.
Despite all this talk of war and threats, this is a story not about fighting to survive, but one that concerns itself with what it means to wield power and the convictions that are required to take on the responsibilities of a true leader.
---------------------------------------------------------------------------
I'm not terribly good at summaries but I hope that gives a general gist! This is mainly intended to be a character driven novel, so although there's quite a bit of politics in the synopsis, each route will mainly explore the thoughts and drives of the character in question. Naturally, Kyul is the wild card with no conviction of his own. He's apathetic (though not willfully ignorant) at best, but perhaps watching the others will help him formulate his own drive?
Setting
The realm of Kaios is more commonly referred to as the underworld. It is a place where survival of the fittest is the rule of thumb, and a clear hierarchy is established among the demons who reside there.
Kaios is ruled by one king, followed by a multitude of "princes" who are strong demons that have amassed personal armies great enough to make a proper challenge to the throne. These princes run their own courts, which can be likened to pocket universes that they rule over like gods (with some restrictions). In order to become a prince, one must acquire a magical seal that will allow a prince to bind lesser demons into their service. Likewise, becoming king means to take the king's seal and integrate it with a prince's own.
Aside from prince courts, there are also the noble houses, which function similarly on a much lesser scale. The noble houses, however, cannot be completely sealed off the same way prince courts can be, and they cannot bar a prince (or princess) from entering if he or she pleases.
Nobles in Kaios are free demons that are powerful enough to avoid being bound, as well as having acquired a little territory of their own, and yet do not become princes for whatever reason.
Having mentioned seals above, it should be said that these magic seals are of vital importance to princes and nobles. Reading a seal will grant insight on its owner's magic and personal spells, and breaking it will cast the owner from their standing. Additionally, a demon who has their seal destroyed will only be able to utilize primitive spells. Thus, seals are guarded zealously and only conjured when necessary.
This is all setting info that won't be explicitly explained in the novel unless necessary, but I've written it out here for clarity/interest sake.
Characters
Questions
Does it matter a lot whether the main character's name is changeable when they have a thoroughly set personality?
Is there a character or something about the plot that you like?
Do you have any suggestions for someone who's making a VN for the first time?
Is there anything you'd like to see or hope not to see in this game?
(It will likely be a mature rated game though, just not a super romance focused one so no R18.)
How do you feel about seeing the same character in two wildly different stories? (Ex. Kyul as the MC here and an NPC/Route in another setting completely)
Anything else you'd like to say? (Questions, comments, advice etc. are all welcome!)
Misc:
Some mock ups just to try and capture the feeling I want for the game: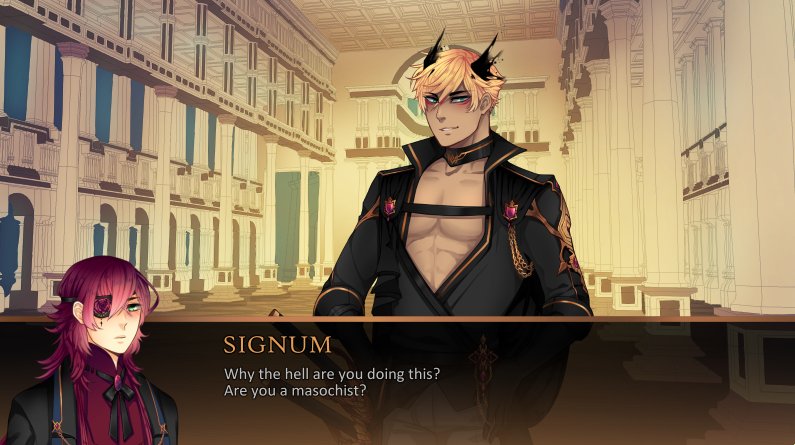 Sneak peak at the GUI:
Thanks for your time!