I'm about to repeat a lot of the info that you can read here, on Packmule's demo page, but I will be talking about what I learned after NaNoRenO 2018.
https://andrew-colunga.itch.io/packmule-demo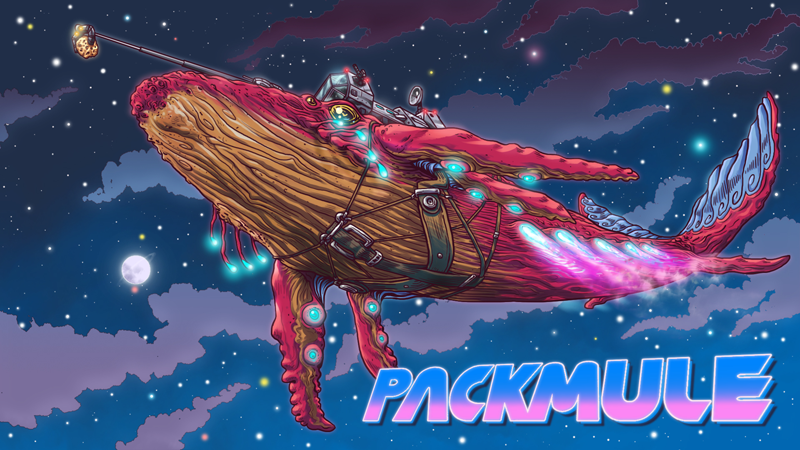 What is Packmule?
tl/dr: It's a sci-fi adventure with your best friend!
Description from the demo's page: You never wanted to become an adventurer for the fame or the money, but those things sure are nice. You've dreamed of owning your own starback to fly into the depths of space ever since you were a child, but making those dreams a reality hasn't come easy. Now you're down on your luck, thousands of light-years from home, with only a petty 100 IUs to your name. Is this your last chance to become a full-fledged adventurer before you have to call it quits and settle down somewhere to mend your shattered dreams?
Pack - a good smol robot boi.
This was my first time ever making a visual novel, and after NaNoRenO I played some of my first visual novel games too. The first real exposure I had to the genre came from watching the Game Grumps play DDLC, and that's probably true for a lot of people now.
But, I had experience in writing and drawing and general story-telling, (currently I do a cartoon show called FTL Kestrel Adventures
https://www.youtube.com/user/Andr3wTime
) and my experience in being a "game designer" comes 99% from my experience as a dungeon master during my days playing with homebrew settings and rules.
The future setting for Packmule comes from those homebrew games ... which were prequel stories to a book I've wanted to write in the setting ... which would be the sequel to a novel I did actually write and self-publish. All that aside, Packmule as a concept has been with me for a while. The first drawing I ever did of a starback (the space whales) was six years ago.
I do like the idea of continuing Packmule as a visual novel though. I'm probably most excited about creating something with my own setting, unlike my cartoon show which is based on the game FTL: Faster Than Light.
Things I Learned
Some of the player's choices are purely for "player acting" to help build the headcannon of your character. I like the idea of being able to express myself (or my character's opinions) and have other characters take notice. Like in real life, not every self-expression changes your destiny, but they help generate emotions within you.
Not everyone liked those choices though.
One player found those choices meaningless since they didn't split the game paths, while another player liked (when given multiple ways to respond to a personal question) that it made them evaluate how reserved they were as a character and how close they were to the person asking the question. The first player recommended tagging each choice as whether it was for flavor/player-acting or if it would split the path.
Ultimately, for the purposes of the demo
the end doesn't split, as this was a chapter about how the player gets into trouble, and not how they get out of it.
It's the beginning to the rest of the story.
Other things I learned ... EVERYTHING I NOW KNOW about ren'py. I knew nothing at the start of March, tinkered with it for half of the month, and then spent the second half furiously writing, drawing, and coding the script into the game. I coded my fingers to the bone, and still things like the money system broke down right at the last second and had to be pretty much ditched.
Another player also recommended having more text per "page," so they wouldn't have to click as much, but I'm not sure if that player knew about the auto feature.
Anyway ... if anybody wanted to ask a question or give me more feedback (OF WHICH I AM STARVED FOR,) please feel free to add to this thread.
Thank you for reading, and playing the demo if you did.
Packmule Demo:
https://andrew-colunga.itch.io/packmule-demo