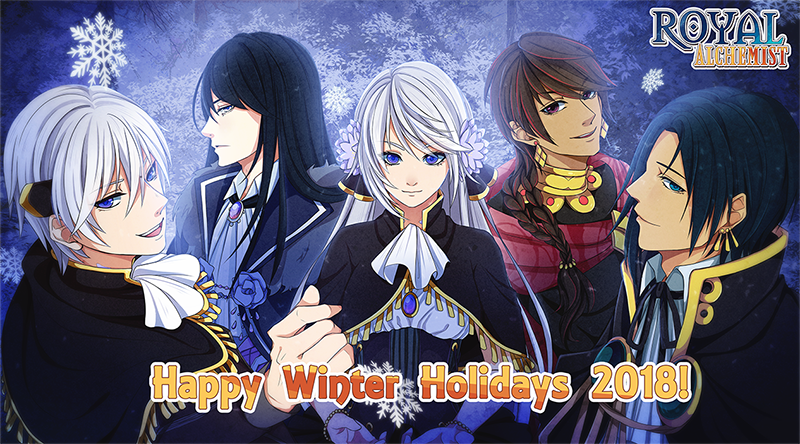 Tumblr | Twitter
|
Itch.io
|
Kickstarter
Fantasy | Royal Court | Stats Raising
Royal Alchemist is a
stats-raising Otome | BL RPG
in a high-fantasy royal court setting.
Keep the main characters alive through the story while improving their skills and craft various items, fulfill quests and advance the country's development.
The King was murdered.
The assassins have not been found. And the threat of rebellion hangs over the land.
With the succession thrown open and none of the three Royal Princes ready to take the throne, the King's brother has assumed the Regency.
Hoping to protect the nation and its people and help the rightful heir to the throne, the Regent has sought the help from the High Council, a neutral and influential faction of powerful magicians. The delegate it has sent, however, isn't someone the Eskian aristocracy prefers, for more reasons than it seems.
You are the scion of the ancient Rosenkreuz family, the High Council's delegate and newly appointed Tutor to the Royal Princes. Can you navigate the maze of Eskian politics and guide the princes on the path of power? Or will you succumb to the murky intrigues of the court, and the ever-present danger of assassins?
♦ Male or female protagonist
♦ 3 dateable characters
♦ 2 stats raising systems
♦ Time management & quest system
♦ 10+ Endings
♦ ...and many deaths
Only twenty years ago, Eskia had been a land mired in anarchy, suffering from the depredations of bandits, pirates and robber knights. One day, a mysterious man appears, and, like a legendary hero of yore, unifies Eskia into a kingdom. His rule fostered peace and stability; in no time at all the towns boomed and the countryside prospered, as merchants, craftsmen and peasants settled into the kingdom.
After the King's assassination, his brother took over as the Regent of Eskia for his three sons, who have not yet come of age to assume to crown. Eskia's three main provinces were divided between these Princes:
Fostrax:
The capital, to Prince Serin
Spelor:
The village, to Prince Nazir
Zelflos:
The mining town, to Prince Aurelius
Demetis
- Programming, Management, Compostion & Coloring
Agashi
- Story Consultant
Fuyuure
- Art
adirosa
- Art (Coloring & Items)
alfdale
- Writing
potouto
- Logo & UI
This is the progress only for the
Extended Demo
.
This project is highly inspired by survival stats raiser such as Long Live The Queen or Princess Maker >w< Which means you will have to raise yours and your bachelor's stats and keep them alive! (Or try to, anyhow xD)
It's been lurking in the background for a while, and it's the first VN I was able to work on with other people!
Every feedback / suggestion will be really appreciated! >w< Otherwise here are a few questions for the demo!
1. How did you feel about the characters? Interesting? Likeable? Annoying? xD
2. Which character did you like the most?

3. Was the difficulty alright? Did you die at the end of the demo?
4. Anything you expect, plot-wise and gameplay-wise?
5. Any other comments / questions? Let me know >w<b