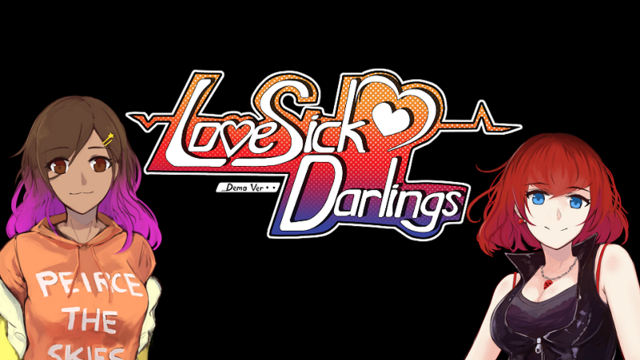 Hey there LemmaSoft!
I'd love to talk about and share my game with you all,
LoveSick Darlings
! It's public demo launched online today. Check it out!
LoveSick Darlings
is a visual novel focused on character relationships and player choice. Syd is in his last semester of 10th grade. At this time, his friends are bugging him to ask the girl he likes out after months of trying and failing. With the school dance and the end of the year approaching, it feels like now or never for Syd. But will his feelings hold up and stay the same as school wraps up? Will he find he has feelings for someone else in his life? All of this is up to you, the player, as you decide the fate of Syd and his friends at this crucial developing stage of their lives.
As Syd, the player builds relationships with three separate distinct girls - along with a handful of other classmates - as the protagonist lives out his daily high school life. Choose who you spend time with, with a
Key points:
- The game has a FREE 6 hour-long demo available
- Game features Danganronpa/Persona-like "free time events" where players choose how Syd (the protagonist) spends his time
- Art by amazing artists like Ippers and PhiPhi Au Thon (look em up on Twitter!)
- All written and directed by one developer (me)
Find out more here! You can find the demo here too.
https://biolizard.itch.io/lovesickdarlings
Check the link for more screenshots! The files/images are too big for these forums.
Disclaimer: There are a few "placeholder" assets in the demo. Hopefully they don't get in the way of your enjoyment too much. I outline them in the itch.io page.
What I am hoping to get out of this thread is feedback, takes, opinions, advice. Anything really. This is my first visual novel/game project ever, so I'm still quite new to all this. Feel free to share this game with anyone you know who might be interested! I'm hoping to get a great deal of diverse feedback and exposure for the game.
One of my more specific queries is regarding selling the premise of the game. Does the game need an improved hook? My game kind of relies on the strength of its characters and script - but I fear the premise isn't anything special. I fear people are just going to skim over it without giving the game a chance, because I am quite confident that once someone actually starts playing - they won't be able to put it down. It's just getting people to download and launch the game that feels like the potential issue. How do I make the old "high school romance" premise more unique and attention grabbing?
Also, what d'you think of the game's title? "LoveSick Darlings." I have a soft spot for VNs with vague titles and the use of key-words and ideas seemingly smashed together randomly. Does it give you any impression or expectation of the game? How does it work as a title for this game?
Apart from that, please feel free to give me feedback regarding anything at all. I am very open and curious about people's thoughts.
Thanks so much!