Underwater Garden
The tale of a Mermaid Gardener
Plot:
Azusa is a rarity in the underwater Kingdom, the ability to use a special king of magic know as Aqua-flames, a rare magic that allows her to coax and bloom underwater flowers that otherwise wouldn't be seen at the bottom of the sea. But sadly, because of her excitement over becoming hired as a gardener for the palace, over the previous years she's become known as a recluse, someone that "works too hard" and "someone who is married to their work". Azusa has grown tired of it, her past friends don't even visit her anymore and she gets very lonely. All she really wants to do is make a friend, and maybe get invited to the upcoming ball.
Characters: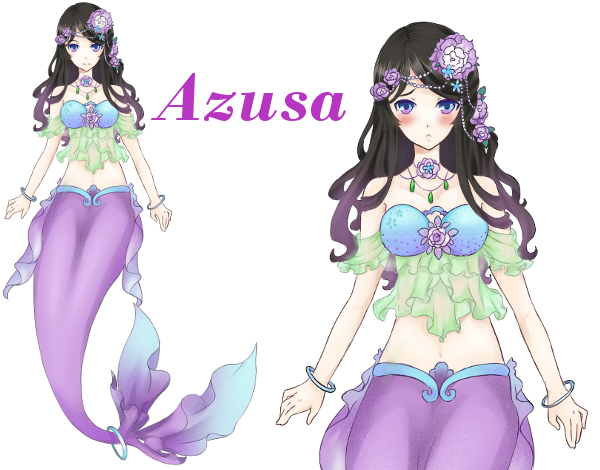 The MC, a flower lover and happy to be working her dream job of tending to the palace gardens. Not so happy that her dedication has lost her many friends. She has a type of Aqua Flames a special and rare type of magic that lets her grow flowers that otherwise couldn't be seen under the sea.
"I'm not always in the gardens. I go other places just like everyone else does too!"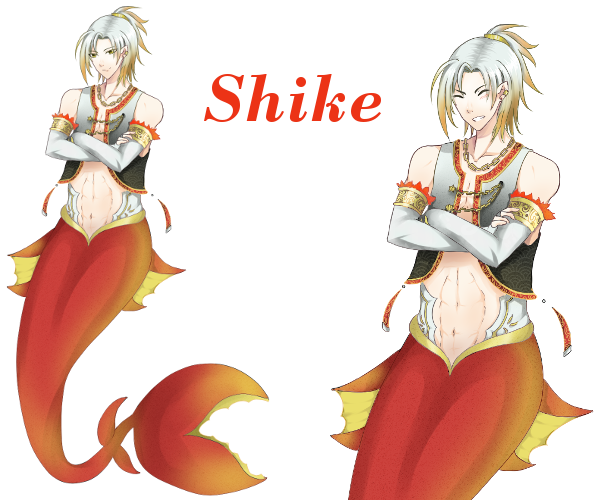 Second prince of the Kingdom of the Carabu West Sea, he's quite dedicated to escaping his guards by hiding in a certain bush in the palace gardens, much to the annoyance of Azusa. Will she ever be able to get him to leave the bush alone?
"I didn't ruin that bush, it loves me. It's a very loyal bush, growing so I have a hidden comfortable space behind its leaves."
The newly hired gardener that Azusa had no knowledge of until the day before he came. He insults Azusa's capabilities on their first meeting. Will Azusa be able to befriend him or will the two gardeners forever clash.
"I just don't believe that you could have grew this magnificent garden."
Team:
Writer & Programmer: Mickychi (Me~)
Sprite & CG Artist: Mashiro-chi
Music: Davisan
DEMO OUT:
http://www.mediafire.com/download/fs3r3 ... .0-all.zip
Shike's route only, temporary bg's and no Cg's yet.
Recruitment: (I have a thread up but haven't found the reply I'm looking for yet
)
BG Artist crucially needed for 4 or 5 BG's
LOGO DESIGNER/MAKER (I CAN'T BELIEVE I FORGOT ABOUT THIS!!!)
GUI artist & coder - (Someone who can make/change the menu's - someone has offered to make the textbox.)
This is my first time participating in NaNoRenO, hopefully I can complete it in time.