Game is off Hiatus!! But has been completely reworked from the ground up. We will be posting a new page in the Works in Progress thread as soon as we finish a couple more art assets. Keep your eyes pealed! =D



Take an adventure to a fantastical new land! A sudden storm has swept your Hot Air Balloon to a strange island that seems to be ruled powerful Weather Entities!? Learn to navigate the strange winds to search and explore. Will you try to befriend those that live here or venture into the darkest corners to find things unknown?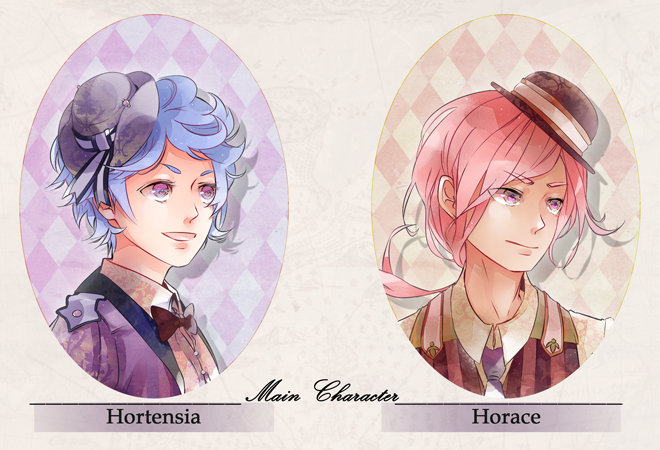 Hortensia / Horace (MC, name changeable, gender changeable)
Kind and adventurous, they aim to discover new lands and have grand adventures.



Sleet - The Northern Entity
The most easygoing of the Entities. Loves the animals of their land and if often talking about them or showing them off.

Pulse - The Western Entity
A very active individual, always moving around. Brash and loud and always looking for a good time.

Derecho - The Eastern Entity
A very vain type who wishes to make everything beautiful. Though sometimes that means blowing down things they deem ugly.

Monsoon - The Southern Entity
Noble and regal. Monsoon is a quiet, thoughtful sort who carries a lot of presence wherever they goes.

Plus multiple minor characters you meet along your travels~





ART
Concept Art - 80%
Girl MC - 100%
Boy MC - 100%
Skyrate - 100%
Other Sprites 20%
GUI - 75%

WRITING
Outline Intro - 100%
Script Intro -15%
Skyrate Event - 25%
Midgame Events 25%
Final Paths 0%

CODING
GUI 5%

Music - ???%




This game will be more akin to a Choose Your Own Adventure story then your garden variety VN. Many possible paths with many possible endings, good or bad.

We're aiming for a March demo but will be continuing the game onward to a full finished game. Since we have no idea how to make small games. OTL Hopefully a strict deadline will really get us moving. =D




Writing: Jay, Kay, PeachandRabbit
Art: candies-and-sweets
Music: ???
Programing: The Jay and Kay siblings.
Legal: Kay (kkb1games@gmail.com)

https://www.facebook.com/KKBGames-1751959735032590/
https://www.instagram.com/?hl=en
http://kkbgames.tumblr.com/