When Tiana finds herself house-sitting a mansion, she thinks her life is taking a turn for the better.
Little does she know the house is not what it seems… and neither are the two occupants who both wish to lay claim to her heart.
Contested ownership barely covers what's happening at
The Crossroads
.
Download now at itch.io- https://seraphinite.itch.io/the-crossroads
--About--
The Crossroads is a light, romance-focused, supernatural visual novel. I'm hoping to make it a bit lighter and fluffier than I normally do
It will be quite a linear visual novel, with really only the romance scenes and endings differing throughout- hopefully it will mean I can actually finish the project in the month!
--Features--
[1280x720][Modern][Romance][Supernatural][GxB]
Warnings
: Suggestive adult content
(but it's hardly anything!)
> Two love interests
> Personality choices all the way through
> Three possible endings for each love interest
(Love Ending, True Love Ending, and Bad Ending- Bad ending will vary only slightly for each)
> Just general fun and romantic lightness
> Unique Sprites, BGs, CGs, GUI
--Characters--
Main Character
Tiana- Name Changeable
After losing her job, her apartment, and pretty much everything else, Tiana finds herself at a crossroads in life and has to decide where to go next.
Luckily, a job offer to house-sit a mansion in the middle of nowhere sounds like the perfect opportunity to take some time for herself.
(A very simple character customisation will be available- hair colour, skin colour, and eye colour)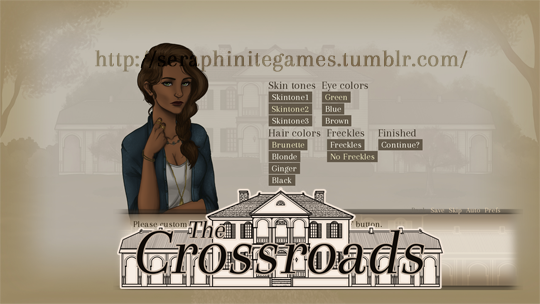 Love Interests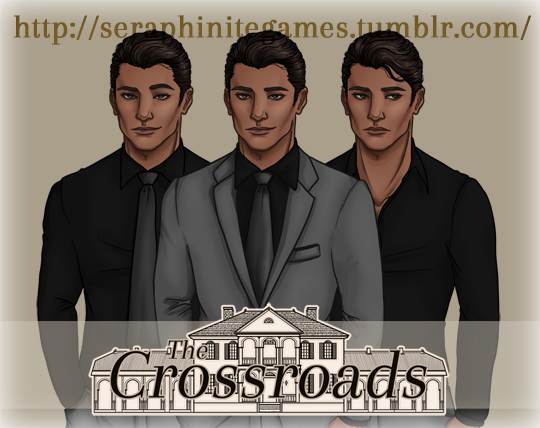 Lucan
The steward of The Crossroads. The man seems to bypass flirting and go straight into… well, full on suggestions! Quite the man to figure out…
---
Tristan
Works as the handyman of the house. Sweet and caring, he suits the gentle gardens he spends most of his time in.
--Progress--
Plan
–
Completed!
Script
-
Chapter 10/11 Complete
Endings-
Tristan-
1/3
Lucan-
1/3
Music
- Undecided
GUI
-
Completed!
Sprite- MC
-
Completed!
Sprite- Tristan
–
Completed!
Sprite- Lucan
-
Completed!
BGs
- 6/6
CGs
-
Lucan 3/3
Tristan 2/3
--Notes--
So, I really wanted to do NaNo again this year, though definitely wanted something I can actually finish within the month
I will be soloing this as usual, so progress will be steady, if a bit slower.
I'll probably be starting on GUI and backgrounds as they are my least favourite things, but I might slip into the sprites sooner because, well, that's the fun stuff!
I'd love to hear your thoughts on this and any questions you might have