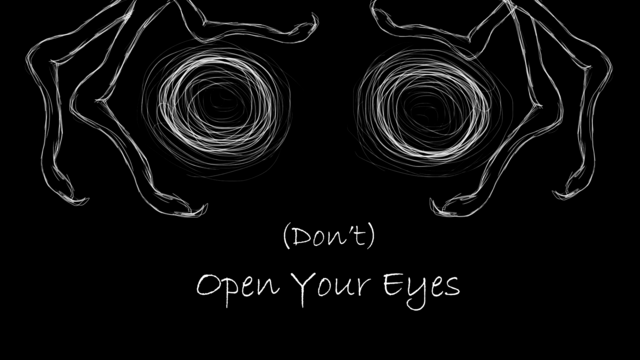 (This banner is a placeholder and will be replaced with something better in the future.)
Synopsis
You are trying to fall asleep.
In the midst of a silent night, a shadowy being approches your bed.
You can't see it... but across the darkness of your eyelids, a silhuette forms nonetheless.
It seeks one thing: for you to open your eyes, and tell them how they look.
Will you comply? Or refuse, and share the night with your new visitor?
The choice is yours.
Description and Features
"(Don't) Open Your Eyes" is a short,
horror-themed Visual Novel
about an encounter with a mysterious being... all within the comforts of your own room. Make the
right choice
and engage your nightly visitor in conversation, learning more about its past, about its thoughts, and about how it sees itself.
But that's not all. As the story progresses, you'll be asked to
tell your visitor how it looks
... or at least, make an approximate guess. You
have 3 sets of eyes, hands and facial expressions
from which to choose from, resulting in
27 different ways
your visitor can look. But remember: this is all within your head. The only way to *truly* know what they're like is to open your eyes.
Lastly, "(Don't) Open Your Eyes" is a
fully-voiced project
. Let yourself be relaxed (or intimidated) by your visitor's whispers as you listen to what they have to say.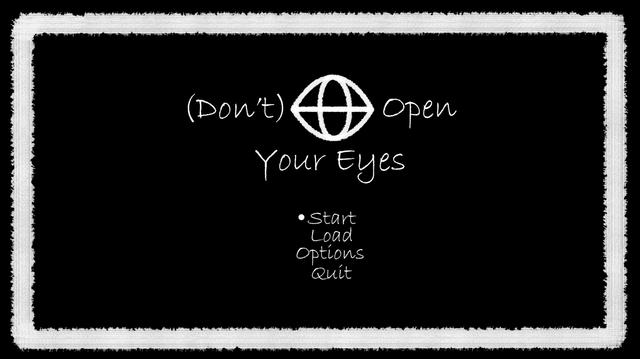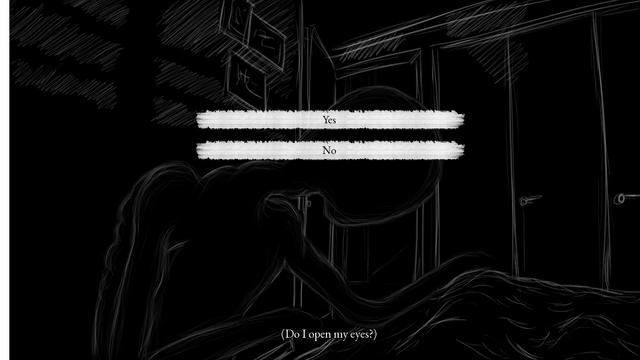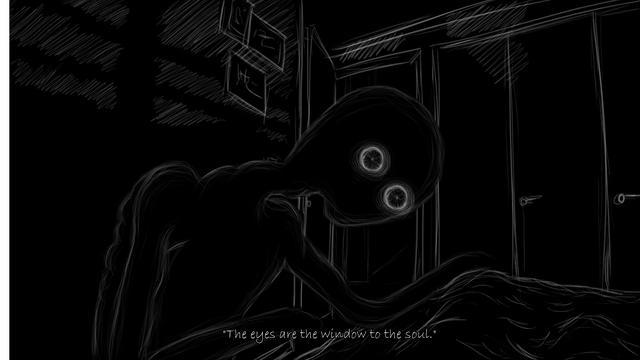 Team
Writing, Programming and GUI
- Daniel "Via" Cuturrufo
BG and Sprites
- Carolina Cuturrufo
Voice Acting and Editing
- David Acosta
Music and SFX
- Creative Commons assets
(Links to social media and portfolios soon to come.)
About
A bit of a late entry, huh? But hello, my name is Via, the writer and creative lead behind this project.
"(Don't) Open Your Eyes" was planned with a limited scope in mind, given that I knew art assets would be few, and sound assets much more so. It's also my first time making a visual novel in renpy from scratch, *and* designing/drawing a simple custom GUI to go along with it. First time using Photoshop as well or trying my hand at something art-related, but I think I did a good job at it, all things considered. Thankfully, a family member was kind enough to draw the essential art assets for this story, and a friend offered their voice and sanity to our noble cause, making this visual novel a bit less limited in scope than initially envisioned.
The script has been fully written, edited and implemented into the engine. The GUI is done as well. Voice lines have been recorded and implemented, needing just a few retakes here and there. Lastly, BGs have been drawn and only a few sprites are left. All-in-all, we are probably about
80% done.
We might be cutting it a bit close, but we'll definitely finish on time.
I'll be updating this thread during what's left of the month (or follow me on
twitter
if you want to see me tweet about it... sometimes.)