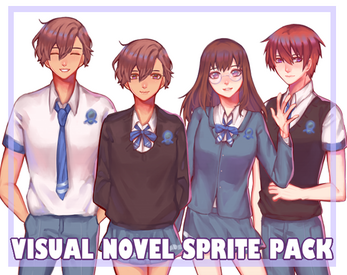 Download
HERE
In this pack, you'll receive:
• 4 high-resolution sprites; 2 female & 2 male in highschool attire
• 5 expressions each; default, smile, happy, angry, sad
• .png and .psd files, feel free to edit and customise as you need!
These assets are under the CC-BY-4.0 license. You are free to use and modify as long as credit is given.
Feel free to share your projects with me if you've used the sprites!
Will occasionally add more packs whenever I can, thanks for checking them out!
edit: I accidentally butchered the license name, fixed it :') Same terms still apply