Hello, everyone! My name is David, and I'm one of the writers for the visual novel A+ Switch. You can also find the project's thread here on Lemmasoft:
http://lemmasoft.renai.us/forums/viewto ... 43&t=28603
Synopsis:
A+ Switch tells the story of Kouhei and his struggle to cope with his younger sister Iori's fatal illness. With Iori's condition only worsening by the day, Kouhei wishes to do something special for her before the last autumn leaf falls. Obsessed with accomplishing his goal, he completely disregards his own deteriorating health; his nights are plagued by dread of his sister's death, his appetite gradually wanes from the lack of sleep, and social interaction at school becomes a chore. Concerned about his state of mind, Kouhei's school counselor advises—or rather, "forces"—that he visit her office regularly for psychological evaluations. It's during one of these sessions that she recommends he be tutored by a selected group of upperclassmen to prevent him from falling behind in his studies while he deals with his issues. With not much room to argue, Kouhei halfheartedly agrees. He begins to realize, however, that the people around have their own fair share of problems, and that life may just be one big test to try and solve them. How will Kouhei fare?
Title Screen Concept by Piichimi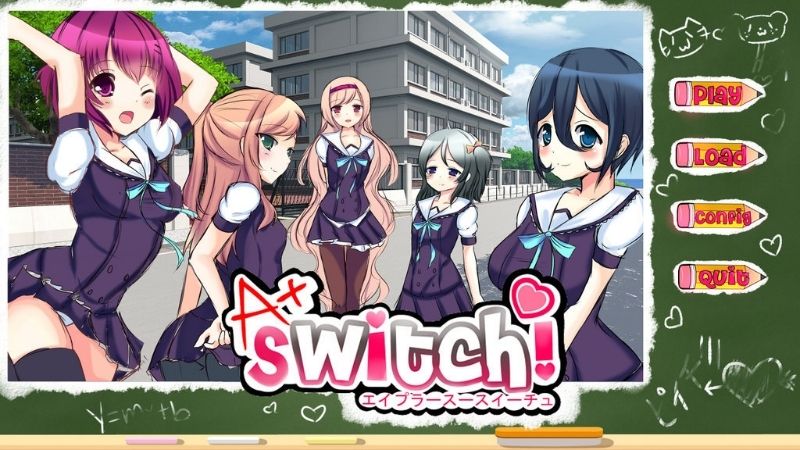 Genre:
A+ Switch will be a mix of Comedy, Slice of Life, Drama, and Romance. The visual novel also contains some adult themes.
What we're looking for:

A+ Switch is still in the very early stages of development, so we are in search of writers who are able to assist in creation of the characters' backstories, routes, world lore, and overall plot—we are always open to new and interesting ideas that can help better the story. We believe that writing is the fundamental core that dictates all other aspects of visual novel creation. That being said, we are hoping to find individuals who are as passionate about storytelling as we are.
Some of the basic requirements include:
~ A good communicator who actively seeks participation in development or just random group chatter. (Communication is key with projects). It's also encouraged to have Skype. You can find the program here:
http://www.skype.com/en/download-skype/ ... -computer/
~ Being open-minded to new ideas and concepts.
~ Promptness and good time management to work on a regular basis.
~ An excerpt of previous work.
~ Willing to volunteer for free, as our project is a non-commercial visual novel.
We do hope our project is able to interest you enough to apply for a writing position. If so, please feel free to send me a private message or leave a post down below. I'll be sure to respond as soon as possible.
Thank you so much for reading our request! We look forward to having the chance to work with you.