Hello! My name is Sami, and a while back, I started a visual novel project called Contact. Perhaps you saw it briefly in the NaNoRenO section? Unfortunately, life hit me in the face repeatedly, and the project ended up sinking. Life is still as hectic as ever, but I'm not going to let that stop me from reviving this project. I was so close to making something great, and I don't want to see it die. Slow progress is better than no progress, right?
About the Project
Contact is a GxB visual novel that follows college sophomore Marianne Mason as her life is suddenly upended by the appearance of two divine interlopers. One day, she is approached by an angel named Lisiel, who calls her a "Contact," a human with unique spiritual parameters that have drawn Heaven's interest. After a baffling meeting where she is asked if she would like to pledge allegiance to Heaven and use her hidden potential to help fight a divine turf war, Marianne finds that she's not done with strange people showing up. She finds a demon named Claude chilling out in her room the next day, and he makes a pitch for her to pledge allegiance to Hell instead. Soon, Lisiel and Claude find out that they're vying for the allegiance of the same Contact, and squabbles break out. After some haranguing, the two agree to have a fair competition to gain Marianne's allegiance, visiting her and going around in the human world with her. As the competition goes on, the stakes slowly raise, and Marianne will find herself faced with some heavy decisions when one side gets a bit too desperate...
Sprite Artist:
I expect that there will be 3 characters who need 5 expressions each, plus a variation of one character that will probably have three expressions at most.
FOUND!
Welcome
MelowBee
to the team!
CG Artist:
I have made a tally of 11 scenes that will need CGs (most are endings... don't worry, there aren't 11 endings), though this number may increase/decrease depending on the CG artist's availability/what they're willing to do. It would be nice to have more and show off more scenes, but we can discuss it once you're on board.
Found!
Welcome
Bunniesovercats
(Deviantart) and
Morg
to the team!
Background Artist:
Very Needed!
While I can use free backgrounds for most things, the latter half of the game will definitely need custom backgrounds, and quite a few at that. It would be great for every background in the game to be custom-made for the sake of uniformity, but once you're on board, we'll talk about what you're willing to do. The latter-game backgrounds are more outdoors-y (at least in one path; the other path is indoors but may be complex), so keep that in mind.
UI Designer:
A UI designer is definitely wanted since I have no clue what goes into a good UI. :'D I don't think Contact will deviate too far from what is in the standard Ren'Py layout (aside from that thing where the point of view character is shown next to the textbox when they speak), but your assistance will be much appreciated.
FOUND!
Welcome
TsunamiJurai
to the team!
Programming Assistant(s):
Though Ren'Py seems simple enough, it's very likely that I'm going to run into something that doesn't compute all the way if it's more complex than "change or check this variable." You might not be needed all the time, but it would be nice to have an "on-call" consultant for when I get tangled up. In terms of things you might directly have to do, you might have to help me to get the UI to work, since I've never played with that and I'm not sure how to do it.
FOUND!
Welcome
mavyxdawn
to the team!
Co-Writer:

Probably Needed
I think I need a co-writer. With more people suddenly jumping on board, I want to make sure I have a good, full result. As a Co-Writer, you will be helping me flesh things out a bit with the writing and the story. You can write your own scenes if you'd like; just be sure to send them to me for feedback and approval. You will be privy to all the plot matters, and we will most likely be splitting scenes between us to write. We can discuss more details once you're officially on board.
Editor/Proofreader:
Since the project is still in the making, I think I can wait to throw the writing in front of people and get it touched up. You might not be needed right away, but you will be called on later when the writing is nearly done to help me check things over and make sure there are no gaping plot/logic holes or other unpleasantness.
Found!
Welcome
MoonlitClovers
and
Windchimes
to the team!
Composer:

Would be Nice
While I've been getting by with royalty-free music thus far, it would definitely be nice to have a composer on board to give the VN a more distinct feel. I'm not quite sure how many tracks will be needed and for what situations, but I suppose we can work that out as we go (pending your availability, of course). Perhaps you could also help with corralling good sound effects? (Also, I love leitmotifs. Distinct character themes would be awesome.)
[Might be found, still waiting on a response before official adding. Feel free to still apply for this position so we can divide up the soundtrack work!]
If you're interested, you may post in this thread or PM me! If you'd like to talk with me through Skype or Google Hangouts, let me know and I'll PM you my information (I'm sure we'll all eventually end up in some place to make communication easier on us all).
Thank you for your interest!
Bonus Section:
We're still not quite at a demo stage yet, but we do have character designs!
Marianne
I'm a sophomore, and I spend a lot of time on side projects that I should spend studying. I find I don't like my classes that much this semester... I mostly do art stuff. Doodles in my notebook, stuff on the computer, commissions sometimes.
Marianne is the protagonist of the VN. She has a very strong artistic bent, and definitely has some spunk to her personality.
Lisiel
Oh, how fortunate. I wasn't expecting to find you today, but since you found the device, I don't see anything wrong with an early introduction.
Lisiel is the angel who has come to secure Marianne's allegiance to Heaven. He is very gentlemanly and keeps a cool head at all times.
Claude
Locks and doors and decorum ain't everything, Contact, or this would all be Heaven's territory by now.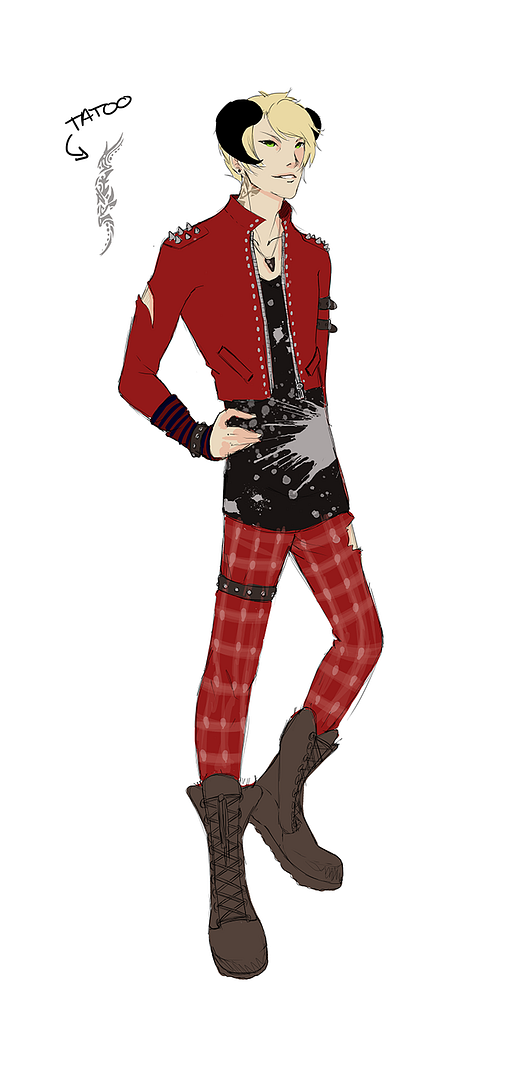 Claude is the demon who seeks Marianne's allegiance to Hell. He's loud, a bit crude, and very gregarious.