WARNING: IF YOU ARE NOT COMFORTABLE WITH YOUR WORK OR YOURSELF BEING ASSOCIATED WITH SOMETHING THAT MAY OR MAY NOT ALIGN WITH YOUR POLITICAL OR RELIGIOUS BELIEFS, OR IF YOU ARE NOT COMFORTABLE WITH SEX, NUDITY, GORE, OR ANYTHING OF THAT NATURE, WORKING ON THIS VISUAL NOVEL MAY NOT BE THE BEST IDEA FOR YOU.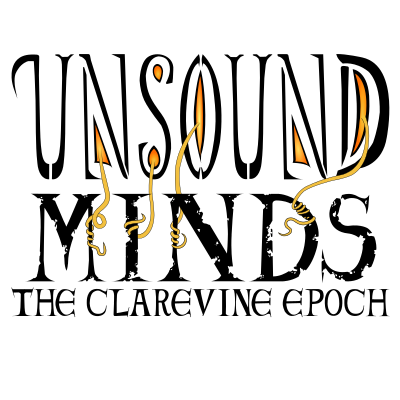 Synopsis:
Long forgotten are the Dreamlands.
Long forgotten is Christianity as we know it.

But why?


The key to that answer lies with Clarevine, Elina, and Aracelia.


It all begins with a nightmare.


Unsound Minds is a yuri Visual Novel involving Christianity and the Lovecraft mythos that aims to tell a dark and deep story.
The World of "Unsound Minds"
The Heroines:
About "Unsound Minds":
"Unsound Minds" is a project that's been cooking in my head for a couple of years. I've read a lot of English Visual Novels up to now. I've noticed they never really touch things like politics, religion, and that sort of thing. A lot of them just try to copy the Japanese instead of just telling a story only someone from their own country could tell. Some developers have got the right idea, like the developers that made "VA-11 HALL-A" and "Doki Doki Literature Club". But it's not nearly enough people. That's why I'm making "Unsound Minds". That and because my idea is something just about no developer has thought of doing for an English Visual Novel.
Positions:
Composer: drs__
Co-writer: QAN_TL
Character Artist: Amaco Studios
Background Artist: DeadFishDream
CG Artist: Amaco Studios / DeadFishDream
GUI Artist: NocturneLight / DeadFishDream
Logo Designer: Austin S.
Website Designer: Austin S.
Publisher: Reminiscent 64 (Self-Publishing)
Marketer/Advertiser: Barzini
Payment:
My intention is to fund the game through Kickstarter or some other crowdfunding platform. So, I would be most comfortable with just paying a small or no upfront fee, have you do your thing to help make the demo, and then paying you after the game succeeds on a crowdfunding platform. I do recognize that some of you might not be comfortable with the idea I've proposed. So, if you're more comfortable with having me pay a large portion of the fees before the Kickstarter, like half the cost of the art needed for the demo or half the cost of the art needed for the entire game, for example, be upfront and tell me right away. I'll decide then and there if I'm comfortable enough with paying your price before the Kickstarter or not. That way we don't waste either of our time. Basically, I'm flexible. Talk to me so we can come to an agreement.
Contact Information:
There are three ways you can get a hold of me: through my email
RequiemRios@gmail.com
, through Discord by adding
NocturneLight#5286
, or through
Lemmasoft's messaging system
. Please use whichever you're comfortable with to get a hold of me. I will say though that you'll reach me fastest by emailing me. Also, if you do message my email account, be sure to put "Project Aqua" or "Unsound Minds" in the title header so I don't accidentally mistake it for spam.
If you have any questions, feel free to ask! But look at the FAQ to see if I didn't already answer your question!
"What is your timeline for the demo?"
The timeline for the demo is roughly as follows:
- April: Finish updating the GUI.
- May: Start writing the story bits that are tied with the Python programming and implement it into the game. If I get finished art assets during this time, I'll start on implementing those into the game during this time as well.
- June, July, and maybe August: Continue or begin implementing the art assets into the game. I say it'll take 3 months to use the art assets to make the scenes, but it could very well not take as long as I think it will. So think of 3 months as the worst case scenario.
Beginning Half of September: Check to make sure that there are no bugs in the demo.
Last Half of September: Release the demo on itch.io, and make a thread about "Unsound: Minds" to gather feedback on what people like and don't like about it.
"Can you breakdown the 11 poses for each sprite?"
Clarevine:
- Both hands on her lap.
- Hands behind her back, with one hand in the other.
- Rubbing her neck.
- One arm raised as if she's waving.
- Holding on to her handbag as some kind of crutch. (It's needed for a scene to show that she is mentally and physically reached her limit. (Though if I were to bring you onto the team, I'm more than willing to listen if you have a better idea for a pose.)
Aracelia:
- One hand in pocket.
- Both hands in pocket.
- Left hand covering her mouth to hide a crazy smile.
Elina:
- Left arm holding onto right arm.
- Arms crossed.
"How many assets will you require for the actual project once the demo is done?"
Any number I give right now is just going to be a shot in the dark and probably end up way off. The writer has finished the script, I just need to go through and figure out what art and music assets I'm going to need.
"If the Kickstarter campaign is unsuccessful, will you still pay in full?"
If it's assets made for the final game after work is completed on the demo but before the Kickstarter, I'm not paying that in full if the Kickstarter fails. What this really means for you is that I'm not expecting you to work on the final game until the crowdfunding campaign succeeds. You can of course, but I'm not expecting you to.
Keep in mind though, if the Kickstarter fails, that doesn't necessarily mean I'm going to cancel the game. If it succeeds, great. If it fails, I'm going to listen to what the backers are saying and figure out what I did wrong, and what I did right. If I got close to a successful Kickstarter, I'm going to launch a second campaign after taking the backer's feedback. If I didn't get close, I'm going to listen to the backer's feedback and decide from there. If a lot of them say "this would be better if you moved it to Patreon", I'll move it to Patreon. If I get a lot of people saying "run a second campaign", I'll run a second campaign.
If the Kickstarter fails, and I choose to scrap the project though, I'll pay for everything used in the demo. Because I'm going to look at your prices beforehand and cut the number of backgrounds, CG's, and other assets so that, based on your prices, the amount of money I have to pay back is an amount I can live with losing. Basically, I'm not going to let it turn into a scenario where I end up owing you $5000.