Greetings from Belgium!
The Son Within
is a Visual Novel with emphasis on horror (both psychological/gore) and social interactions.
EDIT 03/07/2018: We're now closed for applications, thank you everyone! See you soon in our discord server! 
Short story:  
Naomi is selling a manor as a real estate agent, her first assigned sale. Everything goes well until buyers and herself find a hidden room which they unlock. They're now stuck in a manor with bloodthirsty spirits looking for revenge, Naomi and the rest of the group will uncover this place secrets and unveil what lies behind the two serial killers who made this whole paranormal event possible.
The challenges:  
This visual novel aims to find balance between an interactive story (Telltale Games), a psychological visual novel (Zero Escape) and some touch of gore (Corpse Party). As such we aim to provide, not new mechanics or story telling, but a recipe that adds all these ingredients in the same soup.
As a small indie team, we give the quality of a standard that is not considered "indie". We create a quality game to be enjoyed by many and bring new type of players into the genre. We have a lot on our plate, thus your role will be core to this project's future.
The Son Within

objective is to showcase us, as a team, being able to deliver a new kind of product, brought from concepts of the past.
By working together on Discord and Facebook you are able to become part of an inspiring project that is the first of many.
How:  
With 400$ per month and your help, Nils Fischer (lead designer and writer for the game), will organize a crowdfunding campaign on Kickstarter.
Nils will commission a set of ressources to create the demo of our kickstarter campaign.
By reaching out Steam "Direct", this game will provide entertainment for the biggest audience!
Who is this for?  
You are an experienced artist, able to draw in anime style pretty efficiently (4-5 drawings per week).
You have a portfolio showcasing your latest pieces and have pertinent art to our game art style (references below)
If you have enough time to spend on this project, meaning more than a few hours per week, then this is for you!
What needs to be done for the demo?  
6 character concepts with 3 poses each (18 drawings).
4 character sprites with 3 emotions each (12 drawings).
2 small CGs (inserts) and 2 bigger CGs (presentation scenes).
What about references?  
Visual Novel sprite reference (CHARACTER SPRITE REFERENCE1):
(Akane, Zero Escape - The Nonary Games)
The art style we aim for (CHARACTER SPRITE REFERENCE2):
(Shirou Kotomine - Fate Apocrypha)
Background references (3D "feel" with a filter on the picture):
(School Mansion Interior (VN Background) by ExitMothership (deviantart))
Background thematic/ambience reference: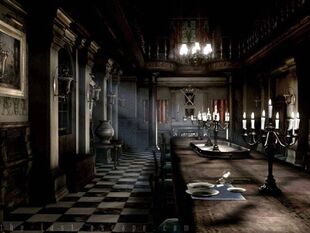 (Resident Evil Remake, dining room)
There will be lots of running, CG reference 1:
(Picture from the VN Memory's Dogma's)
Our game will have lots of gore and horror scenes, references are too graphic for this forum.
What's the deadline?  
This project's deadline is December. The sooner the better of course.
Recruitment for the project is closed!
What's next?  
The Son Within

is the first project of many. On the road ahead lies another visual novel and a J-Tactical RPG.
By applying here you consider the potential of the company, the team and its core members, you are willing to work for more and become part of something exponential.
Job listing:
Concept artist, Sprite artist, CG artist, Background artist

CLOSED
NOTICE
: You acknowledge all these roles combined as one job position.      
Do you think you have the guts needed for this mysterious and gruesome story? Apply now by sending an email to
nodigames.eu@gmail.com
with a portfolio of your past work. You will receive a confirmation email during the day.1*2*  
1[*]Once your application has been verified and your goal made clear you will receive informations for an interview with Nils Fischer on Discord, Facebook, or another messaging platform of your choice.
2[*]Only applicable if you're at least 18 years old.    
Thank you for your time,
Nodi Games.
EDIT 01/07/2018: We already received quite a number of applications, thank you so much for your consideration, keep them coming we are assessing all we can get!
EDIT 02/07/2018: Here is our newly created discord server, come and join us as we make our first steps in the industry!
https://discord.gg/9b2zX77
EDIT 03/07/2018: We're now closed and set, thank you everyone for your application! See you soon in our discord server!