1/11/20: Reduced Price for new year!!
--------
Portfolio of all of my recent artworks, character sprites, CG, event art :
https://emariechi.wixsite.com/portfolio
My DeviantArt if you want to see more of my artworks:
https://www.deviantart.com/emariechi/gallery
Here are the stuff that I can offer!
Character Sprites: (OPEN)
Btw, prices are negotiable!! and style matching is OK
Character CG (OPEN)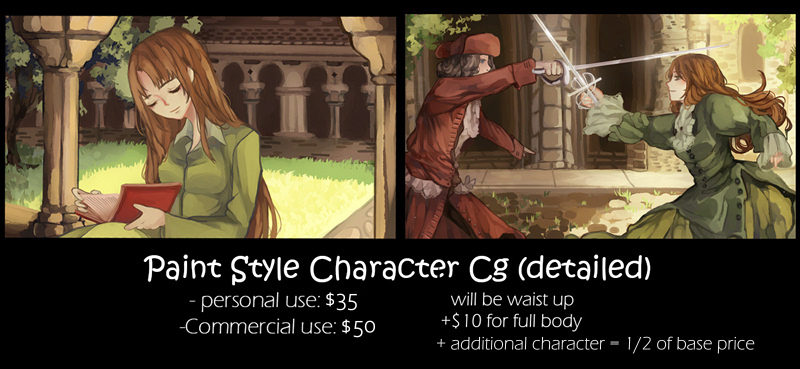 Event Art (OPEN)
- focused on objects/atmosphere not characters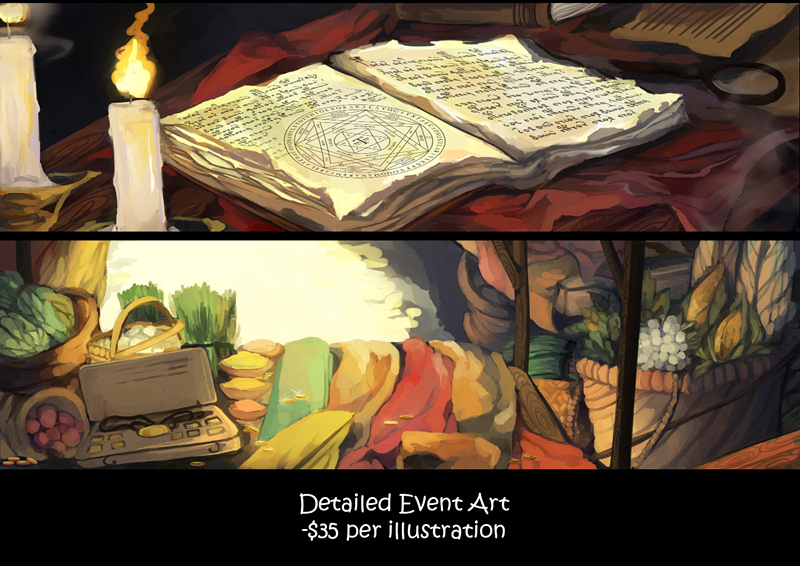 Other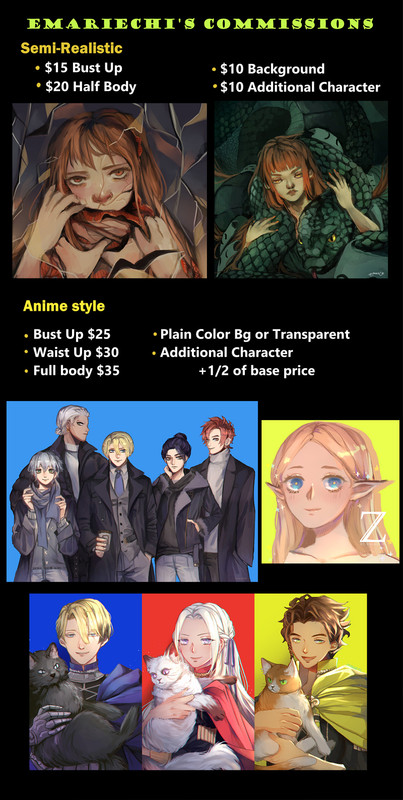 Please Read Important info:
- Payment upfront or half and half (pay half, I'll send you the colored sketch, then half, I'll send you the final)
-
REVISIONS
can be up to 3 revisions, any more than that will cost you $5. So please be very detailed when commissioning me.
-
I'm accepting Paypal and Venmo!
-There won't be any refunds. Please buy only if you really want to buy. Thank you. If you are unsure, you can always pay half for the colored sketch then if you like it you can pay other half after seeing the final work.
-Please be patient, allow me up to 3 days to finish the artwork. I try my hardest to make it the best as it can be.
-I will send updates frequently throughout my whole drawing process to make sure everything is well and meets your expectations. Ex: sending you picture of the sketch, colored sketch, lineart, etc.
-I'm not that experienced with drawing elderly people, muscular people, and armor clothing
-I'm not good at drawing NSFW but I will try...
-I'm happy to talk through Discord/Messenger/Email/etc with you
Payment:
-Paypal
-Venmo (new!)
If interested, please contact me through any of the following:
dm or comment here
email:
emariechi@gmail.com
Discord:
EmarieChi #1266
Social Media:
Tumblr
|
Twitter
|
Instagram
|
DeviantArt
Thank you for your time and consideration!
I hope we can work together!