Hello, I'm Akua and I'm a hobby artist who likes to help out and play VNs, especially Otome. I'm willing to help but I can also clearly drop cooperation if I'm treated with pressure and/or disrespect. Most of my works can be seen on:

DeviantArt
Instagram
Twitter
Art Station
Services available (will be updated):
Chibi [Open]
Sprites [Depends for free projects]
Character Design [Open]
CG [Closed for free projects]
Sketch / Lineart / Colouring [Open]
2020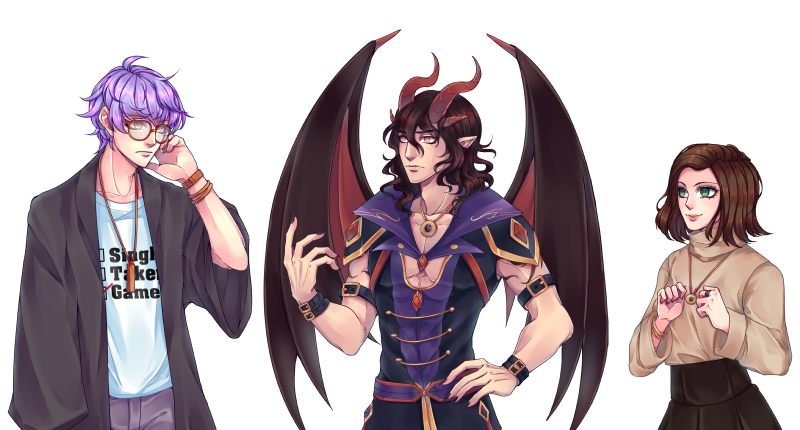 2019
The conditions and terms I work with for free projects:
It's an Otome or Visual Novel with GxB/GxG/BxB (No Yuri or Yaoi, only soft GL and BL, NSFW very experimental for GxB), also able to work with a VN that has a female MC but no romance content
The name of the MC is changeable (it's really a condition but when the name is really neutral, I can work around that)
Give me lots of references and a clear visual image, no vague description or I might do I what I think is best.
No deadlines/short deadlines. No pressure. No discrimination. I work for free, not as a slave and it's a hobby.
I'm credited properly as the artist, Akua Kourin with a link if possible.
In a case the project is dropped I may upload sprites as CC
Short projects - longterm only if I'm really interested
Be active and keep in contact; give me a safe contact method you regularly check.
Noncommercial! (obviously), if you want to go commercial, commission me.
The conditions and terms I work with for commissions / paid work (most important ones):
I have the right to decline commissions should you, the commissioner, act disrespectful towards me or my terms or not be active for two weeks or more.
You may not repost without credits and linking back.
You may not claim the works as yours. You are allowed to edit and change the work as long it's stated.
You may not share works such as sprites, backgrounds or GUI for free without my permission.
It goes "First Come, First Serve" and can only be negotiated under special circumstances I agree to.
I require references given by you - the more, the better.
Be active and keep in contact; give me a safe contact method you regularly check.
No pressure. No discrimination.
Have payment ready before you commission.
Please do pay within 14 days.
PayPal ($)
Detailed ToS and Price Sheet
Examples for Visual Novel Asset Commission go as followed from the price sheet (please don't hesitate to ask!):
Thigh Sprite Simple ($21) + Cel ($5) + 2 Additional Expression (2x $2) = $30
Full Sprite Medium ($35) + Lineart ($8) + Additional outfit ($25) = $68
CG SS ($25) + Soft Shade ($12) + Additional Character - Simple ($20) = $57
Trade Options:
Editoring/ Proofreading
Music
Backgrounds
GUI / Logo
Programming
Will do:
Almost anything unless listed below, better ask because I can't list every single thing I dislike
Will

not

do:
- K-Pop and anything related to the matter
- Mecha (Robots, Androids and anything related should be fine but experimental)
- Fetishes like Vore, Age Regression, Lactation... (Possibly the things you will see in the depths of DeviantArt)
Unsure about (better ask since I will never know)
:
- Animals
- Old people
- NSFW (not experienced enough but hey as long you don't need too graphic I can work with nude characters I think )
- Copy Styles (
only
project commissions,
not personal
), I can try to make them have the same vibe or look similar in a way, but not guaranteed to get it 1:1 right, it's easier for styles I like)
Just an extra concerning the love interests that makes me very enthusiastic for drawing if one of these factors is present:
Long hair / violet hair / red eyes / cute shota
I'm not a BG artist! So don't expect BG heavy CGs from me since I'm still practising
Be sure to state what will happen and what might come. Have a clear view of characters and CGs, no rough guessing. Give a short description of your project and the characters as a reply, I will PM you if interested.
Genres I would like to work with (will be open for updates):
Idol
Monster
East Asian (historical vibe)
Arabic (1001 Nights)
Fairy Tale/Fantasy
Yandere
Conditions and terms might be updated in the future. Same as services and sample pictures.
In case can be contacted via:
Discord (ask through PM, it's for security)
Twitter (above)
Projects where I helped/help...
...as Sprite Artist
Cycle of Magic - Prelude by Potato Cow Studios
...as CG Artist
The Will-O-Wisp Forest
by Hana H.A. (October 2018)
Memories on the Shoreline
by Crystal Game Works (November 2019, also Promo Art)
Enamored Risks
by Crystal Game Works (March to April 2020)
...as Sprite & CG artist
Love's Apathy
by Rinzamakani (ongoing)
Fate's Bite
by Neeka (Autumn 2018 to Late Winter 2018/19)
A Frigid Space
by Rinzamakani (March 2019 to February 2020)
Demon's Kiss
by Foleso (February to March 2020)
RB:Axolotl
by Actawesome (December 2019)
Night of the Lesbian Vampires
- (September 2020, Sprites, Title Menu Illustration, CG Lineart)
Own Projects
Lycoris
(ongoing)
CC Sprite Assets