I was working on my project, and I discovered that Ren'Py doesn't have a "button_pressed" state, for when the mouse button is down over a button. I want to have nice responsive "tactile" pushy buttons, so I searched and searched but all I could find about it was a post from 2014 where PyTom confirmed that Ren'Py didn't, as of then, support a "pressed" state for buttons. I did a lot more searching and all I found was the "Konami Code", that creates a listener for key presses, and I thought that could be modified to listen for mouse button presses... and after a lot of experimenting and reading documentation for both Ren'Py and Pygame, I got it sort of working!
For a newbie like me that's pretty exciting!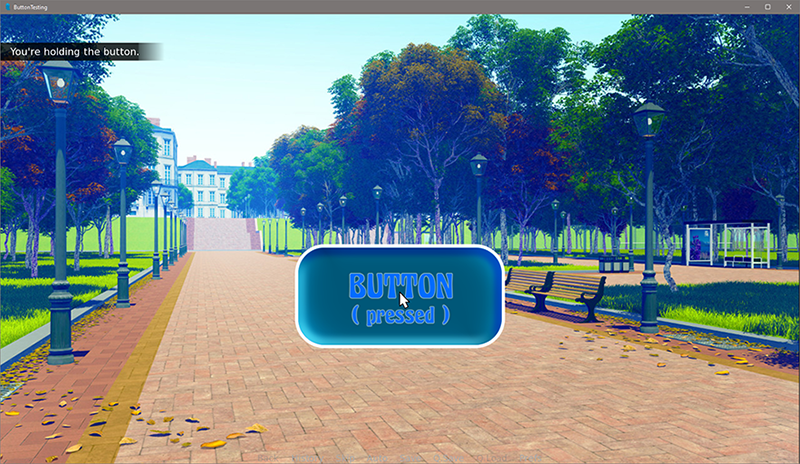 Basically, an imagebutton says "I'm being hovered!" as its "hovered" action, and "I'm no longer being hovered!" as its "unhovered" action, and the listener listens for a MOUSEBUTTONDOWN event where someone is also saying "I'm being hovered!" and then overlays the "pressed" version of the button at the button's position, until the MOUSEBUTTONUP event.
Here's the full version (I hope it's okay that I used a background from The Question, for testing purposes):
https://easyupload.io/pegen4
--- UPDATE: This is the new, improved version, described in the next post.
(If you don't want to download the 32mb dist, I'll show the relevant code)
In the script.rpy, I just have:
screens.rpy is where the "magic" happens (such as it is):
Code: Select all
##### UPDATE: Don't even look at my old nonsense code. See the completed, working code in the next post!

What I want to do next is to change it so that I can have multiple buttons in multiple different positions all use the same code. I know vaguely how to do that - like, if "[button_name]_hovering" then show "[button_name]_pressed" at "[button_name]_pos" and just predefine positions for every button I'll be using and keep the names consistent... but I'm not super clear on the syntax or how to do it right without messing anything up.
I've been really pushing my limits for a couple of days of working on this, and that's exciting...
But I'd really appreciate some help!
UPDATE: I got some help from bobcgames and Remix on the Renpy Discord, and now it's doing everything (see below)