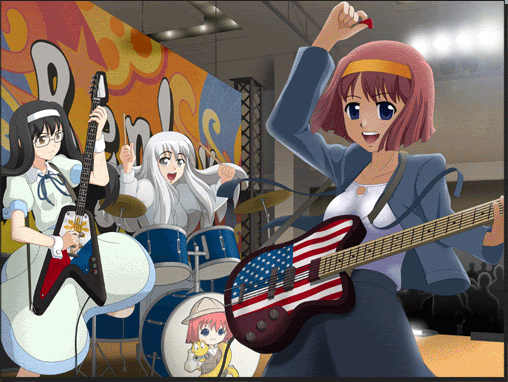 Is a picture I asked Mugenjohncel to make for me, for the demo. The idea is that we'll show off some of what ATL can do by panning over a gratuitous rock concert, as made famous in dozens of anime OPs.
A problem I'm having is that I can't find music that is both free to distribute with the Ren'Py demo, awesome enough to go with the pic, and features the 3 instruments depicted (at different times, so I can ATL in on the three girls separately).
The fact that I suck at music, and can't really tell a Bass from a Guitar, really is hurting me here. Maybe someone from the community can ride to the rescue, giving me a track I can use? It wouldn't have to be long: 30 seconds is more than enough, as this is only featured at one point in the demo, and this way I can synchronize whatever I want to it.
I'd need it ASAP: This is pretty much the last thing holding up 6.10. (I'll be cutting a 6.10b soon that has everything but this.)