So, actually spent some time hacking on alice. I just checked the 490 lines of python (physical, including blanks and comments) I wrote today into the subversion revision control system, so I've officially passed through the "just playing around" phase of development, and into the writing it phase of things.
Today I wrote the main window, which is the window that lets the user pick which layers are included in various configurations. Here's a screenshot of what I have so far: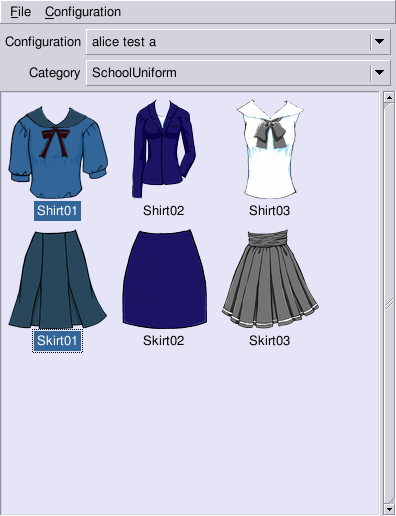 (This is a linux screenshot, things will look different on windows.)
So far I'm automatically generating thumbnails from the image files on the disk, automatically generating a data structure to represent layers and images, letting the user create, rename, and delete configurations, and letting the user pick which layers are in which configurations. The File menu isn't hooked up yet, so all changes are currently transient.
Right now, there's no rendering at all, as the rendering engine is something that needs to be written. I'll probably do loading and saving first, just to make testing easier. I don't know when I'll get to rendering, but what I have here will make it into the final program.