Official webpage:
http://www.planetstronghold.com
Game Trailer:
http://www.youtube.com/watch?v=gDtnXLSqglo
Direct download links:
http://www.winterwolves.com/download.ph ... PSDemo.exe
(Pc)
http://www.winterwolves.com/download.ph ... PSDemo.zip
(Mac)
http://www.winterwolves.com/download.ph ... mo.tar.bz2
(Linux)
Game features:
- Play as male or female
- Four different character classes
- Eight NPC will join you in the battle
- Detailed battles with many tactical choices
- Over 40 unique enemies to fight including some "boss fights"
- Three optional romance ending for each gender for a total of 6 different romance endings
- Lots of quest and side-quests to solve
- Dynamic story that changes based on your choices
- Use non-combat skills like Explosives, Science, Sneak to solve some situations without resorting to combat
- You can also get the official strategy guide and receive 4 extra bonus weapons in the game (internet connection required to activate it once)
Screenshots: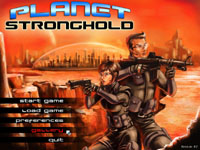 Please note also that the 1st March 2011 will raise the price of this game permanently to $24.99 - so you have two days left to buy it at $19.99!
Some final comments:
Finally, the game is out! This is the biggest game I ever made in Ren'Py (and perhaps the biggest game in general). It's also the longest game I made for players, I estimate that completing the game with one character gender will require at least 9-10h (playing at maximum speed and easy mode, skipping the optional side-quests).
When I showed it to some developer friends, they couldn't believe this was done in Renpy. Hopefully this way I also brought some interest of other pro-developers to Ren'Py
It was a very long run, from the early prototypes in 2009 when the screen language didn't even exist, to the latest versions that runs fine even on netbooks (it's a miracle for such a game I think! great work by Tom on this).
Special thanks: Littleramyun, sake-bento & Riviera for the proofread. sake-bento also provided the character battle voices that made them even more fun. And obviously thanks to pytom for Ren'Py !