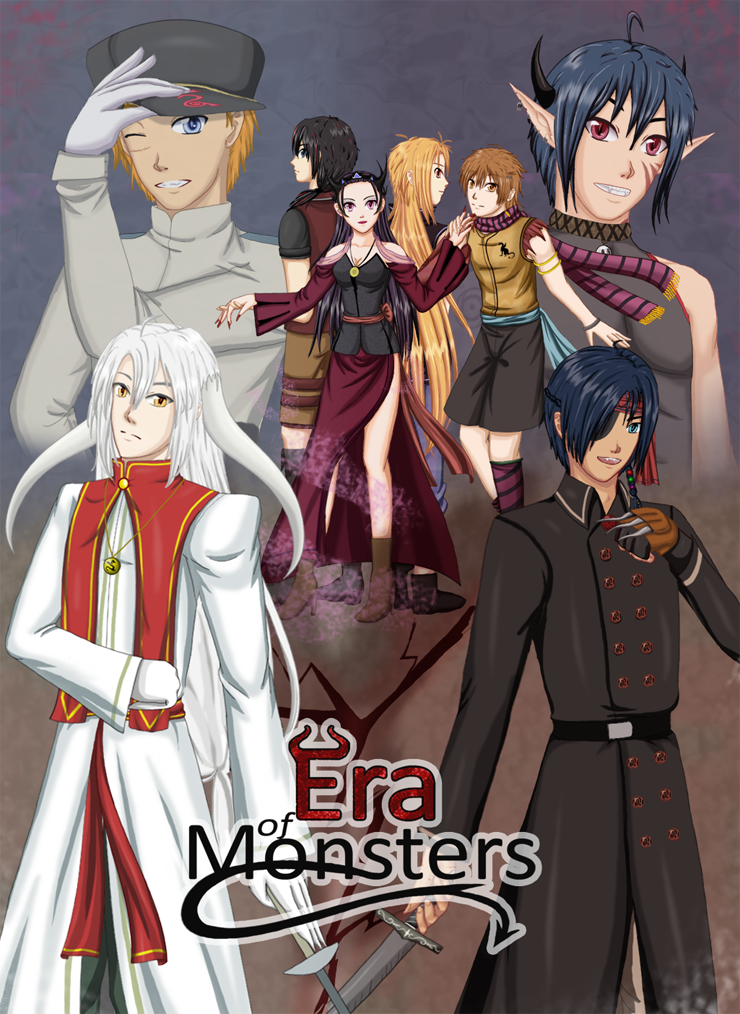 Now we have the demo, feel free to try it! You can get it here:
http://www.mediafire.com/?lslkdnlp52e3w1z
Size - 148 mb
Resolution – 1280x720
P.S. Text box will disappear if you press space bar.
"Era of Monsters" is a simple visual novel. So no mini-games, no stat-raising - just choose the way you want the story to develop, making decisions sometimes.
The story happens in a world where humans, magicians (witches (dark mages) and light mages), demons, dragons and monsters live together. They manage to get along with each other… for the most part, that is.

A strong-willed female protagonist
The chance to romance eight male magical creatures
Original art & CGs
Eight paths: one per boy, and one alone path (not sad)
...and the paths are long and have independent story-lines.
The full game will have two versions: one will include sexual content, and other one won`t.
An evil witch cursed a baby princess of a small human kingdom so that the girl would be ugly for her entire life. Fifteen years later, the princess decided to take fate into her own hands and attacked the castle of the witch together with her nanny, who was a light mage herself. Unfortunately, the witch didn't remember that she had cursed that princess, so she couldn't help her. Therefore, the nanny decided to take the witch with them to make her help with seeking out a way to remove the curse. She imposed obedience on the witch with a spell so that the girl couldn`t disobey her orders. After that, they decided to go to Triakrid, the flourishing city where only light mages live. There, they find bubbling political cauldrons, interspecies warfare, and plenty of secrets… and maybe even a little romance, as well?
P.S. The protagonist is Neyris, the witch.
Warning!
Theme of interspecies conflicts, political fights. I warned you. Not such fluffy stuff, really. But it's not too dark either.

The protagonist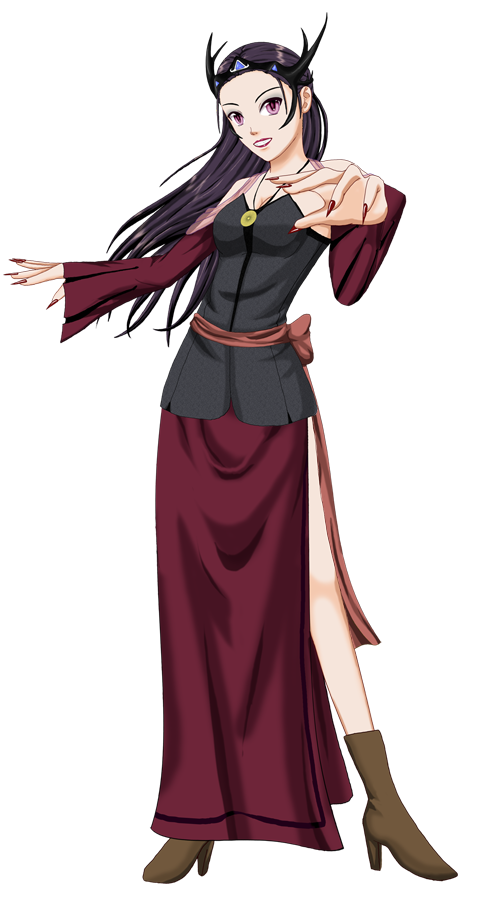 Neyris
– a witch who earns her living making dangerous potions for humans. A smart girl who mastered alchemy, but who isn't very good at spells. Neyris possesses her own castle and uses a clan of ogres as her servants. She never listens to anyone, and considers herself an independent, self-sufficient mistress. So she`s NOT-SO-PLEASED at being forced to obey Annett. She doesn't really want to help the princess; she just wants to get rid of that spell.
The witch wasn't interested in men at all until Annett said that it was too strange for a girl their age (more than three-hundred years old) to not be. As a result, Neyris has a fixed idea in her head of making a harem of young handsome guys. So there's no way in hell that she will just sit around waiting for "the hero"!
Obtainable characters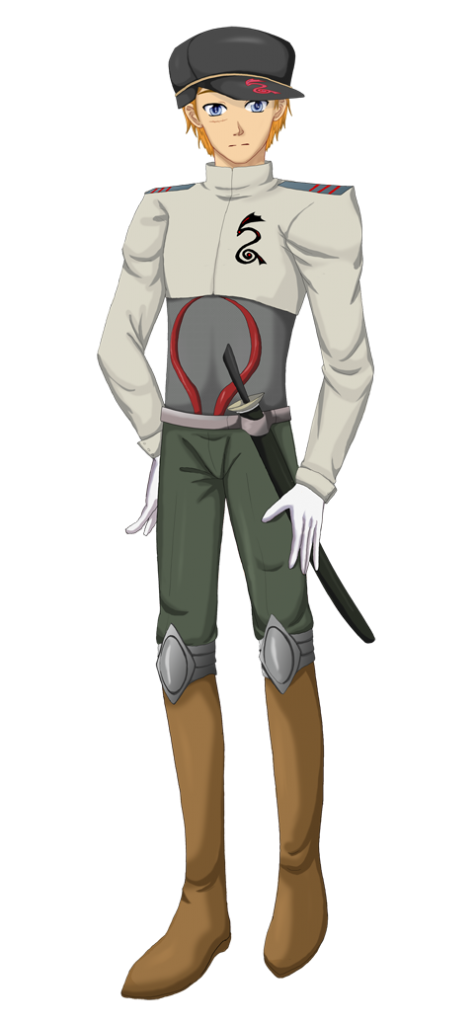 Drake
– one of the guardsmen of the city, and a soldier. He stopped and questioned Neyris the very first time she went for a walk in the city. Like the other citizens of Tiakrid, he doesn't trust witches and dark magicians. So Drake has a strong feeling that he has to watch Neyris to prevent the damage she could cause. Despite this, he has a caring and kind personality, and absolutely doesn`t want to hurt the girl.
He tries to seduce a beauty every time he is on guard. He sucks at this horribly.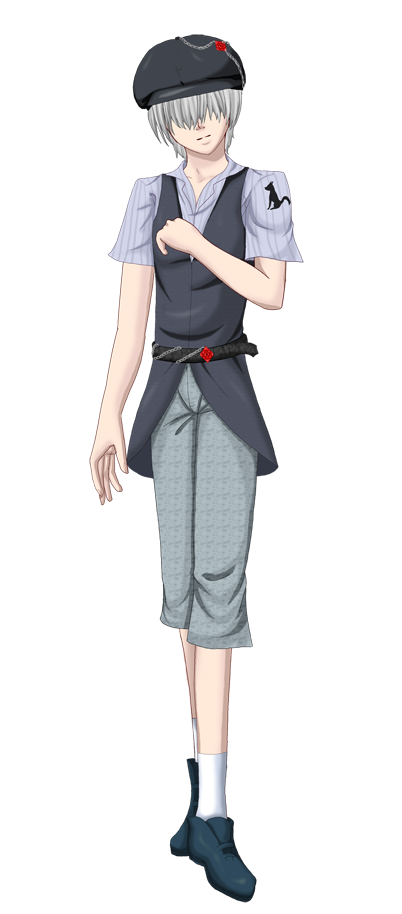 Malik
– a librarian. He says that he and Neyris were good friends when they were children, but Neyris doesn`t remember him at all. Malik is an extremely timid and quiet boy with no friends. He always wears a hat and too-long bangs so that nobody can see the upper part of his face. He feels more secure this way.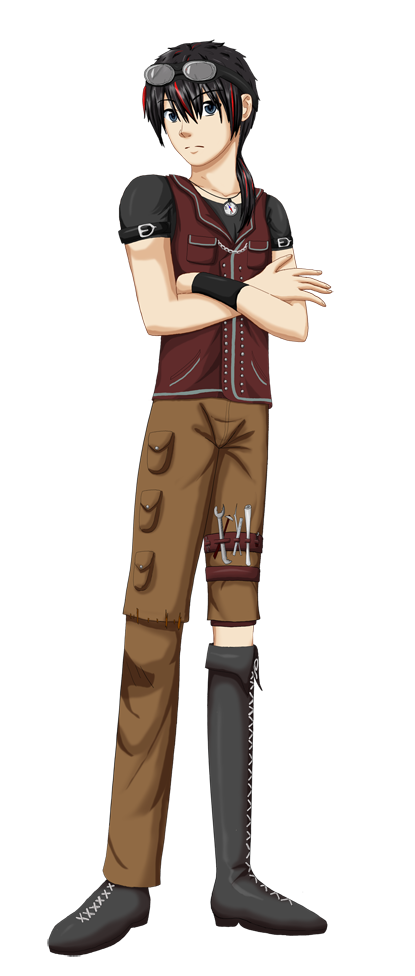 Theo
– a guy who has been living in Neyris`s house while she wasn't around. He is cold and surly when he first speaks with her. He has a good reason - she made Theo her slave in exchange for letting him stay in the house without paying money. He has no interest in magic, and doesn't care whether a person is a dark or light magician, a dragon, or a monster. Theo likes human-made inventions – something that is really weird for a magician. In his spare time, he constructs mechanisms in his room.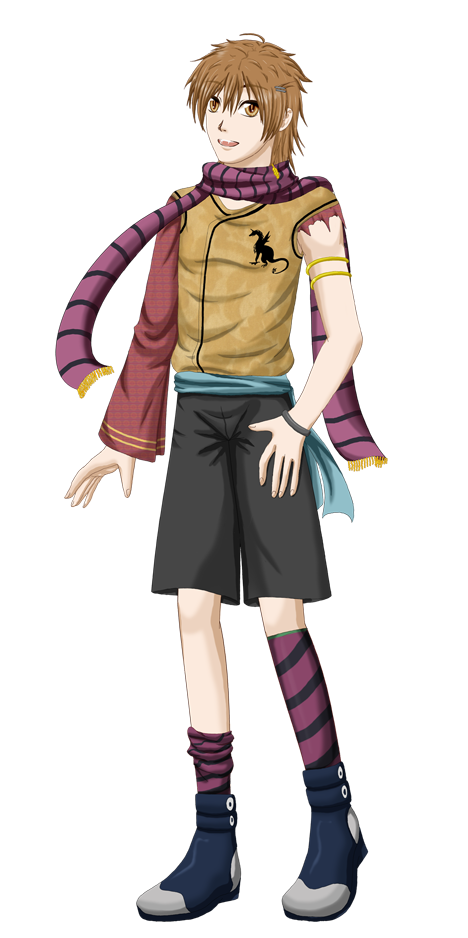 Riki
– a strange boy who lives in the catacombs under Triakrid. He acts like a funny, outgoing boy. Riki is very curious, but it looks like he doesn't know how communication with other people works. It seems that he is much smarter than he tries to be seen as.
He`s a mystery!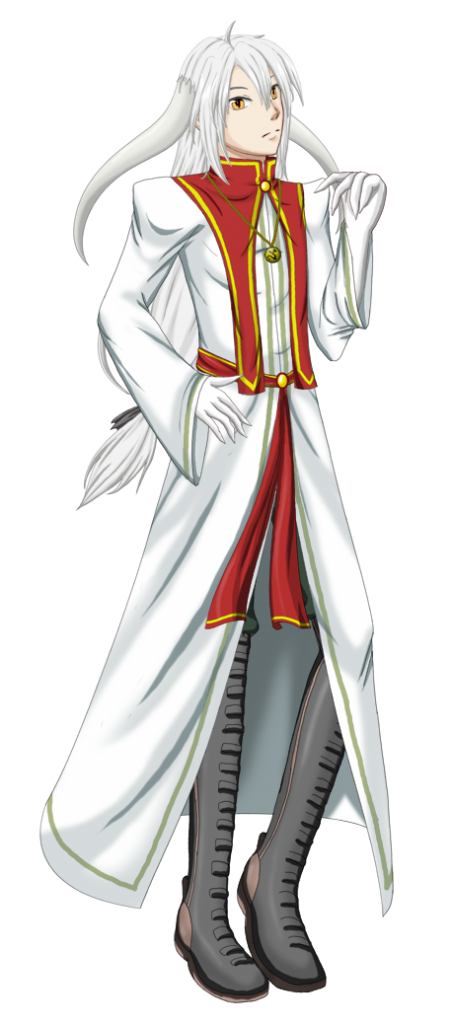 Freynir
– a young member of the Supreme Council (the union that controls the city). A dragon. Freynir is a serious and self-assured young man who achieved his present position through his own efforts and tricks.
Freynir is arrogant and deeply despises witches. He makes caustic comments about Neyris every time they meet. He can be sly and even cruel. He is a real politician, after all. A good friend of Theo's.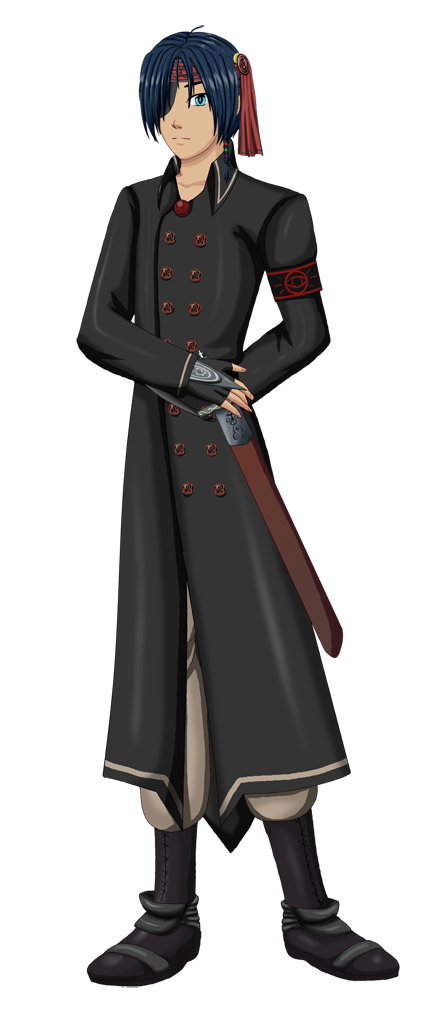 Kuon
– the adopted son of Neyris`s grandmother. He`s the general of an army that he raised himself. He`s a serious person, focused on the idea of creating the first kingdom for dark magicians. Kuon doesn't even want to know about romance and love, because in his opinion it is just a waste of time. He cares for Neyris as if she were his real sister.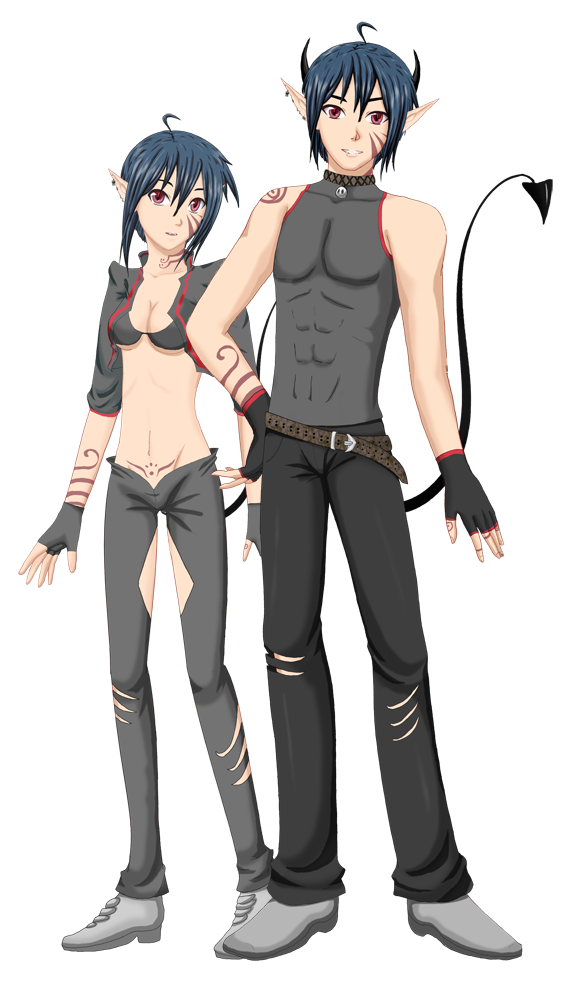 Till
– a demon, a familiar of Neyris and her closest subordinate. Although he can shape-shift, Till prefers to be in demon or crow forms. He has a sarcastic, spiteful temper so Neyris is constantly being mocked by her own slave. The mistress never shows it, but she has a soft spot for Till.
???
– Nobody knows…
Minor Characters: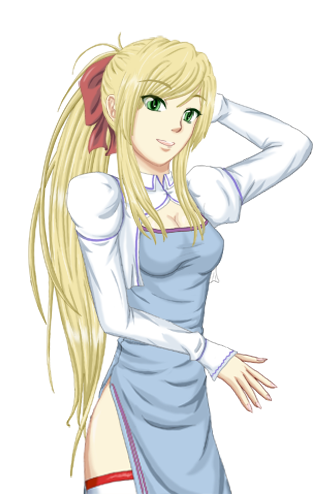 Annett
– a strong light magician; the princess`s nanny. She is a nice and caring young lady, but not just a "fairy godmother" character. Sometimes Annett acts lazy and egoistic. She has fun teasing Neyris. Annett doesn`t care what people think about her; this girl never regrets anything she does.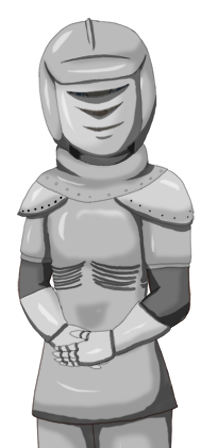 Princess Wilhelmine
– a sensitive, well-mannered girl who`s mastering martial arts. The princess knows well that she is not as pretty as she could be, and desperately wishes to remove the curse. She wears her armor almost all the time. She is convinced that no man could ever take an interest in her sincerely. Still, Wilhelmine is a real princess who demands subordination as if it was her due.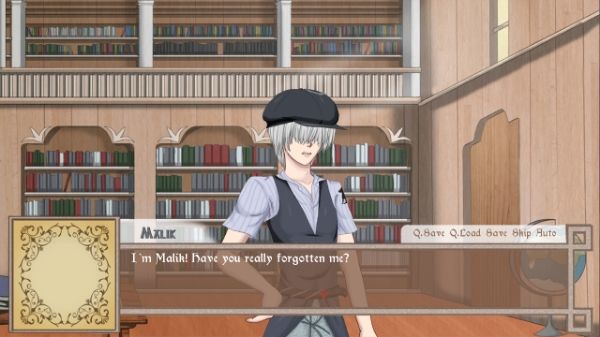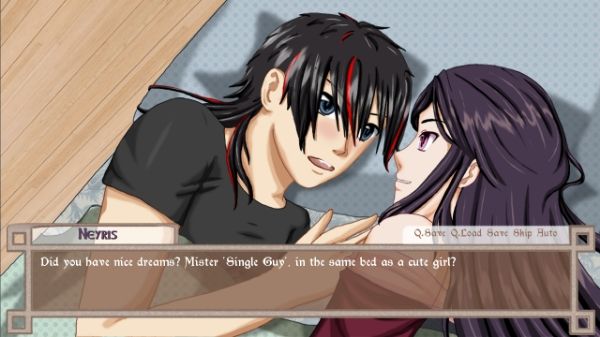 Story: 80% (translated – 20%)
Scripting: 20%
Sprites: 75%
CGs: 15%
Backgrounds: 60%

Story, art, programmer – Merula O
Editor, Proofreader – Aromandaris
Co-writer, Editor - nancie
Music - SENTIVE.NET, Purple Planet Music, H/MIX Gallery, MusicMaterial
~~~~~~~~~~
It will be very nice to get some feedback
So feel free to ask questions or make suggestions about thing that can be developed in full version.