.





A Simple Love Story


[WEBSITE] | [DOWNLOAD]



----- A b o u t -----



genres: romance, slice of life
length: short (approx. 10 minutes for one route)
warnings: Emily's route has suggestive themes

A young man named Michael happens to meet two of his classmates: Aceline and Emily,
adding some spice to his mundane, everyday life.

Contains approximately 6,500 words, 2 endings, 3 CGs, 9 piano tracks and a simple love story.
Extras includes a CG gallery, sketches, other art and a music box.



----- C h a r a c t e r s -----




----- S c r e e n s h o t s -----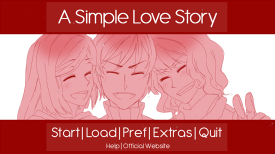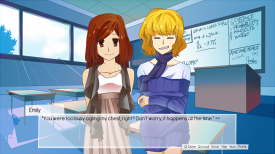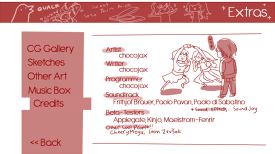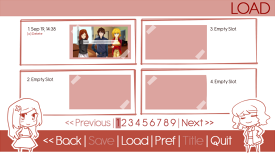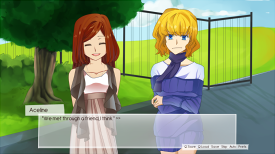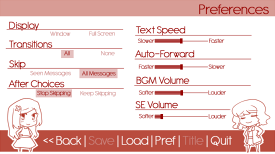 ----- D o w n l o a d -----



(v1.0 released on 9/18/2013)

A Simple Love Story v1.0 [Windows]

A Simple Love Story v1.0 [Mac]

A Simple Love Story v1.0 [Linux]



----- C r e d i t s -----



Artist, Writer and Programmer:
chocojax (http://www.chocojax.spacenote.net)

Soundtrack Artists:
Frithjof Brauer (http://www.mpia.de/homes/brauer/jazz.html)
Paolo Pavan (http://www.paolopavan.info)
Paolo di Sabatino (http://www.paolodisabatino.it)

Sound Effects:
SoundJay (http://www.soundjay.com)

Beta-Testers: Applegate, Kinjo, Maelstrom-Fenrir

Other Cool People: CheeryMoya, Leon Zavsek

"A Simple Love Story" was produced by spaceNote
(http://www.spacenote.net)



Thank you!
.
** If you can, please post your thoughts in this thread (or PM it to me, or e-mail to admin@spacenote.net). It'll help me out a lot with future games, so I'd appreciate it!