Emma: A Lady's Maid
Romantic Steampunk Adventure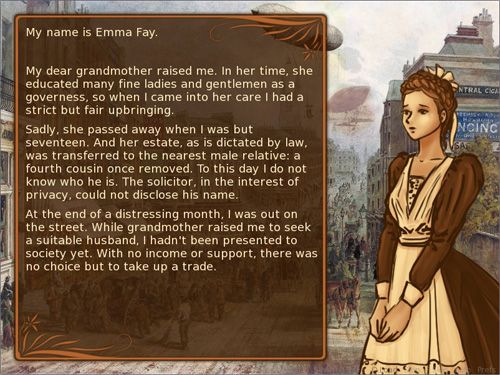 DOWNLOAD DEMO
Emma is the lady's maid to the eldest daughter of the Beresford family, Eveline.
With no interest in ladylike persuits, the young lady feigns illness at every
opportunity for a ball, soiree, or other social activity. A fed up mother sends
Eveline and her maid on a journey in the sky, with balls and soirees that are
host to many eligible bachelors. However, if Eveline misses a single one she will
lose her allowance - and Emma her job. What will they do when Eveline falls ill?
Emma: A Lady's Maid
A story of sky pirates, mechanical contraptions, good manners, and - of course - love.
Word count: ~7000/140,000 : 5%
Setting
The 19th century.
Victoria is Queen of Anglia.
William Darwin is Prime Minister.
Steam-powered technology has spread across the world like wild-fire, enabling global trade and travel of the grandest scale. Ships travel the skyway with ever more interesting cargo - transglobal goods, contraband, princesses - perfect treasure for sky pirates, many of whom operate without a piracy license. Land transport, on the other hand, is dominated by trains, though the locomobile is slowly gaining traction with forward-thinking gentry and nouveau riche.
Protagonist: Emma Fay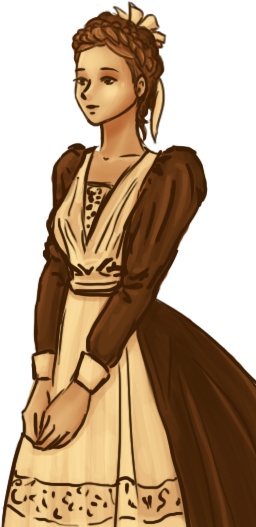 Emma is a Lady's Maid, but she was raised by her grandmother, a successful governess. This has given Emma skills that she never dreamed would be useful in strange situations, like say... dealing with sky pirates.
Specialisations
At the start of the story, you can choose a specialisation in three different areas: academics, social graces, and forbidden science. These specialisations unlock additional scenes, solutions, and dialogue options thoughout the game.
Love Interests
There will be 2 love interests, a nobleman,
a male pirate
, and a female scientist. You can also finish the game without romancing anyone, focusing on your friendship with Miss Eveline instead.
Choices, Choices
I have opted for a mixture of VN-style choices and RPG-style choices, where some heavily impact the story, while others just add a bit more flavour to your interactions. For those choices that affect the grand scheme of things, there is a slightly different graphic, so you always know whether your decisions are big or small.
Endings
There will certainly be consequences to your actions. When you get to the end, you will see the results of your actions throughout the game, but this won't result in "an ending" in the traditional sense. It's more like a stack of things. This isn't actually in the game but say if you caused a war to break out, and you rescued the Queen, and romanced a mechanic, then you'd get the "romanced mechanic, rewarded by Queen, but live in a world of war" ending. Whereas you might have gotten an "all alone, rewarded by Queen, in peacetime" ending, etc.
Backgrounds
Only 1 background, I'm afraid. They're not my strong suit anyway, but also extremely time consuming. I am using an image drawn during the era that is now in the public domain - with a couple of photoshop tweaks. I know that doesn't exactly sell the game, but I thought I'd be honest about this.
Statistics
(28/May/2015)
The game contains 673 dialogue blocks, containing 7,723 words and 43,927
characters, for an average of 11.5 words and 65 characters per block.
The game contains 42 menus, 75 images, and 15 screens.
(That's an average of 1 menu every 184 words!!!)
Release Date
This project is not my main project, I'm working on it on-and-off while doing other things, such as Stranded Hearts and other projects. As such it will probably take a while. I hope to commit a lot more time to it in the future, once I've released a few more shorter VNs. In the meantime... here's a
demo
!