Update 23.12.2015
Skyfish is on hiatus due to a serious wrist injury (and a mild anxiety/depression caused by said injury). This means I won't be working on the project for a few months. I'll definitely finish Skyfish someday but it'll take a while.
Update 29th of July: Romantic routes confirmed; romantic intrest(s) will be available right from the start. Additional love intrest(s) may be included as crowdfunding rewards or stretch goals. Story summary updated, and character introductions will be coming soon.

http://gamejolt.com/games/other/skyfish-demo/49190/
The demo lacks the gameplay features and choices that will be implemented in the full game.
A new, better demo will be released in about a month!

Tumblr:
http://skyfishgame.tumblr.com
Twitter:
https://twitter.com/Lizard_Hazard
Facebook:
https://www.facebook.com/skyfishgame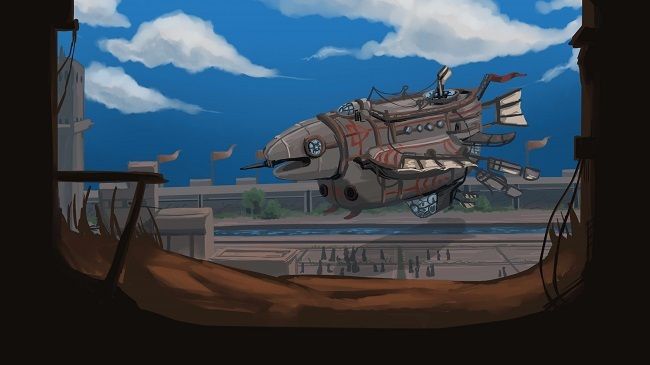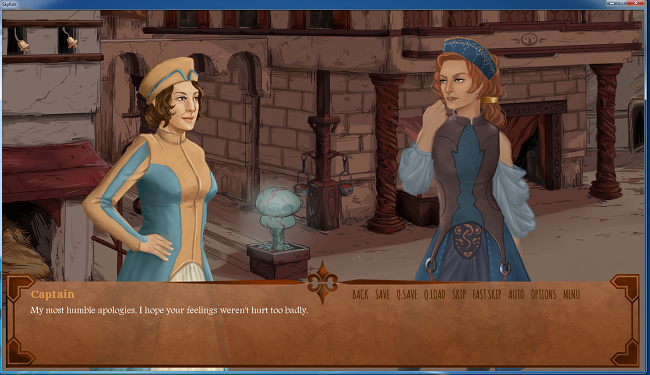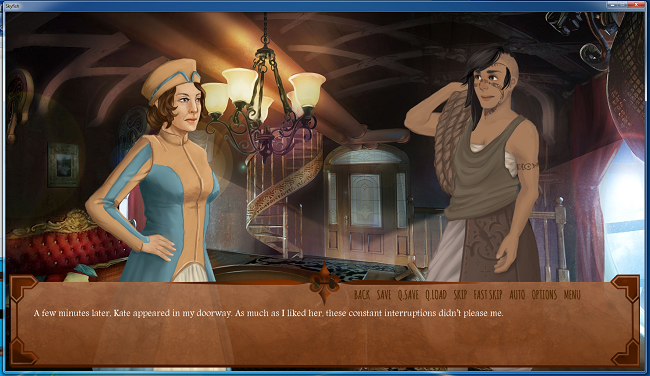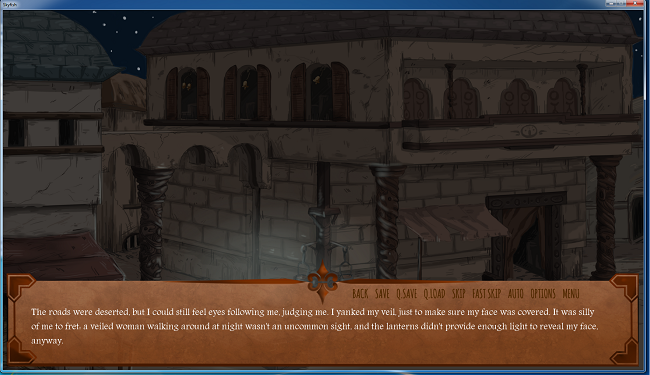 The world of Skyfish is a mix of fantasy and steampunk.
Airships are becoming more and more common after the discovery of floatstone, a magical crystal-like substance that has the power to make things fly or float in air. It's extremely rare and can only be found from one large lake at the border of the State of Marava and Longan. The society is still adjusting to the arrival of the floatstone but it's already widely used in transportation, fashion and war.
The story follows the captain of one particular airship: A 40-year-old woman who prefers to be known as "Captain" instead of her name. She makes her living as a courier and has a reputation of delivering packages and other goods reliably. Her current mission is a dangerous one: to pass the war-torn border of Upper Marava and the State of Marava. But before she and her crew take off, a mysterious young man appears and demands that they'll take him with them. And it seems that there's something weird going on with the delivery...
In Skyfish, you will guide the crew through tough desicions and dangerous situations as the Captain tries to find magical items for her own mysterious purposes. You can try to keep a balance between personal gain and and ethical behaviour, or go all out and lie, steal and fight your way through the story. Air pirates are not the only obstacles; the nobles of Marava's court have their own schemes and motives.
But Captain isn't your only perspective on the story. You also get to play as Charon, a sly and charming young man who tends to daydream. Charon is a newcomer in the crew, and lets you get to know the crew in a way that the Captain can't. You can make friends or even find love among the crew.

Features:
-3-part story
-Rich world with unique social systems and cultures
-Two playable protagonists: Captain and Charon
-Two friendship routes; Aifao and Nuipun. Possibly more, if time and funds allow.
-At least two romantic routes; Aifao and Fionn. Possibly more.
-Custom language
-Skippable gameplay sections: strategic airship battles and much more
-Interactive book with clues on how to advance the story
-Two versions: Teen and Adult. Options to switch off nudity and gore.
-Free time on board of the airships to spend time doing various activities or talking to crew members
-Relationships and choices affect the gameplay sections and vice versa.
-Focus on plot, world and characters
-Gay romance option in Part 2 with alternative friendship route
Possible features:
-Personal library with books that you can collect during your journey
-Permanent wounds
-Permanent death of crew members during battle sequences
-Partial voice acting (possibly in our custom language)
-Soundtrack with some of the songs sung in the custom language, Kadatian
More about the project:
This is a project I've been working on every now and then for over 2 years. It's the biggest project I've undertaken.
Because the story is so long I've decided to break it into 3 games. I'm trying to get part 1 done by next autumn. Part one will probably be released as pay-what-you-want (meaning you can get it for free if you don't wish to pay) and a premium version will hopefully be released on Steam. Depending on the situation I'm in, part 2 and 3 will be either pay what you want or commercial.
The story will include a diverse cast of characters. It's LGBT+ friendly, featuring an asexual character, gay romance and a non-binary race (Vesa). There are also appearences of lesbian and heterosexual characters. The focus is mostly not on the romance (at least not in the first chapter), but on the story. There won't be any porn in the VN's but there will be nudity and violence. There will be two versions of the game: Teen and Adult. The adult version will be my original vision of the game, while the teen version has some cencorship going on. Both versions will probably have options to turn off nudity and/or gore.
The crew:
Captain (Audraina Pehat Worwor)
The main character. The oldest child of the Worwor family. Respected.
Seems a bit sad and bitter at times, but gets things done.
Charon of Merkantis
Main character #2. A red-haired young man who's sometimes too cheeky for his own good.
Nuipun
Second in command and the pilot of the ship. A vesaian.
Peqo:
A young boy who's half fuman, half vesaian. Married to the Captain.
Kozru
A young girl who works as the captain's maid. She's Penn's best friend.
Kaimak
The muscle of the crew. She does all the heavy lifting etc. Kate is the shipwright and mechanic.
Aifao:
Young man who's skilled with the sword. He's in charge of safety on board the ship.
Elea
A young woman who's 3'rd in command on the ship. She's Kiko's older sister.
The slaves
A couple of elders who help keep the ship flying.
The mercenaries
They help protect the ship.
Fionn
A mystery person and a love interest who appears in Chapter 2.
Map WIP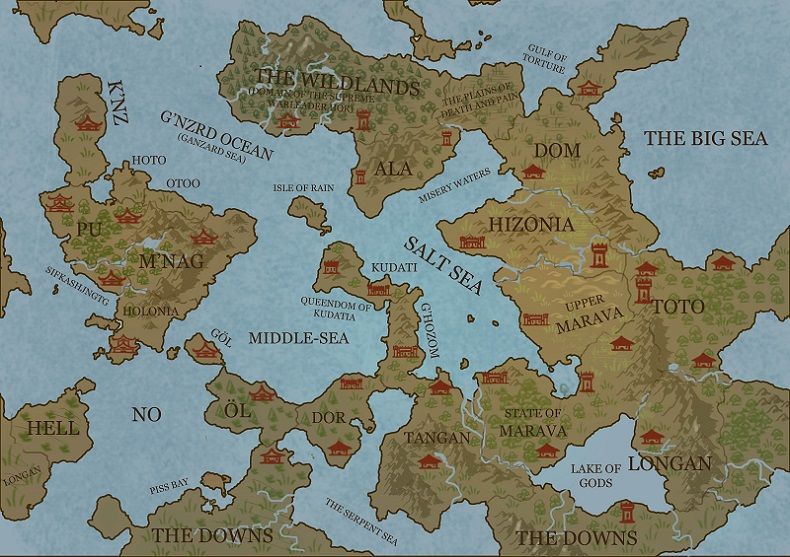 Story: 6000 words / 50 000- 80 000 words
Demo: 7000 DONE :)
Programming: 5%
Demo: DONE
Sprites: 10% 4/10 in progress, 2/10 done
Character designs: 7/10
World design: 75%
Backgrounds: 5%
GUI: 90%

I'll add pictures of the characters later. I have probably over 200 pages of sketches, charts and other documents of Skyfish planning (but about a half of them are unfinished comic pages and scrapped storyboards so I really don't have THAT much finished material). But most of the material is on paper and I don't have scanner or a camera so you'll have to wait until I get some digital art done. There is also so much material that only a very small portion of it will be released here - and some of it is top secret. ;D
Skyfish was originally supposed to be a webcomic but I decided to make it into a series of visual novels instead because I'm studying to be a game designer so it's better to get games done as fast as possible. The world that I've designed is already pretty complex but I still need to figure out some key things like fashion styles and architecture.

New questions:
1. If you played the demo, any comments on it? Did you like the writing? What about the characters?
2. Do you like the art so far? Most of the BG's will be replaced; are you excited or scared or indifferent?
3. Is the inclusion of gameplay a plus or a minus to you? Would you be angry if skipping gameplay sections would mean that you might miss some short story sections?
4. Do permanent wounds sound exciting or horrible? What do you think about a chance to lose a crew member in battle? Would you instantly load a previous save if somebody died, or accept it as a part of the story and find out how it affects the other crew members and the plot?
5. Would you be interested in reading more about the world from in-game books you can collect?
6. We're thinking of making a PDF book with lots of previously unseen concept art and information about the world and the characters. It would be included as a reward for paying a few dollars extra when downloading the game. Yay or nay?