[Romance/Modern/Fantasy] [1280x720]
When underwater archaeologist, Quinn, discovers an artifact in the ruins she is exploring just offshore, she doesn't realise the significance of it.
At least, not until she comes face to face with the owner of the artifact… who happens to have a tail.
Introduced to the world of the Merpeople, Quinn must keep the exciting discovery quiet in order to protect their secrets, all whilst dealing with new feelings that are stirring towards her merman guide, Merrik.
If that wasn't difficult enough, she must contend with the persistent interference of a dangerous treasure hunter searching for his next big prize.
And Quinn is all too aware that the Merpeople would be his perfect target.
-
Characters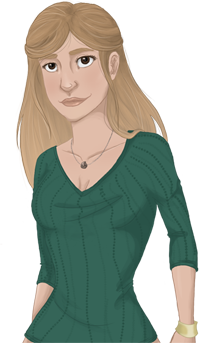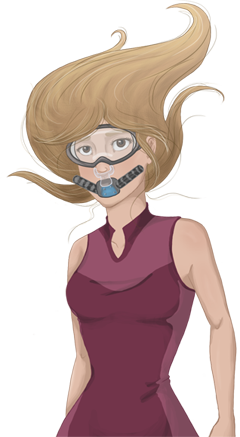 Quinn Lanton
The main character of this tale, a woman whose curiosity helps her to find the biggest discovery of all time, only to realise she must keep it a secret.
Her personality can be defined by the player, including dialogue and action choices, this will affect the way characters react to her.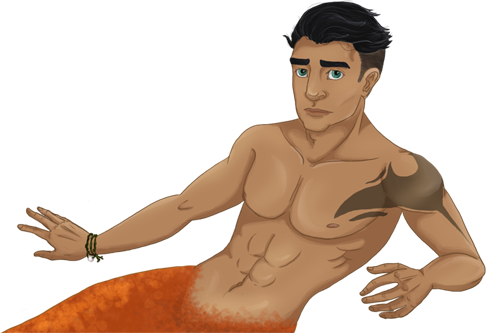 Merrik
Merrik is happy to live his life in the safety of the sea, but meeting Quinn changes things.
Now the merman finds his position as Guardian of the artifact tested as he navigates through the world of humans and their greed for what does not belong to them.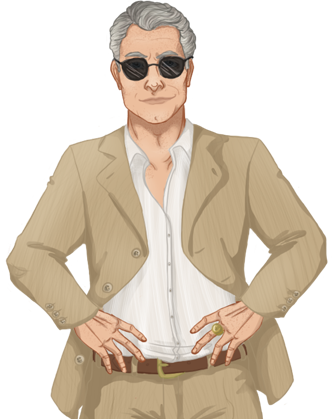 Walton Huntley
An ex-archaeologist turned treasure hunter. His only interest is the next big prize and the fortune he could get for it.
-
Goals of Diving in Deep
> Choices galore!
> Fun and romance.
> Lots of floaty hair underwater (no joke, I love drawing hair underwater so there will be lots of it
).
> Finish in a month!
I am producing this visual novel myself, including art, backgrounds, coding, and writing! Though I will be trying to source commons music.
The focus of this project will be romance because, well, I do love a good romance

But there will be a good dollop of action and excitement, as well as a friendship path, so hopefully everyone can enjoy the story.
Progress
Planning, Drafts, and Charts:
100%!
GUI:
100%
BGs:
100%
Done! (15 Backgrounds)
Sprites:
100%
Yay!
(
Quinn
- 1 Sprite with 4 variations, 14 expression;
Merrik
- 3 Sprites, 13 expressions;
Walton
- 1 Sprite with 2 variations, 10 expressions;
An extra character sprite
, one expression.)
CGs:
100%
Completed! (9 Full CGs, 6 Ending CGs, 3 Small CGs)
Writing:
100%
Coding:
100%
Screenshots and Art
Options Screen:
Example of Choices: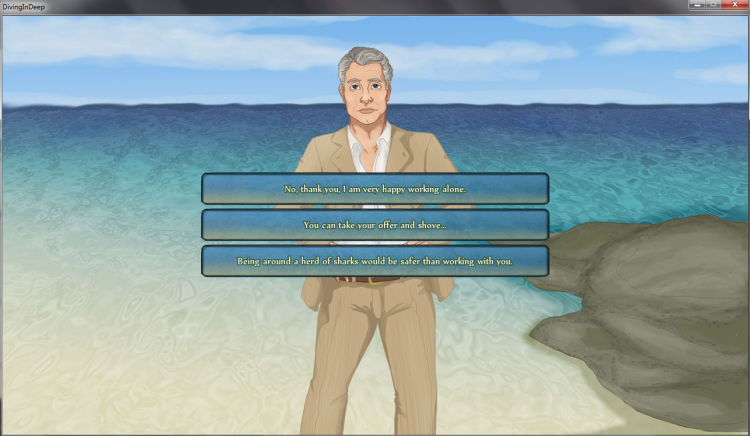 Start Screen:
Each time you unlock an ending, one of those sections will be filled with the ending CG.
Features of this VN:
- 6 possible endings (
3 'good', 3 'bad'
)
- Personality defined by the player. Characters react and comment on how Quinn acts.
- Romance and friendship path.