Fate✝
*updated
December 25th, 2015
*
This is going to be my first visual novel; it's probably going to take me 300 years to finish it. TT-TT
Also, if this ends up working well I wanted to do a gender-swap with the characters.
I'm still working on the storyline, but basically it's going to be about a clan of supernatural beings who must hide their true selves from (normal?)/humans.
I really didn't feel like coming up with new characters, so a few of them are
heavily
based off my own OCs.
Plotline

:
The main character's family were killed by humans when (he/she) was two years old. After the murder-spree she stumbles into a city and passes out in front of (some sort) of wise teacher person's house. She is then raised by said teacher/parent figure. She finds her teacher/parent figure dead one day and is met by a sketchy looking man who knocks her out. She awakens in a large mansion in a room full of strange and foreign looking figures. She then learns that she is not human, and her mentor/parent figure was murdered by the same people who killed her real parents. The supernatural clan then strives to end the slaughter of their people.
Characters

:
I know there is kind of a lot of characters; I'll might take 1-2 characters out just for the sake of time and this being my first visual novel..
Character pics coming soon..
hopefully
Dakota
vamp boy
Dakota is usually silent, except when spoken to; although replies are short-spoken.
If he's not... "socializing", he is usually in his room.
Ethan
demon boy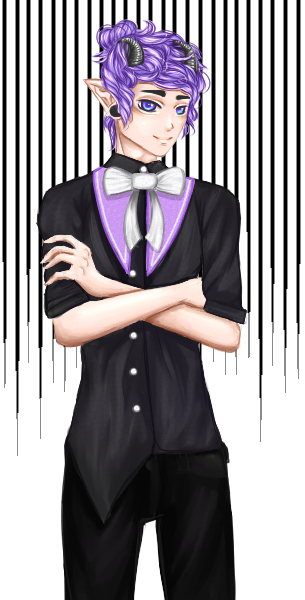 A hyper, arrogant sassypants. He enjoys sweets. He complains a lot, and loves to tease the main character.
In serious or dire situations, he gets very serious and eliminates the problem quickly.
Alevard
werewolf boy
A stoic, harsh-eyed man. He is the knight of the kindred and disperses any threats to them.
Speaking to Alevard for an extended period of time usually ends in heavy quarrels.
Vincent
human boy
The main character's childhood friend. Vincent is commonly viewed by others as the main character's younger brother, although they are both the same age. Vincent has the tendency to follow the main character everywhere she goes. He seems protective of the main character.
Vincent likes to beat up thieves, scoundrels, and vagabonds; he often gets hurt in the process, but brushes it off as a bruise or scratch.
Vincent is an otaku as well?
Tatsuya
familiar boy
Main character's familiar. He is a mild sadist.
He usually stays in his felis form, unless he feels the need to socialize or is alone with the main character.
Tatsuya is known for showing up when in grave danger.
Ren
nephilim boy
The Prince-King of the clan. Ren is stern, unforgiving, and cold.
He will do whatever it takes to protect the clan.
-
Progress:
Storyline: 8%
Script: 0%
Sprites: 20%
CGs: 0%
Backgrounds: 0%
Music: 0%
Dakota: 20.0%
Ethan: 85.0%
Alevard: 0.1%
Vincent: 0.1%
Tatsuya: 0.1%
Ren: 0.1%
Content:
[alot of] Endings
A decent amount of CGs?
Small Character Customization
-Name
-Gender
-Blood type (will not change aspects of story)
-Maybe personality traits [which affect storyline?] prolly getting ahead of myself lol
-