Roses Of The Thorn Prince
Genre: Medieval, intrigue, [BxG]
Expected length: 400000-450000 words. (Though hopefully less)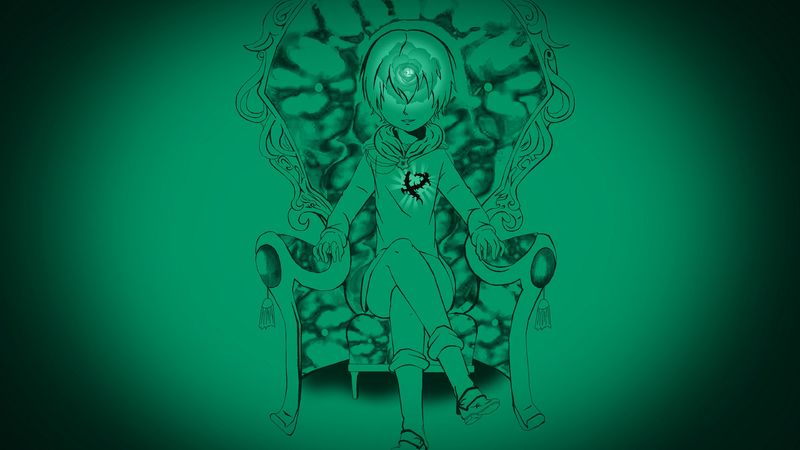 Long ago, in a kingdom far, far away from here, lived a prince. This prince was kind at heart. He was a caring and gentle soul, a righteous mind who would one day make a wise king. Or he would, if his father hadn't been stabbed in the back, resulting in his mother going mad and plunging the realm into a bloody civil war. Worrying about her son meeting the same fate as her husband, the queen taught him to suppress his kindness to prevent any such thing from ever happening to him.

The civil war has since ended with the queen's death, and things have calmed down. Now, three years later, the prince has gathered much influence and learned many skills. Due to a decree of the king however, the prince won't be crowned before his 18th birthday. Being forced to watch the chairman rule for another year still, the prince has no choice but to bide his time.

The chairman, in his devious meddling ways, is not content with this compromise. In his ever intrusive goal to 'melt the prince's icy heart and make him a compassionate human again', the chairman has concocted one last scheme for the prince to overcome; Marriage. In a final attempt to give the prince a 'happily ever after', three princesses have been summoned to his court with the desire to marry him.

Will this diabolical plan succeed to bring out the loathed kindness within the prince's heart, will the prince instead marry someone just as cold as him, or will the plan backfire and bring forth war and bloodshed? The choice is up to you.
Characters
The protagonist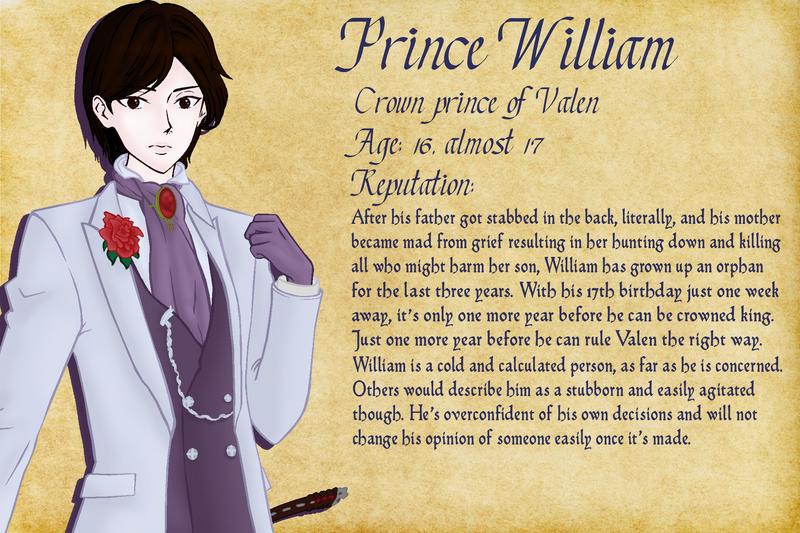 First son of the late King Hendry the fifth Von Valenthal and the late queen Marrisa Von Valenthal,- Van der Pria, first in line to the throne of the Valen kingdom; crown prince William John Von Valenthal the second. Next king of Valen and heir of the Valenthal empire.
Valen used to be a prosperous and peaceful country under his father's reign, relatively at least. When the king died to a knife in the back however, the mourning queen went mad with rage and killed many nobles who might be connected to this murder or could conspire against her son in the future. Plummeting the country into a five-year civil war, she left a bitter aftertaste towards the royal family and a nudered court without backbone and ambition.
William takes after neither his father nor his mother, despite their efforts. Not kind nor cruel, William is best described as rational and cunning. He follows a strict daily schedule of maintaining his connections, honing his fighting skills and ruling the kingdom as much as he can without being king. He never looks at what he achieved but at what is next, it's not enough and it will never be enough.
The prince's personality is rather unpredictable, but a few things are clear: One should never appeal to the prince's feelings. If they do, they'll feel the thorns wrapped around his heart and he'll lash out. Just keep things formal, the prince is overly rational as long as his feelings slumber. As long as your intentions are rational and in the interest of both parties, he'll like you.
Habits: Manipulation, Machiavellian scheming, negotiating, winning.
The powerful and vain princess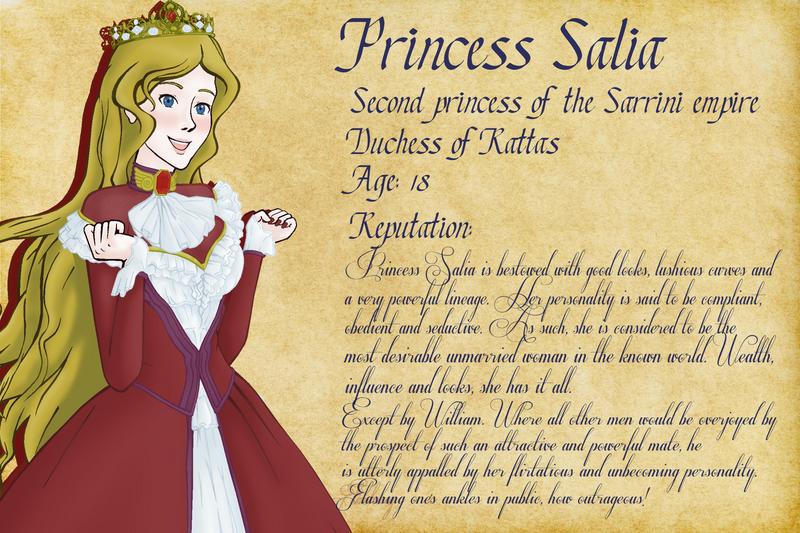 The second daughter of Emperor Matthew Sarrdak the fourth, king of the Sarrini empire and conqueror of Hellenthal and Netherdoss, and queen Mathilda Hilde Sasha Sarrdak/Vilno of Sarrini, princess Salia Amelia Francesca Sarrdak of Sarrini. Duchess of Rattas and fifth in line to the throne of the Sarrini empire.
Seventy years ago, a small kingdom called Sarrini went to war and won. After that, they went to war against a new opponent, and won again. That habit has repeated itself to this day, the small kingdom since grown to a large empire to be reckoned with. An empire that everyone wants to be on the good side of.
Amongst the royal family of this empire is princess Salia, second daughter of the Emperor. Salia, rumoured to be one of the most beautiful women in the world and amongst the top 20 most powerful people by birth right, is by far the most powerful amongst the three princesses. Add to this her personality of compliance, and you've got yourself every nobleman's perfect wife.
Every nobleman, except William. The cold-hearted prince is utterly unimpressed by the princess's charms. In fact, her beauty and personality are preventing William of considering this beneficial marriage as an open and shut case. Not that this will stop Salia, the princess seems determined to seducing the prince and will use all her charm to do so.
Habits: Complimenting William, vicious attitude towards her competition, doing everything to look as fair as she possibly can.
The kind and fair princess
The first daughter of King Leopold of Sasone the second, king of the Maton Sasone, and queen Emelia Sara Sasone/Maton, princess Charlotte Erica Sasone of Maton Sasone. Countess of Neahill and fourth in line to the throne of Maton Sasone.
The kingdom of Maton Sasone has been a prosperous and peaceful one for generations, a place without conflict and poverty. As such, their king has never needed to be harsh or cruel to keep order, and the princess has been raised with love and adoration from all. Never has she needed to stray from the path of innocence, nor has she seen the harsh reality that reigns other kingdoms.
To her, the tale of the young prince from Valen who lost both his parents and grew heartless seems like just that; a sad tale. In her eyes, he's a hurt and lonely soul, a handsome prince with a mean side that can be changed by love. He's almost like a fairy tale character come to life. As such, when she received the chairman's invitation, she felt like her fairy tale began. Now, the innocent princess travels to Valen to meet the lonesome prince and hopefully find the true love and the happily ever after that she longs to have.
Habits: Overly apologetic, eager to help but reluctant to accept it, always seeks the good in people.
The mean and manipulative princess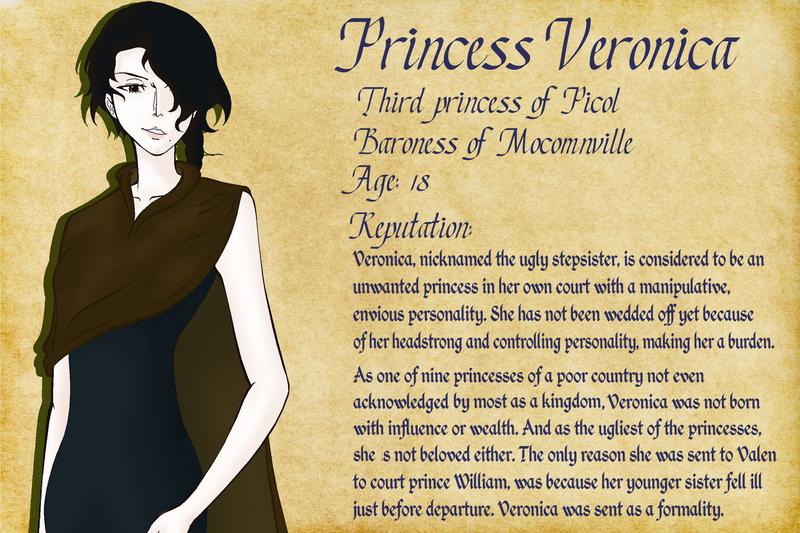 The third daughter of king Max the first of house Picol and queen Bella of house Autifuble, the baroness of Mocomnville, princess Veronica of Picol.
Veronica, the ugly stepsister, is from a 'kingdom' situated in a steadily declining region which is just a terrible mess of poverty since the larger kingdom fell. All the smaller countships and such, including the viceroyship that her father rules, became independent. Her father, unlike the others trying to keep their domain steady, crowned himself king despite that title being way beyond him. The reason he did so, was so that all his 9 daughters would become princesses by default, even if it's just in name. Good for his other eight daughters, each very scrumptious and dim-witted, the kind that are well-liked by men looking for an attractive arm-candy wife of noble descend.
Unlike her sisters, Veronica wasn't so lucky. Instead of curves, she has an opinion and personal aspirations. Because of this making her hard to marry to someone important, and her refusal to be an obedient doe-eyed lady in waiting, has resulted in her father disliking her. The rest of his court soon followed. She needs not expect respect and love. She shouldn't expect special treatment like her sisters. Sometimes she doesn't even get dinner, if her father is mad and food is running low. At multiple occasions he even claimed her to be a bastard, not his daughter.
But she doesn't let that get to her. Not from the outside, at least. She never cried when people could see her. But she knows what she is. She knows how people see her. She knows that the prince only allows her to stay at his court as a prank. It's not as if he actually respects her skill and personality. Nobody does.
Habits: Teasing or downright insulting people, giving her opinion, commenting on irrational decisions.
Ser Ethan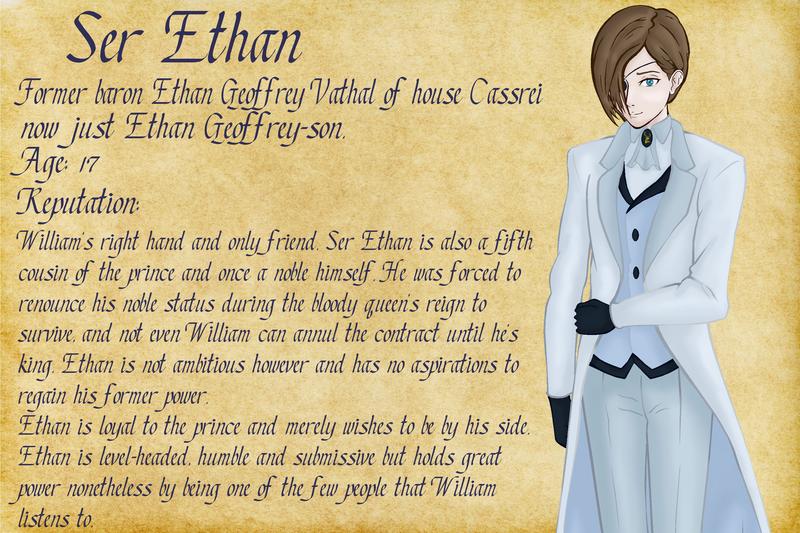 Chairman Hendricks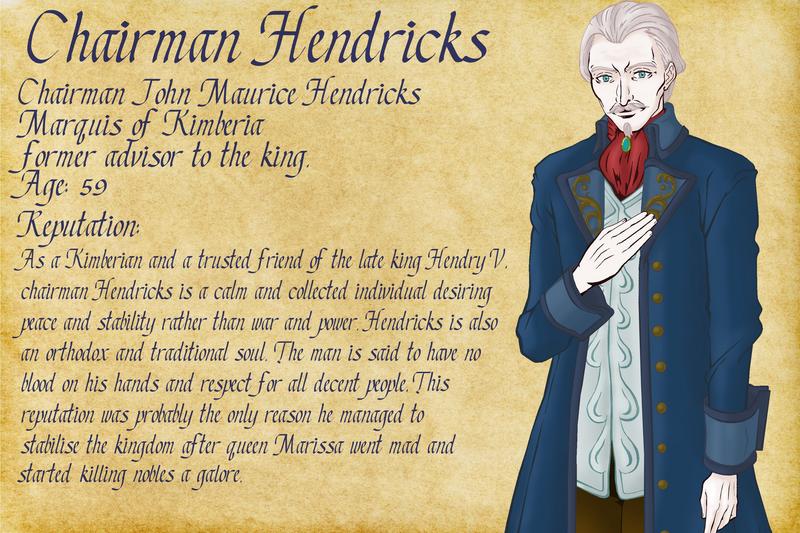 Captain Bertram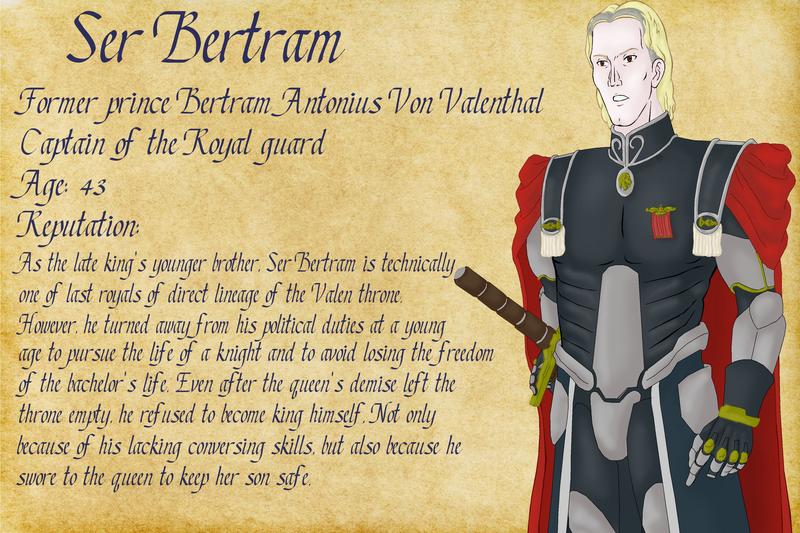 Sir Godfrey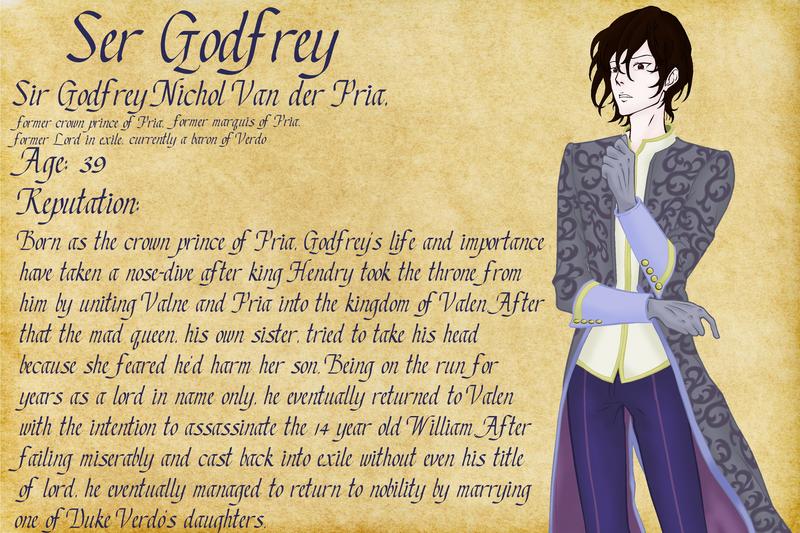 Duke Lewis Verdo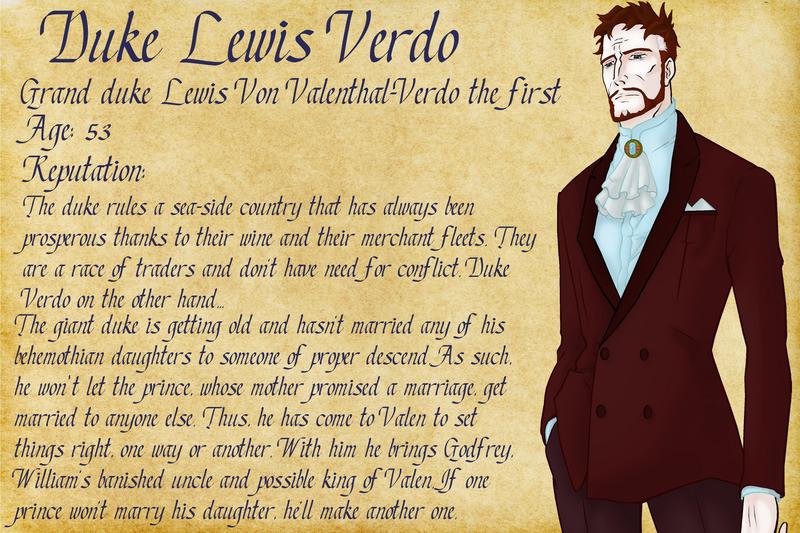 Progress
Writing:
±95% (308000/400000 words)
Common route: 95%: 90000 words
Princess Salia route: 95%: 72000 words
Princess Charlotte route: 95%: 68000 words
Princess Veronica route: 95%: 78000 words.
No princess route: 0%
Art assets
: 85%
Sprites: 95%
CG: 80%
BG: 90%
Coding
: 5%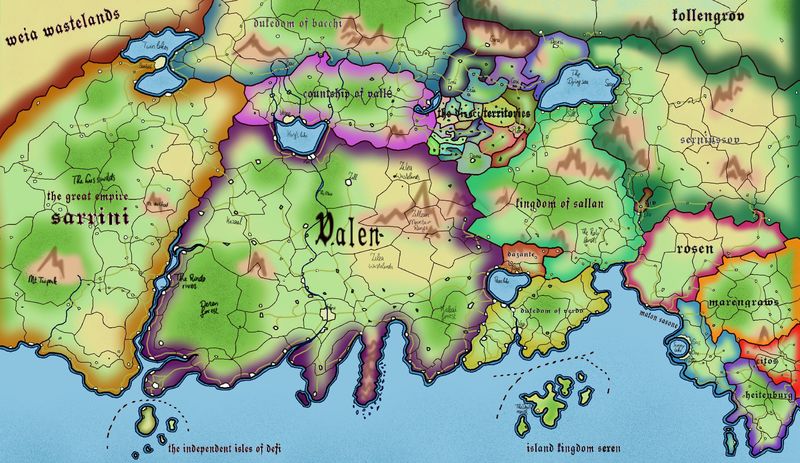 Questions:
1. Do you like the premise? Does this sound like an interesting story you'd want to read?
2. Do you like or dislike the characters? Anyone in particular?
3. Anything else you'd like to know?