Hey there fellow Visual Novel fans! Soooo... I suck at introductions but my name's LuckyBerry (I also go by LittleBerry or just plain Lin Lin) and well, after some time of being a fan, now it's my turn to give it a shot at making a Visual Novel
Aahhh, it's pretty exciting to finally show my idea to the world!
I've literally been telling everyone I know that I'm working on a game but my people aren't really the type to get what Visual Novels, let alone otome games are so I'm quite excited to finally talk about aRomancetherapy! in this community of VN/otome fans like me
I mean, even though I actually started this project last year, I'm only making a thread until now because I always have to take my sweet time whenever I'm working on a personal project
I'm still a little bit far from getting to my goal of releasing a demo but recently I've finally been working on my character designs to the point of being able to show almost finished sprites (yeah, as you will see down below, they're not finished but they give a pretty good idea of what the characters will look like) and since I'm an impatient gal, I decided to just go ahead and finally talk about my project here
This is not really the first story that has floated around my head, much less my first ren'py project (still working on some other projects alongside this one), but this is definitely the story I felt most comfortable to make my "debut" with
So with no more delay, let's get to the story!

Plot
In a society inhabited by the "flower people", a race of sentient... well, flowers, the most influential and "important" people are the perfumers due to the fact that perfume is considered sacred and is what flowers are known for to the outside world. Not everyone can work as a perfumer, though, whether you're fit for this prestigious task depends entirely on your genes: only certain species of flowers are suited to grace the world with their aroma, and even then young perfumers have to go through years of training in order to be proud of their creations.
Being part of the D'or family, a family of famous perfumers, our protagonist Ange has taken special concern in producing top-quality fragrances, effort that has paid off seeing how her perfume brand is one of the most popular ones. She's also the current favorite for being recommended by her mentor, the famous Carin Suss, for the even more prestigious position of being one of the Queen's Royal Perfumers. It seems like nothing can stop Ange's rise to fame, everything's just like she's always planned. That is, until one day she opens her perfumery only to uncharacteristically find herself without any business. The reason? Her rival Lave has just put out a new perfume that is the new talk of everyone. In fact, it's so popular that it has been dubbed "probably the most exquisite perfume of all time", and this of course immediately shakes Ange's position as the undisputed best perfumer of her generation.
But being the ambitious young lady that she is, Ange can't just sit and watch how all she's ever fought for is taken away by her "weedhead" of a rival, but every new fragrance she comes up with simply cannot compete with Lave's. Baffled by this, and desperate to find out just what is the secret behind this new perfume's success, our protagonist resorts to sneaking into Lave's studio in search of the formula, but once she does, she is greeted by the revelation that the secret ingredient behind this troublesome perfume is love. LITERALLY.... somehow.
---
Characters
Ange D'or
"For the sake of the good name of the D'or family and mine. Just for that I'll have to... improve this thing."
Age:
19
Species:
Orange blossom
The protagonist of our story, a young perfumer with a difficult personality. Coming from a long line of famous perfumers: the prestigious D'or family, she is a perfectionist who takes pride in being better than the other perfumers of her generation. She's also pretty condescending towards people she thinks aren't deserving of the perfumer title, such as dropouts, or just plain "untalented" flowers (more specifically, her rival Lave). Doesn't think much better of "commoners", preferring to stay in the world of perfumers. For some reason seems to have a particular thing against actors and painters.
Because of Ange's... unfriendly attitude (to say the least), she doesn't have many or actually any friends outside her pet bee Linny. Not that she's bothered by this, as she thinks that she doesn't need any as they're all competition and she only really cares about achieving success. She cares even less about something like love, so she's extremely displeased with the idea of making a perfume that needs it as its central ingredient, but seeing how all her previous efforts at making a better perfume than her rival's have failed, she reluctantly decides to "make her own version" of it.
Dran
Age:
19
Species:
Spikenard
"That's a shame, an artist always needs a muse."
A charming young man who was once training in the same generation of young perfumers as Ange. However, being a perfumer wasn't really his dream so he dropped out in order to pursue his true passion of being a painter. Despite Ange's negative view of perfumers who have quit and especially that of painters, she sticks around Dran because she's taken aback by the beauty of his art. He is usually calm and collected but he can get a bit snarky at times, and he also has a playful side to him.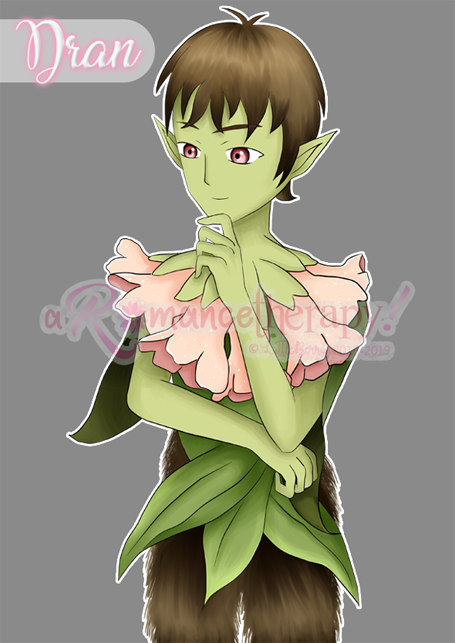 Lión
"Cakes can also be as special as perfumes. You can take a bite and forget your problems."
Age:
19
Species:
Dandelion
Being of a species that isn't really suited for the perfumer class, Lión's family instead has run a restaurant for generations, and he has gladly kept the tradition by helping around his parents. Lión is nice, soft-spoken and a bit of a shy guy, but he can stand up for himself when he needs to. He has a soft spot for gastropods and has a pet snail named Cary and a pet slug named Molly, which freak Ange out a lot.
Narc Suss
"Hah, of course you have heard of me little lady, everyone knows about the Poet brand."
Age:
20
Species:
Narcissus
Madame Carin's only son. Narc might be described as Ange's male counterpart of sorts: Just like our protagonist, he comes from a very respected family of perfumers and is very prideful and smug about it since he's certainly lived up to their prestige considering that not only is his brand one of the most recognized ones but to top it off he's also one of the Queen's Royal Perfumers. Unlike Ange though, he's flirty and sociable, always throwing out parties with perfumers and (certain) commoners alike. However, despite (or maybe in spite of) their similar personalities, he and Ange don't start with the right foot after an incident during their first meeting, after which he seems to make it his new goal to annoy her to no end.
Noli
Age:
21
Species:
Magnolia
"Well, you can count on me~ After all, I'm not called the Love Princess for nothing."
A spirited young flower who instead of becoming a perfumer decided to become a singer. Though she isn't from the same generation as Ange, she has known her for years of being a customer, and they have butted heads for pretty much the same amount of time. Noli is a hopeless romantic who likes helping others out with their relationship problems and sometimes likes to play matchmaker for the people around her, habit that has earned her the nickname of "Love Princess" (though that's a bit of a self-started thing too). She's very sociable and has many friends and acquaintances, but unfortunately for her, she also seems to owe a lot of people, which includes Ange and Narc. She finds herself forced to be Ange's wing woman of sorts under pressure from Ange because of her debt.
Lave
Age:
19
Species:
Lavender
"Hehe, because even if I can never be as good a perfumer as you, I still love making perfumes!"
A young perfumer from the same generation as Ange. Lave's pretty much the total opposite of Ange: she's kind, friendly, humble, and also an incurable optimist, something that Ange finds absolutely annoying about her. She's not the most talented perfumer of her generation, yet for some reason Ange still considers Lave her archrival, though Lave doesn't seem to reciprocate this feeling, always being friendly towards Ange. She's in a relationship with another perfumer named Cyanu.
And there's also a couple more characters that will appear throughout the story, but I won't really get into details about them here
Development
So well, as I hinted before, this is still in the very early development stage, my short term goal right now is to release a demo that covers the prologue and the introduction of each guy's route. I have already written most of it to be honest, but there are still some things that I need to tune up. I'm just a hobbyist writer so I'm sure my writing is far from being the greatest, but like Ange, I am a bit of a perfectionist myself and am working hard in order to write the best I can in order to create an enjoyable experience. And also, I'm such a victim of writer's block you guys
As for the visual aspect, I have most of the GUI done though there are still some details that I need to work on to be completely satisfied with it. Once the demo comes out, it will probably still not be 100% finished in terms of visual details, but I pretty much have all of the coding done. Nothing too fancy, just standard VN functions but I did have to customize a lot in order to make it look the way I wanted it to.
Now, the artwork is another thing entirely... Just like with my writing, I am far from being a super skilled artist. I mean, I guess I don't suck but I definitely take my sweet time working on character designs and stuff As you can see, as of now, I'm pretty close to finishing the basic sprites for my MC and the obtainables. Ange and Dran are pretty much done, detail-wise, and just need coloring. Narc and Lión are obviously still missing some details ('cause they're all based on flowers and I'm just not the most creative cookie in the jar to instantly visualize amazing... or heck, just complete designs ). Apologies for not including any concept art for Noli and Lave but while I have some ideas for their designs, I have nothing drawn yet (just ideas in my head haha). Then, other minor characters that will appear throughout the story (like Madame Carin or Lave's partner Cyanu, among others) are even farther away from getting art done for them anytime soon lol, but I will get to them eventually. As for their sets of expressions, I pretty much have all the ones I think I'm going to need (for the characters that do have sprites at least).
I was expecting backgrounds to be a real nightmare since aRomacetherapy!, being set in a fantasy world, has settings very specific to the story so I wasn't going to be able to use Creative Commons backgrounds made by the talented and generous people who have gifted us developers with tons of assets throghout the years... And let me tell you, I majorly suck at drawing backgrounds BUT! Fortunately I got a certain someone to help me out with that and I already have some sketches just waiting to be polished. That being said, though, I still have a lot of work ahead with backgrounds
I have even less progress with CGs (zero, nada) but at least for the demo I don't have to worry about those just yet
Music will have to come from Creative Commons sources and I've looked in tons of places but I'm still having trouble finding fitting music for certain scenes so I'd say I'm halfway through in that aspect. I'd love to commision background music that perfectly fits the feel I want the game to have but I'm just a broke university student living as a freeloader so I can't ;_; Gotta search harder I guess.
Aaaaannnnd, I guess that's pretty much all, huh? It may seem like a lot and it probably is but I'm determined to finish this game however long it takes, it may sound just like any standard otome game but I want to do my absolute best at making a nice, cute game that could warm the hearts of otome lovers out there. I absolutely love creating stories and characters so even though I do this as a hobby, it is also a personal project that I won't just forget in a corner, so please look forward to it if it sounds like something you'd play
I create stories that, first and foremost
I
would enjoy but hopefully someone out there might like aRomancetherapy! too
And finally, for anyone reading this, let me just throw out some questions that I'd greatly appreciate if people could answer

1. What do you think about the concept of the game? Is it something you would play?
2. What do you think about the characters? Do they sound interesting enough? What do you think about Ange? And as for the romanceable guys: Based on their descriptions, which character do you think you would go for first?
3. What do you think about the title? lol It is obviously a portmanteau of "romance" and "aromatherapy" because... well, that was the best/most original thing I could come up with
Personally, I stuck with it because I kind of liked it and in the end it does have to do with the plot but at the same time I'm a bit worried that it might sound silly or corny or something? xD So yeah, please tell me your honest feelings about it

4. Any other comments, questions and/or additional feedback?
Thanks to anyone who might have taken the time to read all of my thoughts on this project, I greatly appreciate it
And for anyone that might have been intrigued by it: I hope to see you soon with more updates
P.S. Sorry for any mistakes, English is not my first language and I'm writing this late at night so I'm tired lol