I barely released this yesterday but I forgot to post it here ^^;
---
A fully voiced romantic otome visual novel.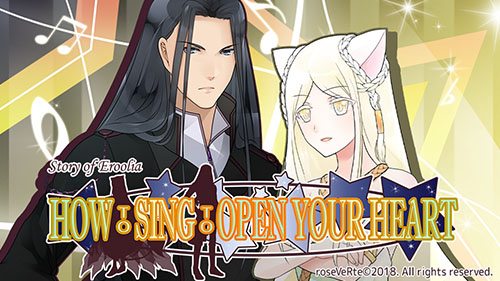 As a part of "Story of Eroolia" series, this game shares the same world with the previous "How to Take Off Your Mask" and "How to Fool a Liar King."
This time Princess Myana who appeared in "How to Fool a Liar King" will be the new heroine.
STORY
"Can the cat-eared princess' song rescue her people and find true love?"
Princess Myana loves to sing, and believes she can make her people happy with her song.
This time, she visits the human's country "Eroolia" as the leader of "Laarz", the country of cat people.
Relations between humans and luccretias have never been good, and Princess Myana experiences it herself in Eroolia.
Will her song be able to unite the hearts between humans and luccretias?
Or as the imperial guard captain, Ludovic, argues, is it better to completely cut off ties between the two countries?
STORE
Steam:
https://store.steampowered.com/app/9247 ... our_Heart/
itch.io:
https://roseverte.itch.io/how-to-sing-t ... your-heart
Official Site:
https://eroolia.roseverte.net/song/en/
Google Play Store:
https://play.google.com/store/apps/deta ... te.kokouta
iOS Appstore:
https://apps.apple.com/us/app/how-to-si ... 1455093687
CAST
Myana - Yuriko Yano
Ludovic - Roku Aine
Anna - Mai Haruki
Regina - Megurika Kawanishi
Juli - Kon
Leona - Ryo Yuasa
Mars - Taichi Tanukida
Black Cat - Zakuroishi
Simon - Zex Flaga
Lilia/ Lio/ Aria - Eruru Takeda
Ronan - Mato Sarashina
Grandma - Hisano Numahata
Gao - Naoto Takeda
THEME SONG
"Kokouta"
Song: Yuki Yumeno
Lyrics: Itsumo Nagahisa
Music: no.real (Room97)