Hey everyone!
Here is something I have been working on for the past few months:
The Pink Engine
. It is an open-source framework for using
Tiled
-created orthogonal maps in Ren'py. Those are top-down maps that use reusable tilesets to create levels. Think of older Pokemon games, or any game made in RPGMaker.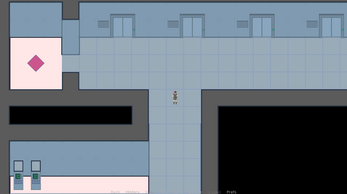 The Pink Engine is currently still in an alpha state, but it's functionality is expanding at a rapid pace. To see the latest features, you can look at the changelog on the itch.io page.
Tutorials
Differences from RPGMaker
Since RPGMaker is the most prominent orthogonal map creation software to be used by creative individuals on the internet, I figured I should highlight a few distinctions:
Occultation (whether you are drawn in front of something or behind it) is determined by the map, not the tileset. In RPGMaker, it is defined in the tileset whether an object is drawn in front of the player or behind them. In the Pink Engine, this is instead determined by which layer you put the object on. If you put an item in a 'sub' layer, they are drawn behind characters. If you put an item in a 'super' layer, they are drawn in front of characters. If you put an item in a 'dynamic' layer, their occultation depends on the characters' y position relative to the object. The reason for this is that the RPGMaker setup starts behaving oddly when confronted with characters with unusual sizes, whick the Pink Engine should be able to draw just fine.
You can diverge from the grid. By making use of object layers, you can map items in any position. The Pink Engine will automatically apply the relevant the object's movement rules to all tiles touched by the image's 'base'.
You don't have to use the same grid size for every map in your game, and can freely diverge.
The Pink Engine does not have a maximum number of tilesets per map, nor does it have a maximum number of images per tileset.
Thanks to Tiled saving its tilesets in .json format, they are easy to share. You won't have to reassign settings every time you use a tileset in a new product.
The Sprite Collections were created to allow for animation cycles of any length, rather than having to reduce everything to the 3 * 4 grid of RPGMaker. It's also much easier to make objects play specific animations.
Short-term plans
Sight-based events
Map-based parallel processes (and other map properties)
More tutorials.
Discord
I have now created a discord server for the pink engine. It can be found
here
. It's a great place to ask a quick question, or get some insight into the plans for the pink engine.
Long-term plans
My end goal is for the Pink Engine to serve as a full-fledged open-source RPG system. In addition to these orthogonal local maps, such a system would include world travel maps (with random events), an inventory/equipment system, a character system, a levelling system and a combat system. However, such a thing is obviously a long way off.