Plot

Over the mountains, across the sea, in a yet undiscovered land lies an island full of glamorous creatures. Proud elves, hard-working dwarves and noble humans scattered across the province. An immense arcane tower lies in the heart of the island, looming over the people. Legends say its power is the only thing holding back the dark forces seeking passage into our realm.

King El-Roh, our ruler, lives in the capital bestead in the south. The one and only road leading back from town diverges into three paths, each taking you into different part of the kingdom. But that's not what matters most. At the Crossroads, there is a tavern. Not just a plain lodge, like many others. It's the "Erba 'Modi" tavern - this land's best-known inn! Mainly because you can't miss the thing whilst going to the capital, but the booze is terrific too! You can take my word for it! The tavern sees a whole lotta plain folks and quite a great deal of nobles stopping on their way to or from the capital.

And in the very heart of this clatter is our Lia - a charming half-elvish girl, who's just sick of all this.
Screenshot showing the main heroine of the story
Tale
When presenting the story, it is important for us that it does not close itself in a narrow circle of several predetermined characters.
After introducing our main heroine - Lia - we'd rather preserve the atmosphere of mystery and give players a desire to learn the story by themselves.
Why such a decision? During the adventure, we will be able to lead the story in many different ways, where even small decisions will affect what we see, what we hear and how it will happen. It's Your Story, we only provide the background, parchment and quill.
When we're creating characters, we want to present their reactions in the most readable way possible for the player.
We are working on a number of special graphics that will perfectly blend in with the story.
Features
guide our protégé in multiple fashions,
multiple storylines with unlockable, alternative paths,
variable gameplay (each act has its own motive),
over 10 reachable endings,
a unique mix of fantasy, mystery, conspiracy, suspense, romance,
Steam achievements and trading cards.
Relationships between the characters will play one of the key roles.
We want to increase the pace of storytelling at some moments, which is why some scenes will be supplemented with "pop-up" graphics depicting a specific action.
Who we are and our plans
Our team consists of three people, artist, programmer and writer. Our dream is to create our own stories in electronic form, and as such we decided to start presenting our world with a simpler game. This does not mean, however, that we do not approach the topic with 100% commitment. We want the player to experience an exciting adventure in which he will experience a variety of emotions.
We are currently planning to release a demo version at the end of April this year and starting a crowdfund for further work and final touches.
If you are interested in our idea and would like to follow our progress, we encourage you to add the game to your Steam Wishlist by clicking the image below or
HERE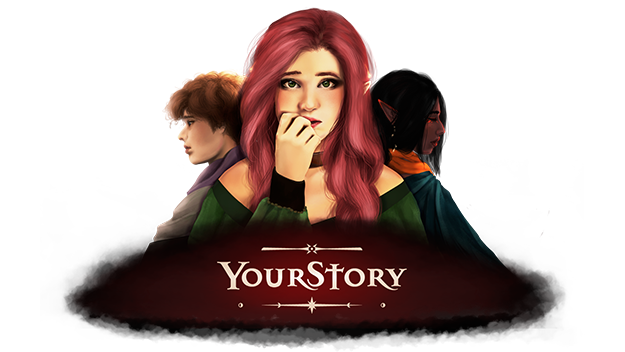 Finally, we'd love to hear some feedback from you: We would be very grateful for your opinion on the description of the game, history or graphic style or anything else that comes to mind