The Spanish Privateer
is a Pirate Otome game made for the
2018 Otome Game Jam
.
It takes place in the Golden Age of Piracy in the Atlantic Ocean, featuring runaway 18 year old Isabel Carlota de Castilla as she joins a ship and three romanceable pirates. Join Carlota as she battles pirates, friends, and social standards.
Characters
Protagonist
Carlota
Isabel Carlota de Castilla ran from her life of luxury and high-society to escape a forced marriage. Will life on the sea be the freedom and refuge she desires, or will she learn the truth the hard way?
Love Interests
Lark
Half Scottish, half Spanish, and entirely charming. Lark is a hired Lutist whose job is to entertain the men—and he takes liberty to entertain the women, as well. His specialty is playing the lute.
Rico
Hailing from Puerto Rico, Captain Rico is no stranger to the sea. His kind and forgiving persona hides his secret past which granted him his scar. His specialty is swordfighting.
Flint
Flint is the ship's quartermaster and protector. Fiercely loyal to the captain, Flint is equally distrustful of women. His specialty is gunnery.
Gameplay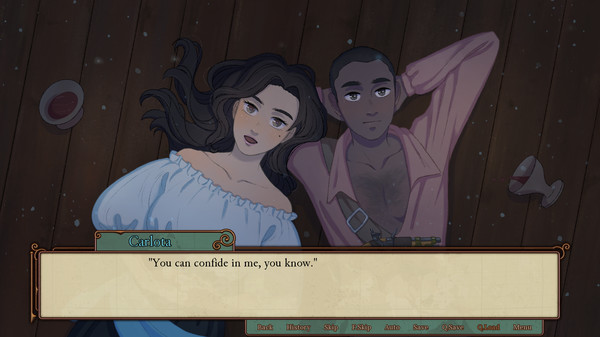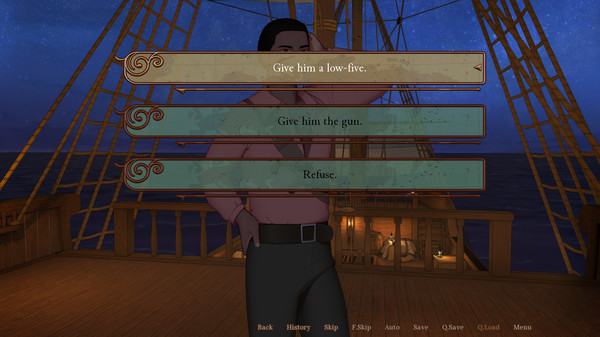 Features
FEATURES
Seven "Alternate" Endings
Achievements, Gallery, Music Room
Love, Friendship, and Personality Meters
Plenty of Piratey Adventures and Monkey Island Jokes!
The full game is now released!
Play on Steam
Play on Itch.io