First of all, when I first saw that everyone is making interesting visual novels. I thought why am I not making one? Thus, Super Lucy was born!
After Eileen's presentation, Lucy spots two mysterious cloak men leaving the room. She didn't give them another glance trying to survive talking with her rival Eileen. When Eileen leaves to get her stuff the only thing that could be heard is a scream. Before Lucy could react she got knock out by someone. When she wakes up she find herself in bed with Eileen in parallel dimension and find out they are lovers. She finds that she somehow inherit super suit from a certain mustache man as a part of the job and must protect Lemma Central from Big 7.
Protagonist: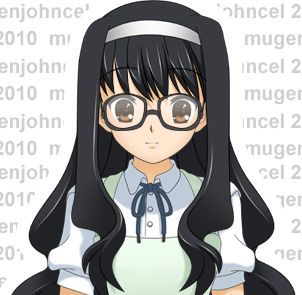 Lucy: The protagonist. She recently discovers she was granted with some powers. She is sarcastic, outgoing and rash.
Lucy notes: I'm awesome. Enough said.
Support Character:
Eileen: Lucy's rival that turns into love interest. What? She is known to be the go to girl and professor for visual novel.
Lucy Notes: I hate her! She is biggest torn in my side! Why am I stuck with her in this dimension?! How in the world did she become my girlfriend!?
No image:
Kenta: Some normal dude that hangs around Lucy. He is pretty average and pretty a stereotypical visual novel male. How get ladies is a mysterious in itself.
Lucy notes: Some dull looking guy that I don't see how girls fall for that... Swear he is only hanging out with me for chance in my pants...
Minor Characters:
Coming soon!
Team:
Writer: Eileen
Sprite Artist: TBA
Background Artist: Open
Music: Open
Updates:
8/22/12: Reach 5 k marks!
Note: These aren't the final images for them. These are just reference for them. I'm hoping that I can get an artist for this. :'D all credit go to Mugen for design.