-------Jacob's Island Tumblr-----
--Facebook--
-Twitter-

Jacob's Island floats high above the wreckage of the old world.
You play Kenna as she struggles to cope with being the last human in a world now filled with magic and monsters.
Will she drown in the memories of her life from another time,
or embrace the fantastical opportunities that await her at the Academy of Ancient Magics?

Kenna, the main character.
Kenna is as much a mystery to herself as she is to those around her. Thanks to near lethal brain damage from cryogenic freezing, she has strong opinions, but no ideas as to why.
Esmerelda, the Manticore:
A reluctant princess, who's passion tends more towards the path of a warrior than that of a mage or royalty. With a relaxed nature that can only be born of someone who fears nothing, she regrets but accepts that her fate is sealed by her blood.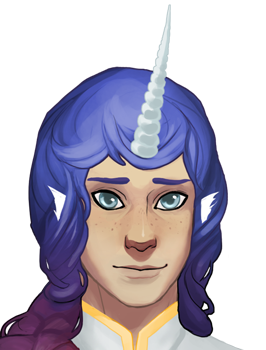 Eric, the Alicorn:
Simply, good. He has no aspirations beyond becoming a healer, and helping people. He knows that in doing that he is already achieving greatness. Unintimidated by either royalty or the ressurection of long dead races, he simply intends to follow his path, and save as many lives as he has power to do so.
Nerina, the Sea Nymph:
The daughter of royalty, from a nation where the dance of power is on a razor's edge, Nerina navigates political waters with the ease of one born in them. While the school may be a far departure from the entrenched conflict of the courts, she rarely drops her guard, and always acts with the warmth, eloquence, and siren's charm only becoming of a princess of the Sea Folk.
Side characters: