Update 3/29/19:
I have resurrected this ye old game??!! Mmm.... sort of. I have re-uploaded the original Demo 0 to itch.io! What does this mean? Well, I MIGHT sort of finish this project, sort of. I want to release one final update with stuff I wrote beyond Demo 0, as well as write some stuff beyond it and at least end it where it sort of feels finished... ish. This game is special to me as it taught me a lot about building features, implementing cool codes from the community, and making a fun story and characters that people would enjoy, as well as an otome lead with a personality (my interpretation of young Eileen did sort of inspire some aspects about Sebby from my current otome, The Only One Girl).

So I am not sure if anyone that played the original demo and anticipated is even around anymore, even so, I have re-uploaded it for historical purposes and at least one to give this game somewhat of an ending. It may not reach the scale originally intended, but.... it's still something and is what this game deserves, at least. I really want to include 2 twists I had in mind xD

DOWNLOAD DEMO VER.0;
https://tofu-sheets-visual.itch.io/eile ... love-story
NOTE; This was just a quick preview demo, so I am aware there are some typos, which will be fixed in the full demo. Also, there is an "info" button on the quick menu in-game, and her thoughts change periodically, but further down stop, which will also be updated for the full demo.
Be sure to play multiple times and save at choice points to see the game from all angles XD
LINT STATISTICS Demo Version ZERO
The game contains 3,253 dialogue blocks, containing 25,310 words and 134,584
characters, for an average of 7.8 words and 41 characters per block.

The game contains 41 menus, 107 images, and 13 screens.
----------------------------------------------------
What is this, I don't even...
*random ideas*
This is going to serve as a fun little prequel to my upcoming tutorial story game, Ren'Py Academy. This is just a story game, but it will talk about old school Ren'Py programming for fun and reference. Also, WATCH MEH FAIL ATTEMPT AT OTOME...OR WILL IT BE FAIL? IS THIS EVEN SERIOUS, I DON'T KNOW....
CURRENT LINT STATS
The game contains 4,038 dialogue blocks, containing 31,023 words and 165,097
characters, for an average of 7.7 words and 41 characters per block.

The game contains 47 menus, 132 images, and 17 screens.
Now, onto business....
THE STORY *drumroll*
Once upon a time, before being our beloved tutorial lady, Eileen was a normal girl who's very smart and loved the Ren'Py Engine. She is summoned to the School of Visual Novels as a tutor for the Ren'Py Engine, because they feel peers can teach fellow peers better than the regular teachers. The school is testing out various engine to use for their school, and whichever is proved to be the most powerful, easy to use, and loved by the students....that will be what they will use for their school. Of course, competition is fierce, and people want their engine of choice to win (students even wear different school uniforms depending on which engine they are supporting, though the uniform itself doesn't reflect the engine). Ren'Py is a little tough, due to it still having that programming aspect...it's up to Eileen to show the students under her the power of simplicity, despite the programming aspect of this engine. Can she do it? Oh, and then....there's a possibility of finding love, she's still a girl after all and admires romance. And...a lot of other random things, but that's a surprise! It's an epic tale of love, randomness, and a whole lot of mad programming skills....
NOTE: Ren'Py will be the only actual engine mentioned in this game, all other engines will be totally made up by me, as I am not here to bash other engines. I just wanna write something random XD
PLANNED AMOUNT OF PATHS:
Currently, there are planned to be
[8] pathes
, one of which is a "secret" path.
NOTE! Some guys may or may not be obtainable, but I won't tell you which ones those are. Some may be obvious, some may not be. Also, some guys can only be achieved on the friendship path, or maybe even secret path.
CHARACTERS~
The Ren'Py Team
Eileen, our heroine! (Sprite by Uncle Mugen)
So, who was Eileen before the Ren'Py tutorial sprite? Well, according to PyTom, she was suppose to be a party angel in some other game (I'm probably gonna make reference that in the game somewhere)...but, here in this random game, we focus on Eileen's (made-up) past...She soon learns life is much like a visual novel and will fight for her happy ending and to show the world the awesomeness of Ren'Py!
Roger, the other tutor! (Sprite by Takudayo)

This guy is the second Ren'Py tutor, who has only been at the school a week longer than Eileen. Will working together make them best buds, rivals....maybe something else?
Ty, the headmistress' son! (Sprite by azureXtwilight)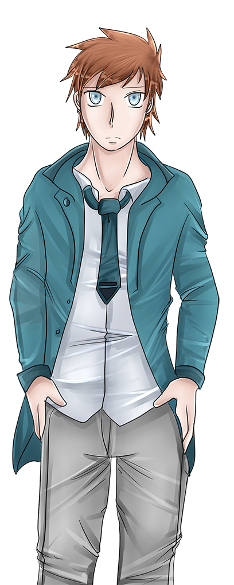 Ty often runs errands for his mom, much to his annoyance. He can get embarrassed easily, and therefore lashes out by yelling.
Lucy, that Lucy? (Sprite by azureXtwilight)
Whether or not she's the Lucy we know or just some other Lucy is unknown, but she is Eileen's roommate and is counting on her to be a better Ren'Py tutor than the previous.
Sahara, not the desert! (Sprite by azureXtwilight)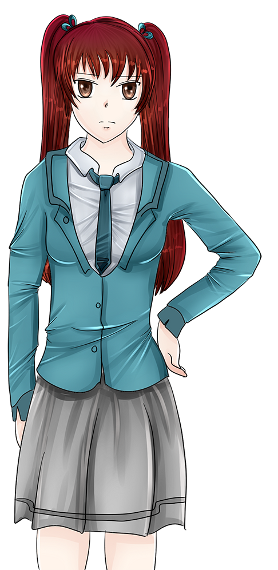 A fun, outgoing girl, with a strange name, but it adds to her charm. She struggles with the use of Ren'Py, but Eileen swears she'll show her otherwise!
Westin, just call him Wes! (Sprite by azureXtwilight)
A very serious guy who doesn't need much help with Ren'Py since he pretty much feels he's mastered it...though when he does hit a brick wall, he's too prideful to admit it and ask for help.
Those Other Engine Supporters!
Mishell, the arrogant tutor! (Sprite by tsuine)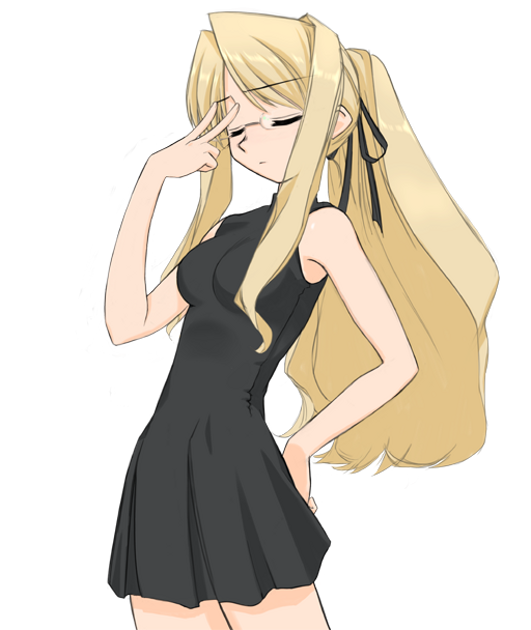 A tutor of another engine, Hana actually was involved in its developement. No wonder she wants it to win! She doesn't take crap, and she'll do anything to win this "competition"....fairly or not,
Mark, frienemy?
[I will be commissioning azureXtwlight when I has the monies/dA points, for free use, too!]
Mark is cocky, terrible at insults, and a mix of very serious to not very serious...he always seems to be up to something. However, there are times when he'll act like a friend, but you can't trust him...he is still a rival....it's a strange middle ground that shouldn't exist.
Mori, a fierce competitor with a polite mouth! (Sprite by Takudayo)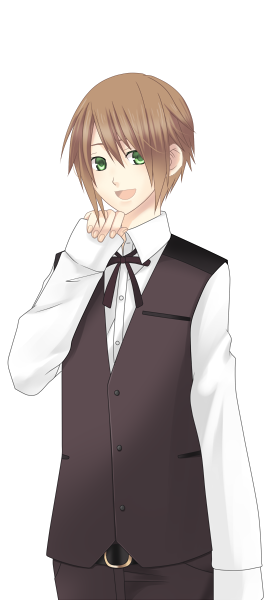 Mori, who's age is unknown (but Eileen's certain he's like, 12 or something) is part of Mark's group. He's a very devoted member. Mori has a rather calm personality, and likes to use polite speak. But that doesn't mean he plays polite!
Akira, a tutor with a fake last name! (Sprite by Takudayo)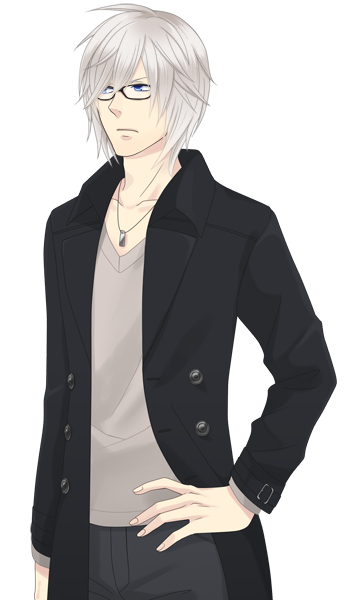 Akira is one of the many tutors for the most complex engine that the school has to offer. He has a last name that's only an alias for some reason, and he comes off as a kind of harsh and cold person.
Barry, someone who's switched sides! (Sprite by Takudayo)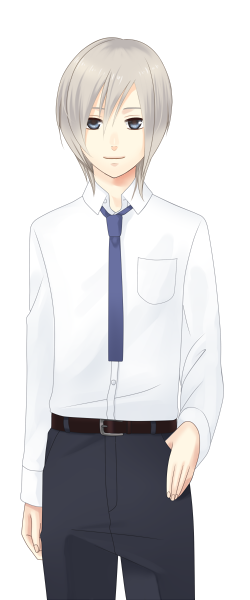 Originally, he was a tutor for the C'Story Engine that Akira and the others run, but decided to switch sides and join Mishell's group in the Story Game Engine. So there's some bitterness there. However, Barry himself seems relatively nice and usually has a calm demeanor, but that doesn't mean he can't make you feel on edge.
Other Important People!
Miss Tachikawa, The Headmistress! (Sprite by Saskuto)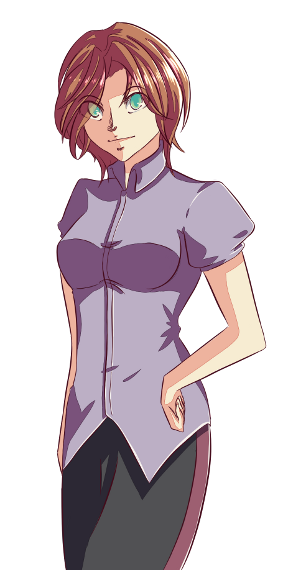 The Headmistress of the School of Visual Novels. She's seemingly neutral to the engine she wants to win. She's very businesslike, but kind.
Vincent, some other guy! (Sprite by Anna)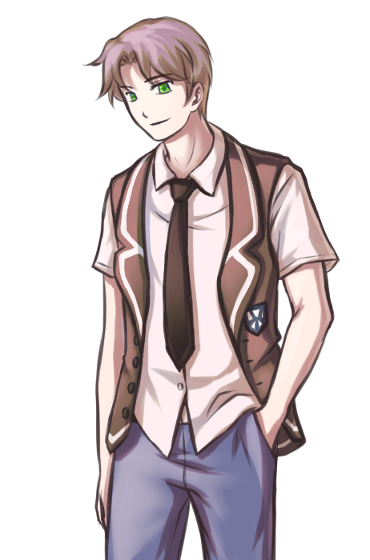 Someone not involved with visual novels what-so-ever, but maybe he'll make a good friend?
(maybe more?)
SCREENIES~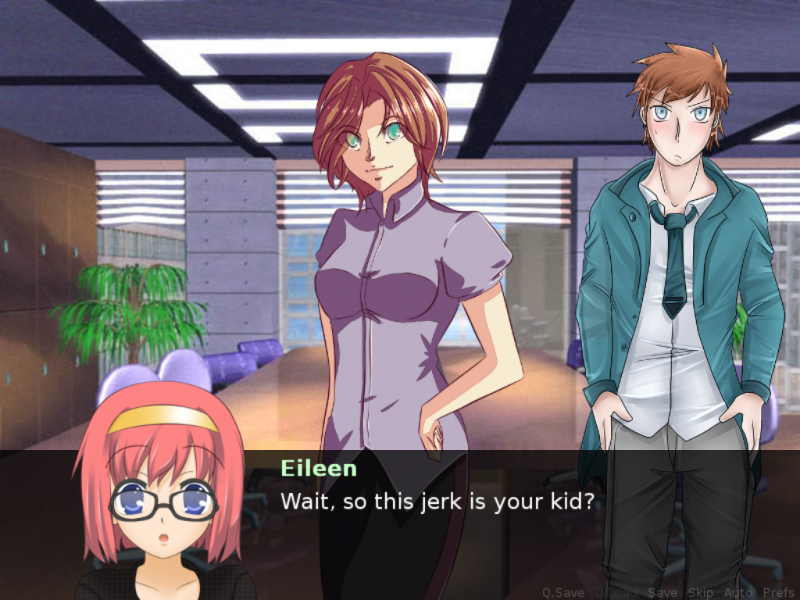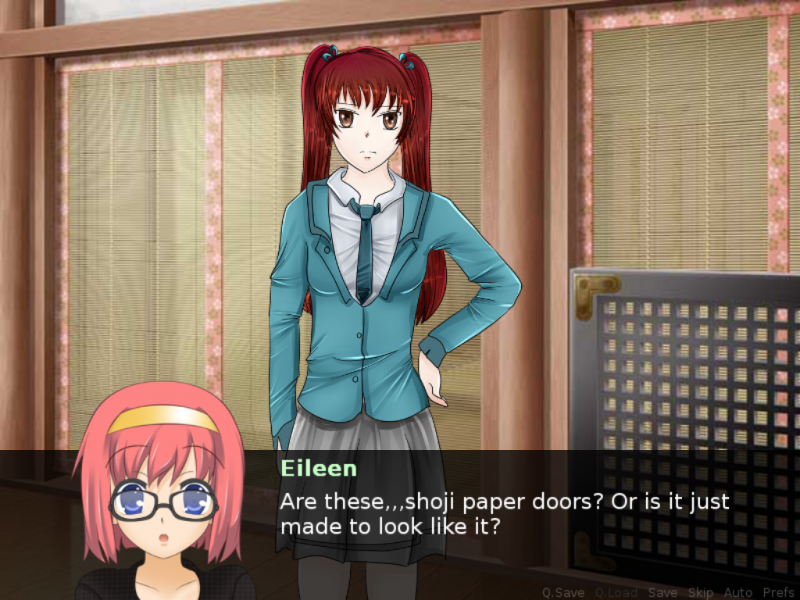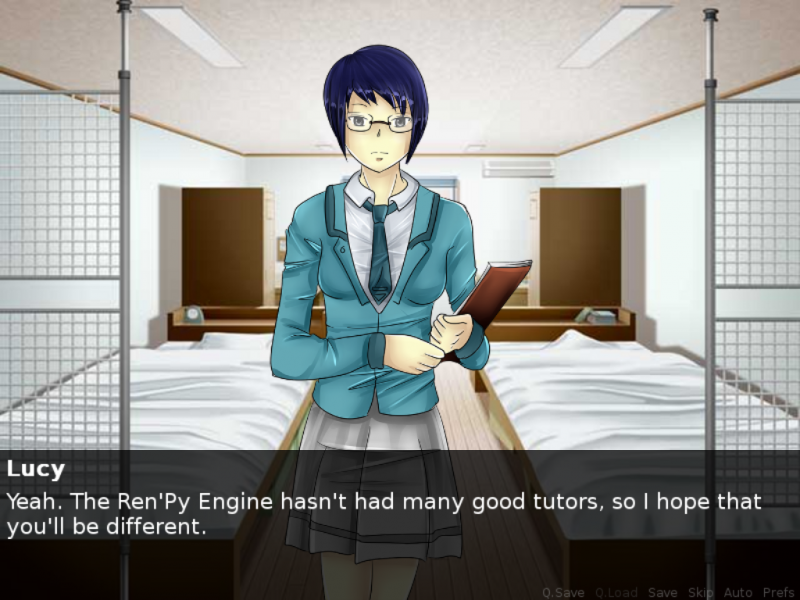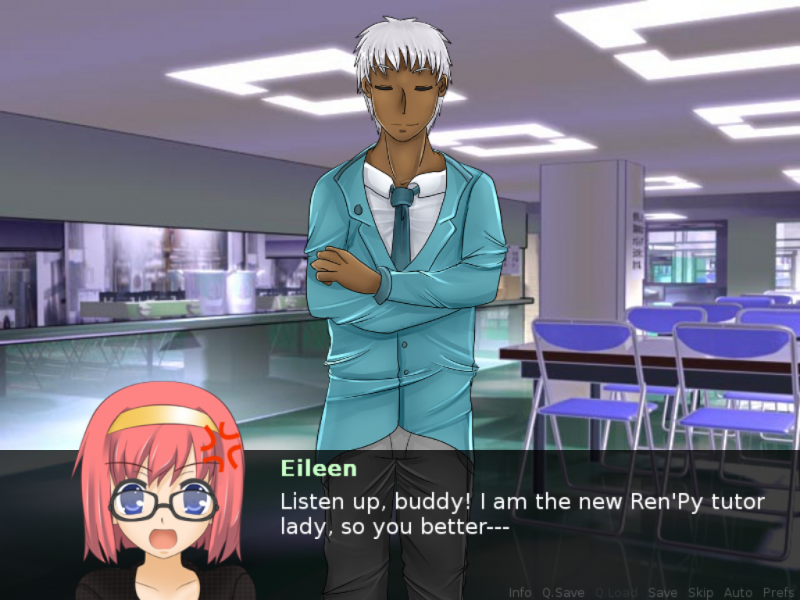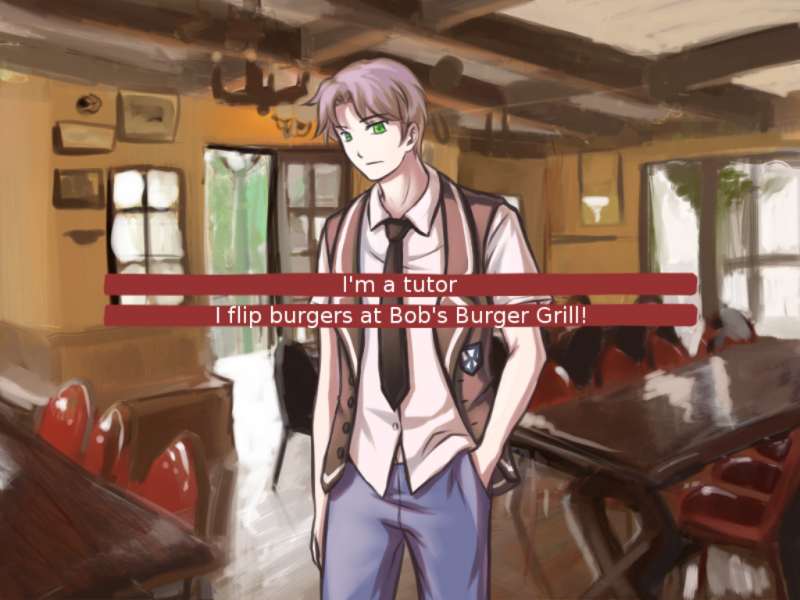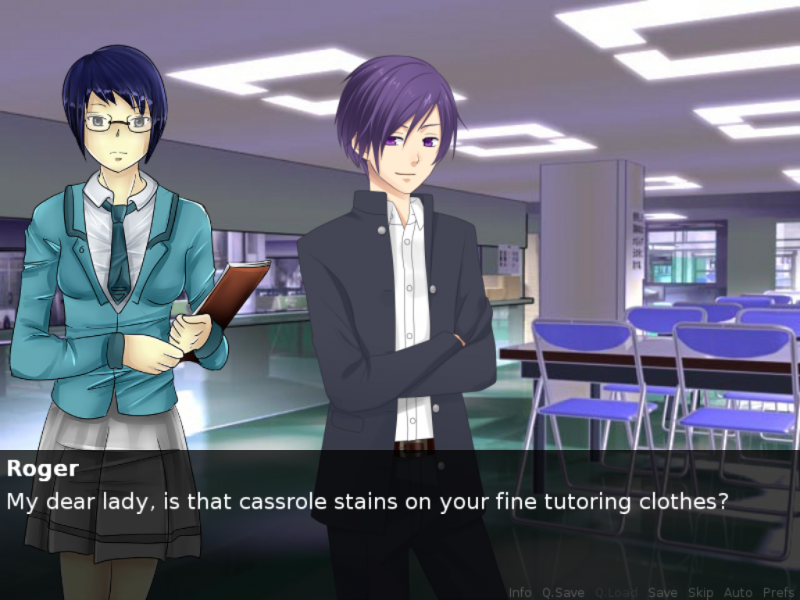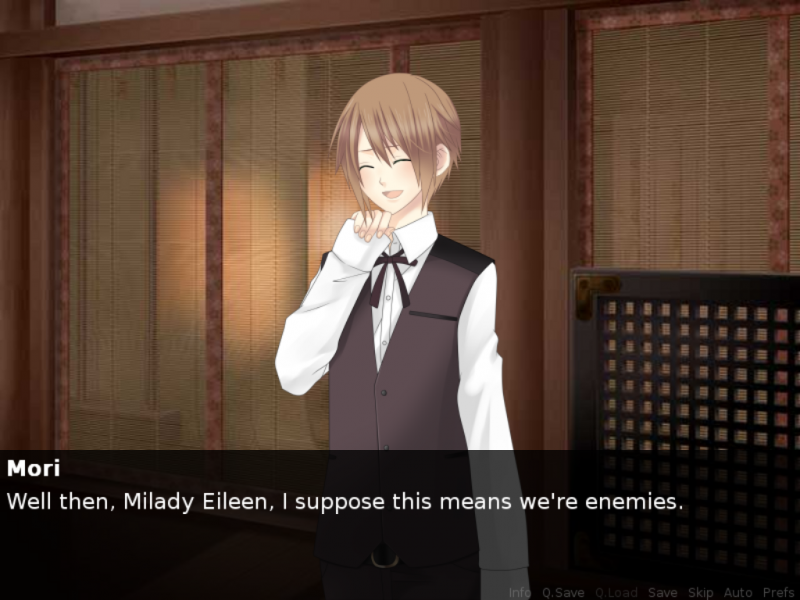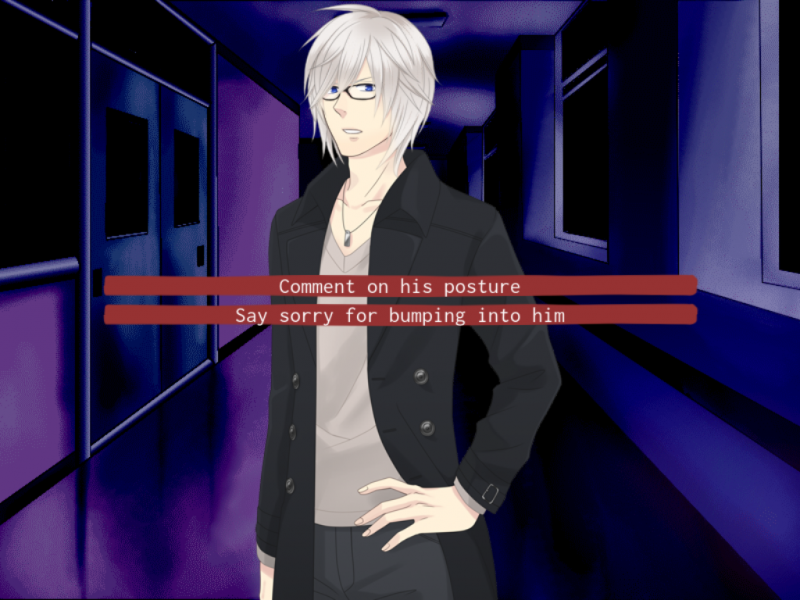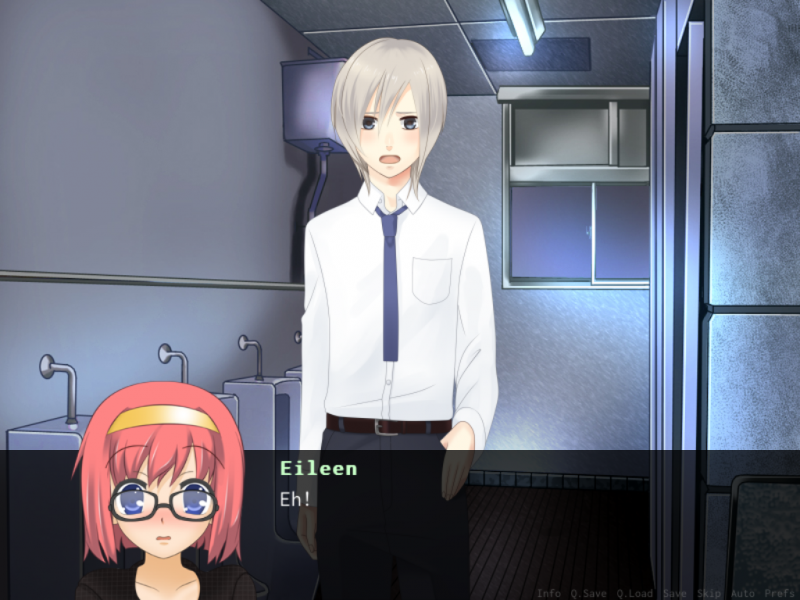 Example of the use of CheeryMoya's info screen (I finally figured out how to use this code!!)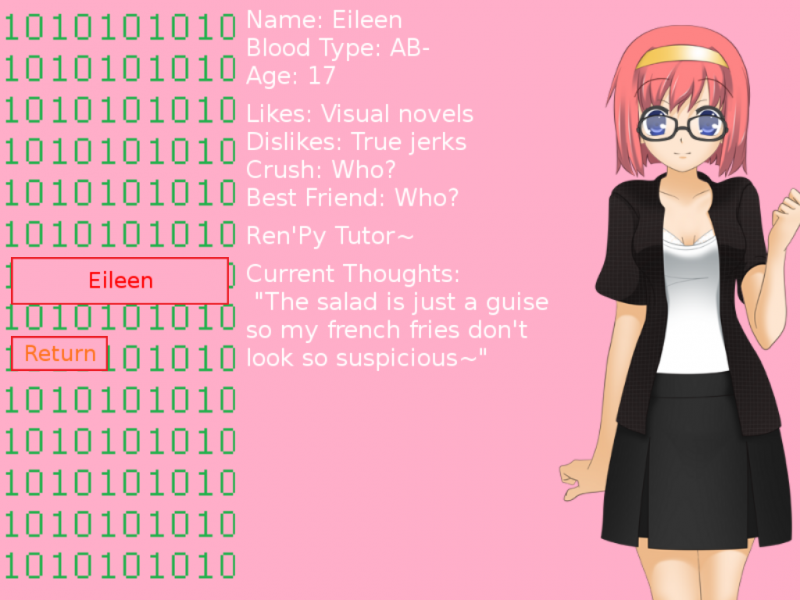 I will also be using CheeryMoya's battle frame code that will only appear on a couple pathes.
CG Samples
I WILL BE DRAWING SOME CHIBI CGs~
The rule is all free to use resources for this game (even if I commission, I will commission for free to use so you can have them, too!) while Ren'Py Academy will have all original sprites.
Will there be a true ending? Actually....here's the fun part...after the game is released and out for a certain period of time, I am going to hold a poll for who is the true guy, so whoever wins gets to show up in Ren'Py Academy when Eileen appears!