"In the race which some call life, I aim to be at the top at the love department!"

Many people have a goal in life and Yurica's is finding love—true love—as soon as possible. She doesn't want to wait for college, university or work to find The One. She only wants to find him (hopefully) before her final year of high school since she's pretty sure that her mom will hold a knife over her throat just to make her study for those 'important exams that determines her future'.

Will our determined little Yurica achieve her goal or will she be hurt among some others instead?
★Characters★
Matsumoto Yurica
17
The boy-crazy, comical and happy-go-lucky/childish high school student. She's playful and enjoys teasing her best friend. Her motto for life is: "To find love is the only reason I'm living now!" However, don't let her seemingly ditzy personality fool you. This girl has a surprisingly insightful mind and can be very mature and serious when the situation calls for it.
Nomura Sakuya
17
The quiet and blunt best friend of Yurica. Her blunt personality and pessimism is what makes guys walk away from her despite her pretty looks, or so Yurica constantly tells her. Therefore, she is actually quite hopeless around males and the topic of love.
Shiroyama Hiro
17, romance-able
The insanely popular star of the soccer club. Despite that, he doesn't enjoy socializing much, especially with his fan girls, and he doesn't have much friends. He keeps people at bay because of a belief he has.
Yukimura Toushi
18, romance-able
The serious and reliable president of the student council. He is the smartest student in the entire school and has zero tolerance for slackers. He is quite popular among girls because of his looks, intelligence and background...However, not much is actually known about him and all the "facts" are mainly made up from the beliefs of his admirers.
Tonegawa Shin
16, romance-able
The adorable and strong-willed student. He quite naive and is well-liked by many, but is usually bullied (well...more like cornered to do favors) by others because he has this horrible trait of being unable to say no to friends. He is extremely good at cooking and arts.
★Screenshots★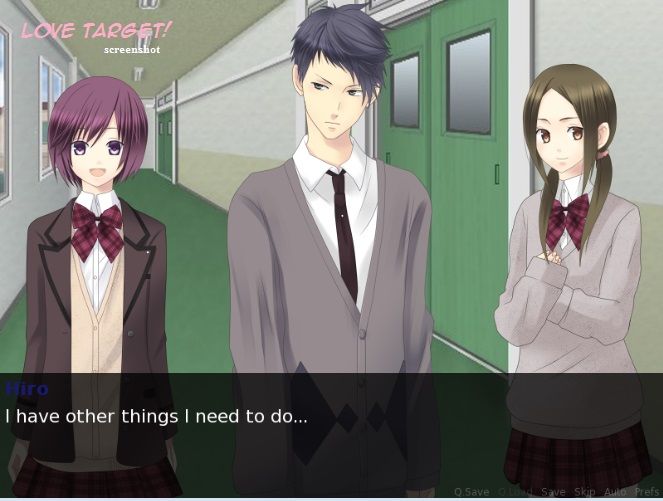 ★Progress★
Story: 100%
Script: 30%
Sprites: 100%
Background: 100%
PS: Just to clear up any future confusions, sprites and backgrounds are
not
done by me. They're free and are on the internet for anyone to use. I don't draw well enough with a tablet to use my own art for a game
I might edit some stuff here and I'll be keeping this post updated (since it's actually here for me to check on my own progress, ehehehe...)