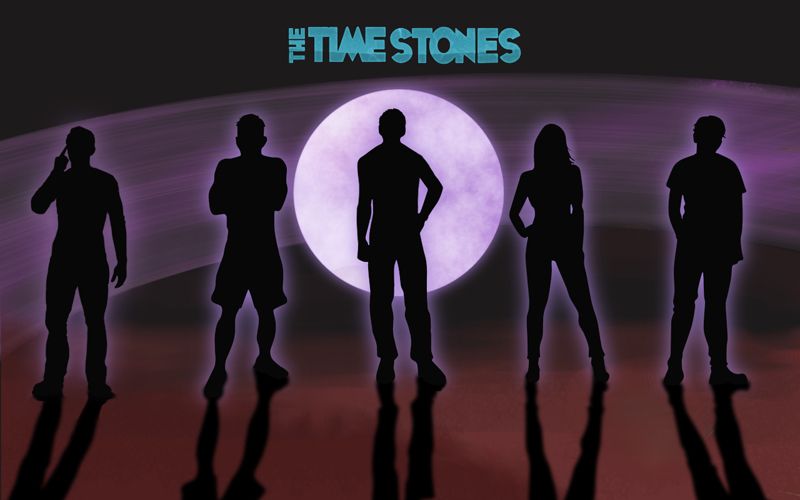 Ready to try it out? The Time Stones has been in development for years now, and with the aid of our last IndieGoGo campaign, we managed to acquire all the assets we needed to create this high-quality demo, a vast improvement over the original version we tested a couple of years back. We've got a version for
Windows
users, and another version for
Mac
users.
All constructive feedback on the game is welcome. Please note the "Honest Critique" button in the signature. If you like the game and want see it come to fruition, would you consider
donating
to the cause, or spreading the word?
Changes from the old demo
Some of the changes from the original demo we tested a couple of years ago include:
Revamped characters (slight personality tweaks, and all of them have been aged)
Full and partial voice acting added.
Gage's Chapter 2 was completely revamped.
Brand-new, cel-shaded, higher quality sprite work.
Added backgrounds and CGs by Uncle Mugen and Card-Queen respectively.
Improved UI interface.
Saguaro's journal system has been fully implemented.
Multiple side characters added.
The Time Stones centers around five college kids who are swept away to another land, different from their own. The laws of physics still seem to be in place, but nothing looks quite the same. The world is rocky, devoid of human life, and only the presence of fish and a few trees seems to indicate the existence of life at all. The kids don't know why they're there, how they got there, or how to get home, but they have to learn to cooperate to survive. Compounding their problems is the fact that they're being hunted...and don't know it.
While the primary antagonist seems to be a mysterious figure, the kids fight each other, and themselves, far more than any generic villain. If there's anything that will kill them, it's likely to be each other.
This is an adventure title that is driven primarily through character development. Each character has a unique individual plot, and they will grow and change as the story progresses. The game keeps track of what decisions you make for the first 19 chapters; in Chapter 20, the character with the most points in their favor becomes the main character, and their storyline unfolds in front of you. Their specific demons come to light, and the other characters play important roles in helping them grow to become a better person. Additionally, a sixth character is introduced whose identity varies depending upon the character spotlighted in Chapter 20. This character serves as the final challenge to full development, forcing the individual to face whatever demons they've been hiding for so long.
Other elements include a science fiction-based plot, and minor romance. The spotlight character has the option to 'bond' with other characters based upon their sexuality and the number of points they've accumulated. The game has BxB, BxG, and GxB, but no GxG due to the characters that were created for the story. Each of the characters is extremely in-depth, with their life stories already written long before the game starts.
The story itself was started in 1998. The original prototype for the story was far more fantastical; through a joint effort of three writers (myself included), we crafted the beginnings of a story involving three kids who get pulled into another world full of massive creatures hunting them and befriending them. As one of the writers dropped out in 1999, the story was scrapped. A slightly more SF-style story was crafted in early 2000 with a group of four writers, which soon grew to five. The story was revamped to remove the mystical creatures in favor of genetic horrors. The story was slowly written until 2004, when one new writer was added, and three of the four original writers dropped out, giving written consent for the story to be continued in their absence. It continued to be slowly written by the remaining two writers until 2008, when it went on hiatus. In 2011, the story was rebuilt from the ground up, to include new characters and alteration of personalities (the originals were a bit extreme in their tropes), and a slight revamping of the plot to add more mystery and less action. The largest change was the switch from a standard novel format to a VN. The result is the WIP you see before you.
The characters are the main focus of the story, with the setting serving as a catalyst to their development. In other words, the setting is there mostly just to evolve the various characters. The characters are listed in no particular order below, as all characters can receive equal spotlight depending on player decisions.
Ethan Huýnh
Likeness: Phillip O'Donnell
Voice: Victor Aguilar
Ethan is a snarky, cynical technophile who seems to have better relations with people from a distance. He comes from a broken family, and has a terrible temper as a result. He studies medicine in college, and is knowledgeable on a broad spectrum of subjects. He's also physically fit and a well-rounded fighter, thanks to Damian.
Damian Cruz
Likeness: Gustavo Lugo
Voice: Ian Fox
Damian is a bit of a womanizer at first glance, but don't let that stop you from getting to know him. He has the strength, skill, and experience to put down threats to safety, but will always try the peaceful approach first. This philosophy is often lost on the not-so-evenly-tempered Ethan, but Damian doesn't let that stop him from trying to be a good influence. He prefers to be comic relief during stressful situations, but his humor isn't always well-received.
Xander Rankin
Likeness: Bryan Clayton
Voice: Patrick Smith
Xander is a politician through-and-through. With a senator and a councilwoman for parents, he was constantly inundated with political machinations, and he quickly learned to follow in his parents' footsteps. He's won several elections in high school, and even won his first College Student Government presidency, but there's always been rumors that he doesn't really fight fair. The same could be said for his eternal opponent Raven, who "steals" as many of his victories as he earns through the years.
Raven O'Neil
Likeness: Chiye Green
Voice: Jeanna Lue
There are no questions when dealing with Raven. Everyone else in this story is quick to buffer difficult situations (or sometimes provoke them) with sarcasm, but Raven has always been a straight-talker. It's this honest-to-a-fault trait that's won her several elections, sweeping the rug out from her rival, Xander. They hate each other with a passion, and Raven makes it very well-known. She cares for people, but severely lacks trust in anyone, and often comes off as constantly angry.
Gage Trent
Likeness: Anthony Gallion
Voice: Wes Davis
Gage is quiet and reserved. His name is well-known in local art shows, but not his face, as he rarely attends showings. He prefers a quiet life of painting, sketching and watching. He has an eye for analysis, and can spend very little time around someone before picking up on subtle cues that betray a person's motives and personality. He tends to stick close to strong personalities like Raven, and sometimes Ethan, but hates Xander almost as much as Raven does.
Demo for Windows users
Demo for Mac users
Once again, all constructive feedback on the game is welcome. Please note the "Honest Critique" button in the signature. If you like the game and want see it come to fruition, would you consider
donating
to the cause, or spreading the word?