Meryl is a plucky and energetic 17 year old girl who just failed all of her classes.
Whoops.
Instead of going back and starting the year over again, she decides to take a year off to go on a journey of self-discovery.
(Don't worry, her Mom ok'ed it!)
Leaving home with nothing but a bounce in her step and a mysterious treasure map that her mother gave her,
Meryl finds herself caught up on a journey that might reveal to her not only her own future, but the future of her country!
Characters
Meryl
Our main protagonist!
She's 17 and REALLY! EXCITED! to learn more about the world!
She hates studying and memorizing things but is good at concepts and interacting with people.
She is also really REALLY not looking forward to going back to school.
August

A 20 year old young man who Meryl runs into early in her travels.
Seemingly kind, he's a fresh new recruit in the Royal Guards and is accompanying Gregor in their travels to round up the Dirks, a bandit group running amok among the countryside. You'd think with his dramatic red cape and battle bandanna he'd be a brash, confident guy, but he acts very nervous all the time and often second guesses himself. According to him, he, like Meryl, 'failed some tests' and has to study really hard to eventually make them up.
But apparently these 'failed tests' involved people dying.
Gregor

An older man (despite what Meryl thinks, he's only 30) who is August's boss/tutor/babysitter.
He's accompanying August on their journey to round up the Dirks and also helping August 'study for his tests'.
His style of teaching involves intimidation and pop quizzes which apparently works for August?? (Meryl has no idea how)
Although he's coarse and gruff, he's really good at his job.
And at yelling. He's good at that too.
These characters don't show up until much later in the story (minus Meryl's Mom), but I figured I'd introduce them anyway. Also, their sprites are not finished yet, so please take that into consideration.

Meryl's Mom

An extremely kind mother to Meryl.
Gives an old treasure map to Meryl as she leaves on her journey.
Adrianne

A veteran adventurer that's been a longtime friend of Meryl's mom.
She has a habit of showing up out of the blue just when things look hopeless.
Grete

Gregor's sister who is bookish and blunt.
Goes to St. Petrarch's School for the Intellectually Gifted.
Werner

A fellow classmate of Grete's. Incredibly rude and pretentious.
Grete hates his guts and refers to him as 'Weenie'.
Maybellene

???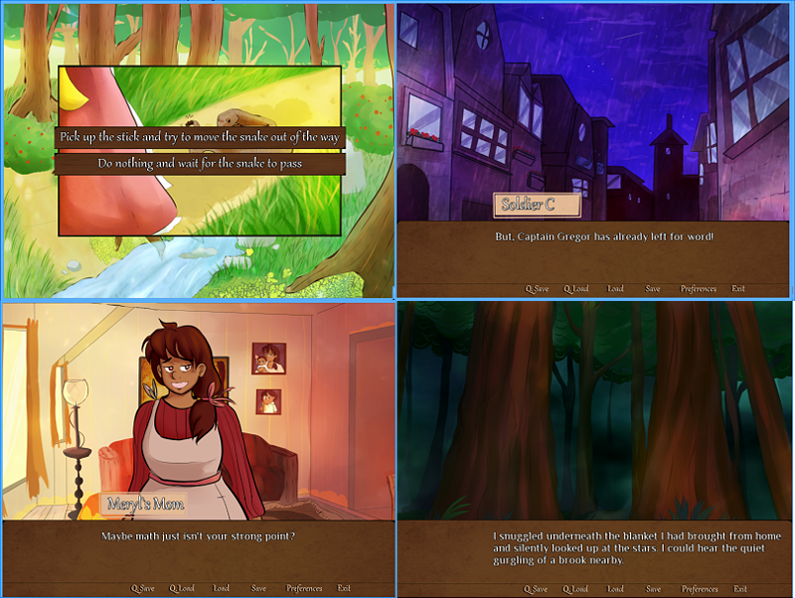 BG - 10/? (I've stopped updating these because I've lost count, haha)
1) Which character looks the most interesting to you?
2) Do you think the synopsis should go more in depth about the plot? Or is it alright as is?
3) How do you feel about VNs that don't heavily feature romance?

Specific questions about the demo

4) How were the music levels? Sound effect levels? Was there ever a moment you thought one was too loud compared to the other?
5) Were there any moments you thought would be helped by an additional CG on screen?
6) General thoughts, comments, suggestions?
Thank you very much for reading!
Hello! This is my second game and first WIP thread, so please let me know if I'm missing anything/did something wrong!
I've been working on M&A for over a year by myself so I'm very excited to finally be able to share it with people!

I'm hoping to update about once a month, though I'll say that progress will be slow. I'm going to be very busy in the upcoming months (at least until June), but I'll be chipping away at the project!
Once again, thank you so so so much for reading!!
02/06/15 Update: Coding is at 7%, Editing is at 90%
03/05/15 Update: Coding is at 10%, Editing is at 100%+0% (Of the new part of the script)
04/04/15 Update: Coding is at 12%, Editing is at 100%+0%, Script is FINISHED!!!!!!
05/02/15 Update: Coding is still at 12%
Editing is at 100%+0%. Tests suck.
06/06/15 Update: Coding is at 15% Editing is at 100%+0% (@.@;;;). NEW DEMO!!!!
07/19/15 Update: Coding is at 19% I made a new KN!
08/03/15 Update: Coding is at 20%
09/04/15 Update: Coding is at 23%
09/15/15 Update: New demo!
12/15/15 Update: Coding is at 27%
1/13/16 Update: Coding is at 30%
2/6/16 Update: Coding is at 32%
3/6/16 Update: Coding is blah. Next update will be for Capital route demo.