Book 1 is released- here:
http://lemmasoft.renai.us/forums/viewto ... 11&t=31733
Story:
This is a story that takes place over the course of several years, starting as a preteen and ending in adulthood. book 2 deals with the final year of high school and you will see how Laura and her friends have changed from book 1. There will be an improved focus on character interaction and traditional character routes. In this book the player will choose a friend who will be the main focus of that particular play-through. In these routes Laura will have spent more time with this character throughout high school, and this will dictate her current position in life as the game begins.
Characters:
I'll be working on concepts for the teen sprites over the next few months, so look forward to that!
Very first concept designs(Sprites will look much better)
Clarissa
: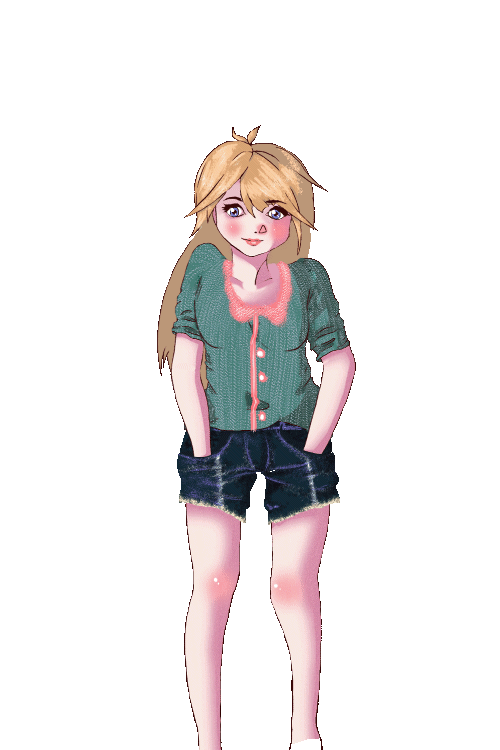 Molly:
Rachel:
Game info:
This is a personal project that I am working solo on(outside of audio). This story is split into 3 books, one for each age group. The actual length is going to be very short, 15 minutes per game. In other words, this is like a visual short story over a novel. The writing will be dealing heavily with the idea of coming of age. The specific ideas I will be working from will be, self identity, and sexual awakening in relation to a hetero-normative society. There will be a focus on GxG romance, but perhaps not in the same way that Visual novels typically do it. It will be a bit more subtle, the characters need to clarify their own feelings and identities for something like that to really grow.
And now to explain the routes and endings:
: See dev diary on page 4 for additional info and explanations.
Molly Route:
Molly was Laura's best friend in book 1, and because of this bond it is easier to get a positive outcome in this route.
Bad End- 20%
Good End: 50%
Romance End- 30%
Clarissa Route:
Clarissa's difficulty comes from her more standoffish nature, Molly was always your closest friend so she is easier to reconcile with then Clarissa.
Bad End-40%
Good End: 35%
Romance End- 25%
Rachel Route:
Rachel's route is special, and especially hard to get a positive end for. In order to get a romance end you must first have a bad end standing in either Molly or Clarissa's routes, and then get a perfect standing with Rachel's segments.
Bad End- 45%
Good End: 45%
Romance End- 10%
Everything about book 2 is subject to change of course. I am planning to begin writing this week. I'm going to give myself a 1 month deadline to get it written- probably not edited though.
Progress:
Sprites: Book 2: 0%
Backgrounds: Book 2: 0%
writing: Book 2: 10%
Audio: Book 2: 0%
Questions:
Would you want your choices from book 1, to carry over into the next book? Or would you be accepting of the idea of only the dominate ending from book 1 continuing.
Does the shift to a more traditional routes system sound like a good idea? This will mean a shorter start> end duration, but more variation in story.
Would you rather the ability to pursue every girl, even if it is doomed to fail?