Buy via Paypal on: afterthoughtstudios.org/store
"In a medieval world where magic is a forgotten power, how would a young witch wandering through the lands interact with people from all walks of life?"
We're on Steam Greenlight!
Vote for us here!
Check us out on Kickstarter!
Click here!
A More Beautiful World
is a kinetic visual novel set in a medieval world where magic is a forgotten power. A young witch wanders through the world of ordinary humans and interacts with people from all walks of life, inspired by such novels as
Spice and Wolf
as well as
Maoyuu Maou Yuusha
. These are stories where much emphasis is placed on relationships, money and politics.
A More Beautiful World
is no different--we will immerse the reader in a medieval fantasy world with many things you will be able to relate to as you join our young witch in her vagrant journey.
For history buffs, readers will also see several real world events reflected in the story, from China, Europe, and the Americas.
Not a fan of history? No worries - You will still find many literary references in this story of ours. Will you not join Violetta in her journey?
You can play our finished demo if you are curious about the visual novel! Please follow this link to download it. This demo spans 60% of the actual length of Act I. There are four Acts in total. Act II is similar to Act I in length while Act II and III, combined, are three times longer than the total length of Act I and II. The estimated length of the demo is 60-80 minutes.
You can get the demo right here:
https://copy.com/9hZ9i6pMBZLx9M2y
A More Beautiful World
is a dialogue only visual novel that brings you on a journey along with our protagonist, Violetta, a self-proclaimed witch who is wise.
In Act I, Violetta meets the Merchant and in Act II, III and IV, Violetta would meet many other interesting characters while saying farewell to her previous companions.
Afterthought Studios' aim is to create stories that will touch the hearts of our readers and let them take away a lesson or two, or better yet, apply it to their daily lives. Afterthought Studios is made up of a group of visual novel enthusiasts from around the world who came together in hopes of creating a story worth being retold and re-read.
The team at Afterthought Studios is comprised of experienced creators.
Our author, Darren Kwok, is based in Singapore. He has assisted in the marketing and greenlighting for several visual novels and games.
Under our music team, we have
Steven Melin
, a video game, film, and television music composer based in Atlanta, GA. He is the Assistant Composer for Penka Kouneva (
Gears of War 3, Prince of Persia: The Forgotten Sands
) and has previously assisted industry veterans Garry Schyman (
Shadow of Mordor, Bioshock series
) and Joel Goodman (
Being Elmo, The American Experience
).
'harmonicblend'
is a music circle founded by Trass. They have worked on several indie games and other projects, including some personal projects. They are currently most known for their works featured in the indie horror game
Dreaming Mary
soundtrack, as well as
Sol=Akata
, the album which they prepared for Comiket and was sold out in just two hours - More recently,
COSMOCRYSTAL
, another one of their productions sold out at M3-Fall in Japan.
As for our art, we are working with the talented
Yuuki
, who will be responsible for all the sprites and CGs in A More Beautiful World.
Sillyselly
will be creating our background art.
ameliori
and
artsvan
, from Fervent are the folks behind the successful visual novels Who Is Mike and CUPID are also assisting in the artistic process.
Our programmer,
MysteryCorgi
, has several visual novels under her belt, including
Culina: The Spirit of Cooking
and
Hands in the Kitchen
. She also did work for
That Cheap and Sacred Thing
as well as logos and GUIs for various indie projects. Special thanks if also accorded to Krystian Alabrudzinski, our partner.
The logo for
A More Beautiful World
was made by
Luna Li
and the GUI designed by
Camya
.
Additionally, A More Beautiful World will be fully voiced in English.
Sound Cadence Studios is a freelance indie Casting & Production Studio, founded by Amber Lee Connors, professional voice actress, director and writer and it is also partnered with Team Four Star, who supplies some of the in-house talent. They have an extensive portfolio which includes Dead Island: Epidemic as well as Dread Out.
Violetta
CV: Amber Lee Connors (Hayami Koto in
Exogenesis: Perils of Rebirth
, Ava in
Sunrider
)
Elena
CV: Natalie Van Sistine (Midori Suzuki in
Exogenesis: Perils of Rebirth
, Anna Kelso in
Deus Ex: The Fall
)
Merchant
CV: Kanoff (General Gaius in
Dust: An Elysian Tail
, Cole Madsen in
Meridian - New World
)
Marquis
CV: Ryan H Nelson [Commander B.D in
S.W.A.T
, John Barrymore in
Sherlock Holmes: Hound of The Baskervilles
(Theatre)]
Head Healer
CV: Melissa D. Sternenberg
High Magician
CV: Steven Kelly (Lord Pel Harmond in
Dragon Age: Inquisition
, Mayor Bram in
Dust: An Elysian Tail
)
Militia
CV: Howard Wang (Toshio in
Exogensis: Perils of Rebirth
, Rico in
Dead Island: Epidemic
)
Guard
CV: Anthony Sardinha (GUNTHER in
Exogensis: Perils of Rebirth
, Claudio in
YIIK
)
Bandit
CV: Daman Mills (Shinta Mizumura in
Holy Knight
, Selnia's Father in
Ladies versus Butlers!
)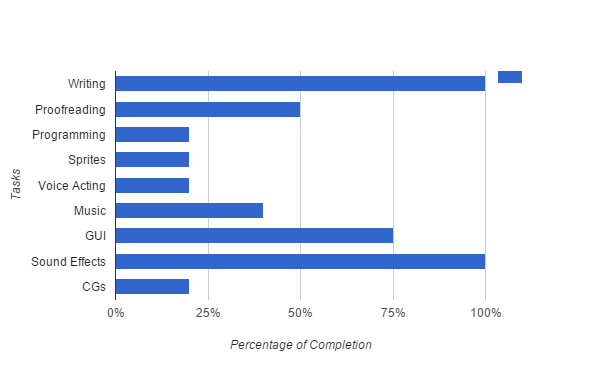 Cost of Production
Below are our tiers of rewards that will be available at the launch of our campaign!
$2 - Thanks (Offering)
$15 - Copy of the game (Digital) (Early Bird)
(The Grimoire)
$20 - Copy of the game (Digital)
(The Late Reader)
$25 - Above + Set of Wallpapers made specially for A More Beautiful World (Digital)
(The Encyclopedia)
$30 - Game + OST (Digital)
(The Singing Storyteller)
$40 - Above + Physical copy of a map of A More Beautiful World
(The Navigator)
$55 - Game + OST (Physical)
(Blessing of the Heavens)
$65 - Game + OST (Physical) + Physical copy of a map of A More Beautiful World
(Heavenly Compass)
$120 -
Heavenly Compass
+ Coloured sketch of you
(The Imperial Artist)
$300 -
Heavenly Compass
+ Join the game as a minor character! (Limited 5)
(Heavenly Mimicry)
$500 -
Heavenly Compass
+ Join the game as a major character! (Limited 3)
(The Blessed Grimoire)
$1000 - Game + OST (Physical) + Physical copy of a map of AMBW + Join the game as a major character! (Limited 1) and go behind the scenes with the team at Afterthought Studios - And at the end of it all, get an artbook that shows our journey towards finishing A More Beautiful World.
(Favour of the Heavens)
All creative projects come with some amount of risk. However, we believe that by already having the script completed at the time of our Kickstarter's launch, we hope to have circumnavigated past the common pitfall of not seeing a project through to the end.
The project is also run on a tight and strict financial discipline to make sure no funds are squandered. All funds raised from the project will be used to pay for assets for the game.
If you are interested in our project or want to learn more about us, please feel free to visit us on our various social media outlets, also if you have any questions, do ask us!
Find us on: facebook.com/afterthoughtstudios
twitter.com/afterthoughtVN
afterthoughtstudios.org