Tofu Sheets Visual & Triangle Box Studio presents--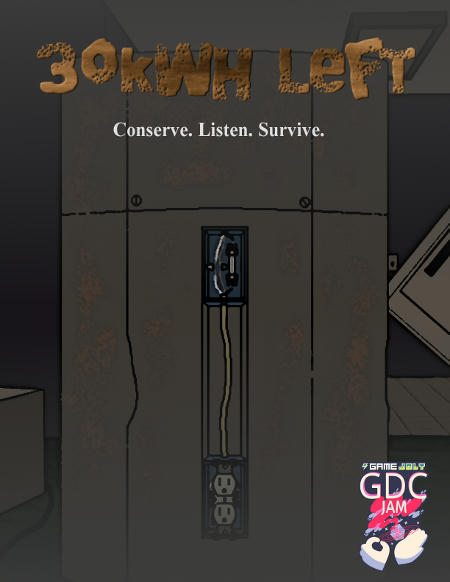 Download from GameJolt!
itch.io mirror

READ BEFORE DOWNLOAD -- This game's package may freak out some players' virus protection, but don't worry--it is a false positive, the build is clean! I even scanned it myself and some others too to confirm this!

Version 2.0 is now up which is re-released on Ren'Py 6.99 with more fixes and additions

Our game ranked #37 out of 128 games!
SYNOPSIS
"You (Paul) woke up one day to find the world in shambles--everyone but you has disappeared. You have no idea what happened, as there's no one to ask---no people, no animals---but there are creatures that are attracted to the dark, so you must keep the lights on. The sun seem to be smaller, so days and especially nights are freezing, forcing you to use your heater that sucks up a good amount of power. Your last hope---a radio that lasts abut 5-7 minutes after its battery's been charged for 6 hours. You've finally made contact with a girl, Elly, and only have a short amount to chat each day to maintain sanity. However, your makeshift generator is now left with only 30 kilowatt hours of power on its final tank of gas---running your heater 6 hours a day would mean it'd be dry in 5 days, and only two things can be plugged in at a time. You must balance running your heater, your microwave, your lights, and time on your radio and keep the unknown creatures at bay for as long as you can. You may never find out why the world was laid to waste when you woke up, but you don't have to be alone."
Tofu Sheets Visual presents our entry for GameJolt's 72-hour GDC Jam! I have to thank my brother and my two voice actors for how fast they worked; the art was made in like two days, my actors had to record all their lines within a few hours, and I had to write and script and edit all the lines in. While maybe not the best visual novel in the world, it was a fun experiment and I am satisfied with it for being a 72-hour project. And I hope you guys will enjoy it for what it is; feel free to report any errors you find. Also let us know what you think. This was our first time doing a 72-hour jam, it certainly was quite the experience and a bit frustrating, but man was it fun....literally, the download was ready just 20 minutes before jam's end...phew...
The goal of the game is not about finding out why everyone disappeared, and not so much conserving your generator's power, but more so about staying in contact with Elly.
FEATURES:
- Fully voice acted dialogue!
- Original artwork made within 72 hours!
- 7 endings! (5 bad, 1 good, 1 best)
- A button that let's you see how many kilowatt hours you got left!
CREDITS:
Writing / Directing / Script by Kokoro Hane
Paul voiced by Zeniey
Elly voiced by Maisy McDonald
Art created by Searchlights
Music used by Audionautix
SFX from freesound.org