Okay, it's been another month, and so I've run the numbers on Moonlight Walks's download statistics. The bottom line is that it has been downloaded a total of 713 times since its release, and 242 times in the past month. So, after the initial surge of downloads, we're down to half as much traffic.
Since I wanted to leard the Rpy (no relation to Ren'Py) package, I produced the following graph showing how many times MW has been downloaded. Behold: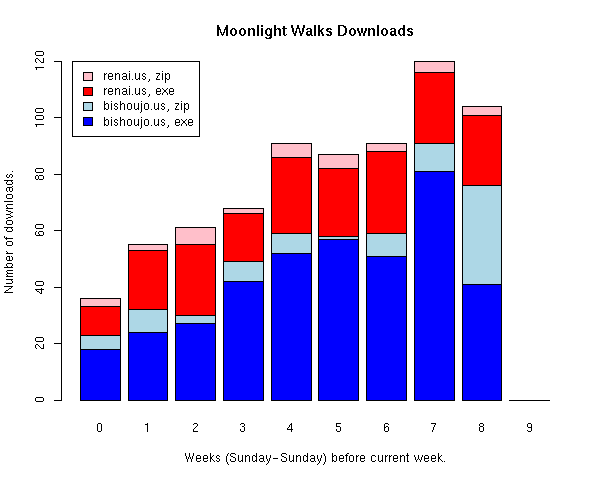 Okay, so what are we seeing here? First of all, let me point out that (for various technical reasons), the weeks are from sunday to sunday. So that means that week 0, the current week, isn't complete, and the numbers are a bit smaller than they will probably rise to.
So, let's look at the numbers. 8 WBP (weeks before the present week) was when I first released the game. There's an anomalously large number of downloads of the zip in that week, but that's because it took me a day or two to get the installer up and running.
7 WBP is the biggest week. That's when the game was spread to the largest number of new places. Most notably, that's when I posted about it to the Megatokyo DSVN forum.
From 6 to 4 WBP, it got a fairly constant number of downloads. 3 WBP was a week of transition, as that's when MW fell off of Megatokyo's DSVN forum's front page. That explains the fairly sharp falloff in bishoujo.us downloads between 4 WBP and 2 WBP.
It looks like downloads have levelled off to around 50 or so a week... but with 2 weeks of data, it's really premature to say that. I'll see what the data looks like next month.
The highlight of this, I think, is that the renai.us downloads have remained fairly constant throughout, at around 25 or so a week. So that is interesting, and it gives us an idea of how the community is growing.
Hm... anything else to report? Yeah. I noticed the other day that MW got it's first link from Japan. Make of it what you will, or at least what babelfish or Google's language tools will.
http://undine.sakura.ne.jp/diary/d200503b.html#r15-1
_________________
Supporting creators since 2004
(When was the last time you backed up your game?)
"Do good work." - Virgil Ivan "Gus" Grissom
Code > Drama