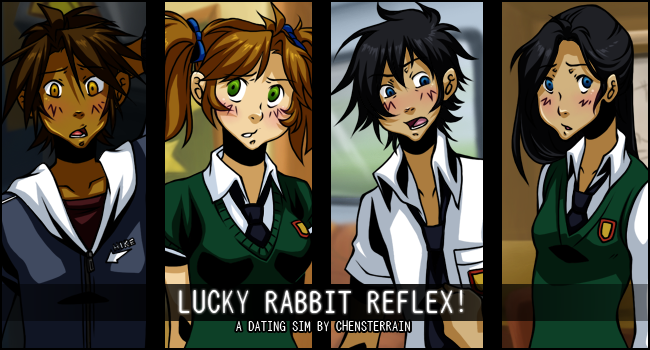 Edit 2:
Lucky Rabbit Reflex is now complete!
~~~~
Edit:
Would anyone be interested in
beta testing
?
~~~~
...*cough*. This isn't so much a demo as an
'I'm getting really disheartened with this bloody thing, so maybe releasing an alpha will show me where I'm going wrong!'
release, but hey. It'd be great if I could get some constructive criticism on this baby so I can actually work on it again...!
What is it...?
Lucky Rabbit Reflex! is a pretty typical GxB secondary / high school dating sim. While not a full-on comedy, I'm hoping that most of the dialogue is at least vaguely amusing?
At any rate, there's no overarching plot, though each of the four winnable boys should hopefully have some story archage once the game is complete.
The game's heroine is a 17-year old girl inexplicably switching to a new school in her final year. Will she find friendship - or even love? - amongst the motley crew at Northmain College...?
(...Yeah. I'm not good at descriptions. Sue me!)
How long is the demo?
The demo goes on for around two months' game time - from the beginning of September to the first week of November. There's not a huge amount to do at the moment - five characters are meetable, and one dateable. There are several dates to go on with Marius (first boy on the list
), so if anyone would be willing to test him out multiple times, I'd be very grateful! The outcomes of the dates should change based on your stats. Other than that, thw various menus are working and whatnot, but most of the events are just filler text.
The game uses the DSE, and a customised interface (god bless imagemaps! *can't code to save her life*
).
Known bugs:
...Not really a bug, but I still have no idea why the textbox is showing up as opaque rather than translucent. It works fine in NVL mode...!
Thanks very much in advance to anyone who gives this a shot! If you have any suggestions, they'd be very helpful - I keep getting the impression that the game doesn't flow as it should, especially the intro, which seems a little slow to me... though that could just be because I've played it to death! *likes her games snappy* (and as for the male characters' inexplicably long arms, well...
)
Hope you enjoy it!
~~~~~~~
Character Profiles! ...sort of