miraclr
An upcoming dating sim in which the archangels deliberate their next miracle. Help them decide by chatting on their workplace app, miraclr!
Overall description
miraclr is a comedic workplace romance starring the biblical (and apocryphal) archangels, told in a mobile office collaboration app.
In miraclr you play as an unnamed human recruited to assist the archangels of heaven with the creation and implementation of the first true miracle in over 400 years. Because you can't visit them in their office, you are given access to miraclr, an app used by the Archangels for intra-office messaging. It looks a little like Slack, with similarly structured channels and PMs.
When you first start up miraclr, you will decide on a time zone and a scheduled time for daily morning meetings. From then on, miraclr will unfold (mostly) in real-time, whether or not you have the game open. Your co-workers (the Archangels) will talk among themselves, ask for your input, and private message you for both work and personal reasons. Your timely responses--or lack thereof--will affect romantic relationships and how the story unfolds.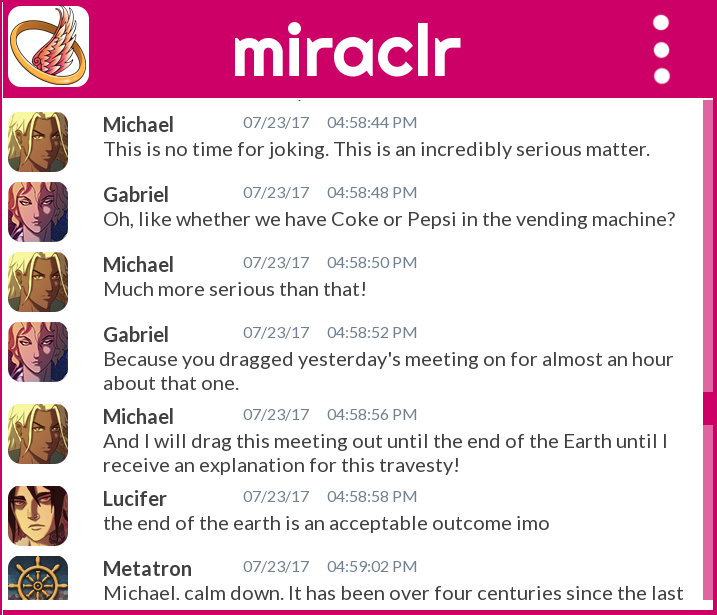 Gameplay and Scope
Similar to "Mystic Messenger," the experience of this game is strongly connected to time in the real world. Via the Slack-like messenger app, the player must check in regularly or risk missing important conversations and private messages. Every day, the player can schedule an important meeting with the other angels. We will start with seven days of content and multiple branches.
We've already proto-typed a version of the app that can display the story in real-time and have most of the first day written, which along with some initial art only took a few days. It was tricky to get the system working in Ren'Py, but our proto-type is holding up well and we are rapidly developing it further. With all that in mind, we're targeting an early September release date for miraclr!
Portraits of Lucifer (left) and Gabriel, who is non-binary (right)
My Questions to You
This is a very unusual project for my two-person team,
Woodsy Studio
. The time element introduces a lot technical and storytelling challenges. Altogether, I'm really curious to hear what you think of the concept thus far.
Does it sound like something you'd enjoy playing? Why or why not?
Do you like the art style so far?
We'll start by targeting mobile devices, but would you be interested in playing a game like this on desktop?
Would you prefer ads or in-app purchases as a means of paying for the game?