Synopsis:
At first glance, Akito is a seemingly normal university student. However, his good looks, poor track record with relationships and bad habit of moving on from one girlfriend to the next earned him the nickname "Notorious Player".
Back in heaven, there was a low-rank angel who was so insignificant, he was nameless. This nameless angel worked under Hadraniel, the Angel of Love. Hadraniel, tired of the trail of broken hearts Akito left in his wake, commanded the nameless angel to go down to Earth and teach Akito a lesson. Hadraniel gave the formerly nameless angel a human body and the name "Luke". Hadraniel said that Luke has six months to reform Akito. If he fails, there will be serious repercussions. Agreeing, Luke left for the human realm. As he departed, Hadraniel called out to him, saying,
"Whatever happens, do not fall in love with the target."
Characters: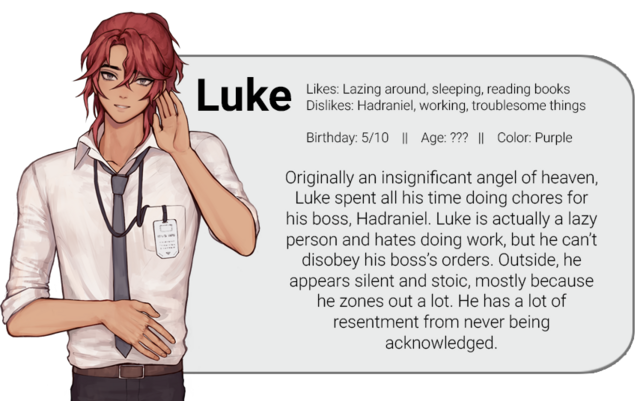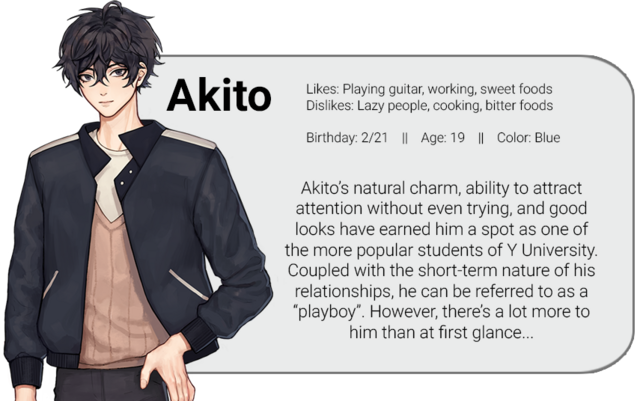 Gameplay:
You play as Luke, Hadraniel's servant. There are three main stats: Friendship, Rivalry, and Romance. Your friendship/rivalry level will influence Akito's interactions with you. The Romance stat is independent of Friendship and Rivalry, and must reach a certain level to initiate a romance.
The Team:
Sprite Artist:
aienai
CG Artist:
aienai
Writer:
AstralWire
Programmer:
AstralWire
Social Media:
Join our public discord here:
https://discord.gg/2PauHe7
Questions:
Does the plot seem interesting?
What more details of the story would you like to know?
Which character is your favorite and why?
Would you consider supporting a Kickstarter/Patreon for this project?